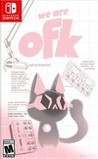 Summary:

Itsumi Saito just moved Downtown and broke up with her long-term girlfriend, leaning into her dream of making it in music. But juggling practice, friends, a brutal commute to the west side, and a full-time job... Itsu is struggling to establish herself in the cutthroat music scene of LA.

Itsumi Saito just moved Downtown and broke up with her long-term girlfriend, leaning into her dream of making it in music. But juggling practice, friends, a brutal commute to the west side, and a full-time job... Itsu is struggling to establish herself in the cutthroat music scene of LA. When she talks her way into a shmoozy Hollywood party and makes friends with a rising music producer, she sees a chance to bring her dreams a little closer.

We Are OFK is an interactive narrative series of arguing over lyrics, sending sad texts, and playing Interactive Music Videos, including OFK's debut single "Follow/Unfollow" and more!

…

Expand
Developer:

Team OFK

Genre(s):

Adventure

,

General

# of players:

No Online Multiplayer

Cheats:

On GameFAQs

Rating:

M
Please enter your birth date to watch this video:
You are not allowed to view this material at this time.
We Are OFK - Release Date Trailer
We Are OFK is a wonderfully queer and wonderfully representative experience, even if it's not exactly what most people would consider "a game". Like anything of this nature, so much of what you get out of it comes from what you put into it. It's an experience shaped by who you are, and the life you've lived. It won't be for everybody, but it certainly was for me. There's a lot of things that could be changed or improved, but even if I had the chance to do so, I don't think I'd change a single thing about it.

The We Are OFK team packs a story capable of catalyzing players' empathy and making them reflect on contemporary anxieties, our permanent connection to technological devices, and the need to open our hearts and find understanding from others.

It's almost impossible that We Are OFK will be played with indifference. You'll either love it or hate it, be it because of the style, the story, the gameplay, or the beats. This means the game is worth experiencing, and I can assure you the experience is unique and will also introduce you to a new indie band.

We Are OFK is an intriguing visual novel, which in its best moments knows how to suck the player into the emotional vortex of the story, while following the birth of a group that is virtual, but strangely realistic.

Overall, We Are OFK is a terrific interactive experience that isn't for everyone. I would have liked a little more control over the gameplay, but it provided me with a few hours of fun and the soundtrack is incredible.

As an interactive series of episodes you can watch, I don't regret the time I spent here, and will definitely grab the soundtrack when it releases, but We Are OFK could've been more. Hopefully the team does release something else based on these characters in the future.

We Are OFK is sort of a visual novel that presents itself like you're watching Netflix. The story is good, the voice acting is great, the characters are excellently flawed, and the cast is effortlessly varied. However, performance issues, tacked-on gameplay elements, and the weirdly indifferent emptiness I was left with at the end made it struggle on a fundamental level.
They should had make a movie or a show instead of a "interactive" doc. This isn't a game. The only "interactive" parts are just the music

They should had make a movie or a show instead of a "interactive" doc. This isn't a game. The only "interactive" parts are just the music videos which they aren't really interactive. The story is….decent. They seemed to rush the story at the end. They didn't need to do a full episode for a character. Maybe 1/4 or a half of that episode. Or have another episode of that character while have other characters weave into the episodes. They often focused one character in each episode which it isn't enough. If they would have one main character to focus on, sure 5 episodes like normally. They should have make more episodes for the character to go in-depth and breath at times. The music? they made good music. But the music couldn't save this "game." I am confused on why they didn't make a show or a movie. This Ip is original. But i don't know.

…

Expand