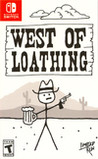 Summary:

West of Loathing is a single-player slapstick comedy adventure role-playing game set in the wild west of the Kingdom of Loathing universe. Traverse snake-infested gulches, punch skeletons wearing cowboy hats, grapple with demon cows, and investigate a wide variety of disgusting spittoons.

West of Loathing is a single-player slapstick comedy adventure role-playing game set in the wild west of the Kingdom of Loathing universe. Traverse snake-infested gulches, punch skeletons wearing cowboy hats, grapple with demon cows, and investigate a wide variety of disgusting spittoons. Talk your way out of trouble as a silver-tongued Snake Oiler, plumb the refried mysteries of the cosmos as a wise and subtle Beanslinger, or let your fists do the talking as a fierce Cow Puncher. Explore a vast open world and encounter a colorful cast of characters, some of whom are good, many of whom are bad, and a few of whom are ugly. [Nintendo]

…

Expand
Developer:

Asymmetric Publications

Genre(s):

Role-Playing

,

General

# of players:

No Online Multiplayer

Cheats:

On GameFAQs

Rating:

T
Please enter your birth date to watch this video:
You are not allowed to view this material at this time.
West of Loathing - Nintendo Switch Announcement Trailer
West of Loathing is fantastic on every level — the writing is consistently, genuinely funny, the intricacy and breadth of the world is truly impressive, and all of the mechanical systems are perfectly geared towards make sure the player is able to go through the world and experience as much as possible without needless frustration.

The amount of humour, fun and character within West of Loathing is astounding. Repetition in the turn based battles is the only slight in an otherwise amazing game. DLC is on the way too, and I for one cannot wait for it.

West of Loathing is one of the most fun and funniest Adventure/point and click game that I have played in some time. Combat rarely gets in the way of the adventure, and everything moves at a good pace to get you back to doing silly things that will keep you smiling through most of the games' playing time. If you're looking for a game with laughs that don't lean too hard on using pop culture references or mean-spirited jokes at peoples' expense, then West of Loathing is worth checking out.

West of Loathing understands the stylistic charm that a unique aesthetic can provide and that stick figures are still, at the heart of everything, rad as heck. While the combat system is lacking, hilarious storytelling and a dynamic world make up a wonderful stroll through the western-styled landscapes.

West of Loathing succeeds by making you giggly and happy while you play it. Treating this game like a super-serious RPG is the wrong way to go about it, as that's where the holes start to emerge, whether it's the middling combat or the mildly annoying quest and item management troubles. This is a comedy, pure and simple, and thankfully it's one that's clever and funny in a way that makes up for any lesser gameplay segments. It's a great chaser between the ample supply of serious games out there, especially if you have Stupid Walking turned on.

What a delightful and funny adventure West of Loathing is, a unique blend of a very simple turn-based role playing game and an old time point and click adventure. It's a perfect companion for lazy Sundays and hard day's nights.

West of Loathing is a great value for its price and definitely entertaining for what it is. Unfortunately, the actual mechanics lack a lot of depth that keep it from being an experience for everyone. A deep RPG experience this is not. However, if you're looking for a few hours to kill on a game with funny writing and creative environments, this one is for you.
This game turned out to be a lot more polished than I anticipated (only because of the stick figure aesthetic, which turned out to be

This game turned out to be a lot more polished than I anticipated (only because of the stick figure aesthetic, which turned out to be positively charming and well thought out one I started actually playing). There are a lot of clever situations that presented themselves with a few choices for how to go about them. If you have enough Mysticality, you can fix broken machines, if you have chosen to be honorable, you can reason with foes, if you have learned the golblin tongue, you can speak to them instead of fighting them. You still get the same amount of XP for these alternatives to combat, which is nice. Speaking of combat, this area shines as well. The grid allows for some strategy, and there are a lot of creative moves available (I played as the magic class, "beancaster"). I do wish the "pardner" you choose towards the beginning would get more abilities with XP, as opposed to just doing more damage as they level up, but I can't really complain (I chose the doctor, and she can automatically disassemble any skeleton in one turn which turns out to be super convenient and got me out of quite a few skeleton-related pickles). The overall point is this: The reviews are spot-on. This is a well-made, clever game with good pacing, lots of variety (the ghost town bureaucratic scavenger hunt, lol) and neat riddles and puzzles, and snappy smart writing. A very solid RPG, plays excellently on the Switch and I'm very pleased I took the plunge.

…

Expand

This review contains spoilers

, click expand to view

. West Of Loathing is a delightful; what I would call a 'B-RPG' or, a Baby-Role-Playing-Game.

The writing is an absolute joy to read through. This is coming from someone who typically skips through most-all dialogue in every RPG. The humor falls from a place of quirky, self-aware nonsense rather than "lol so randum".

This game very well sized for the price. If you decide to go and participate in every side mission possible, this game has easily over thirty hours of play time. (The game is currently 11$ at the time I'm writing this.).

And the puzzles. Holy lord the puzzles. I don't think I've had to genuinely give effort and thought towards puzzles in games since I was a kid. So that's saying something. This one really flexes your cranium muscles and I highly suggest you do them without a walk-through.

I would not purchase this game based on it's combat merit however, which is the only reason why this does not get a perfect 10 from me. The XP system and combat is just too open ended for my liking. While it is fun to spontaneously get XP for anything from flushing a toilet to beating the living tar out of a smart talking goblin, it just simply makes combat either too easy or extremely difficult. You'll find yourself wandering from a baby fight where you sneeze and kill the enemy, right into a random fight where flaming hell cows destroy your loathsome self.

TWOL came at a very needed time for me. I really needed a game that would revitalize my faith in gaming. I've grown so tired of JRPGs that are filled with nothing but pink haired anime girls and run and gun platformers that get labeled as "a Dark Souls like" game simply because they made the platforming close to impossible.

Honestly, I have to come full circle; back to the writing. I think even if I had one ounce of criticism for the game, the dev wouldn't even give a **** That's how well crafted it is. I can feel the influence of the creator in the product.

TL;DR
-Good writing
-Good Puzzles
-Meh combat *the game isn't focused on it*
-Excellent mechanics.
-Many branching decisions for players that make each game a varied playthrough for each individual.

…

Expand

Finally a stupid funny relaxing simple game to play before bed. It's not hard, it's charming, and that's the point. At $11 (currently) it's a

Finally a stupid funny relaxing simple game to play before bed. It's not hard, it's charming, and that's the point. At $11 (currently) it's a couple dollars overpriced, but if you want a silly little adventure like Peasant's Quest to chill out with, this is it.

…

Expand

While there is a copious amount of text to read there are plenty of punchlines to be found and much fun to be had now that the cows have come

While there is a copious amount of text to read there are plenty of punchlines to be found and much fun to be had now that the cows have come home. Yes, it is a stick figure game. But it is a funny one.

…

Expand

* DISCLAIMER: I did not have the chance to play this game on PC - so I cannot to speak to what is different from last years release *

* DISCLAIMER: I did not have the chance to play this game on PC - so I cannot to speak to what is different from last years release *

Gameplay - Somewhat one dimensional outside of combat with a focus on exploration and puzzle solving. Puzzles are very reminiscent of the classic adventure style minus the point-click interface. It's very much about collecting "item x" for "quest giver y". Inside combat the game plays very much like a traditional turn-based RPG, complete with character customization and party management as well as the natural level progression and skill building associated with those titles. All of these elements are done well, but not so well as to really standout in either genre.

Sound: While limited I found the music and ambient noise in the game to be quite enjoyable and indicative of the setting (wild west). There were a few instances where the music got a little redundant, but overall it matched the charm that oozes from this title.

Graphics: This is where I was surprised. The graphics I expected to be a low point, this IS a game featuring stick figures and using two colors after all. I was wrong however, as the simplistic design leads way to complex ideas and points of reference, and is overall one of the most endearing aspects of the game. It gave everything a sort of "Blues Clues" charm about it, one that I found myself drawn to more than expected.

Overall: I can't quite place my finger on it - but this may be the most warming and hilarious titles in the RPG/Adventure genre for some time now. The writing is incredible, and the jokes just keep coming - but it doesn't let itself become one big massive punchline. In the end, this was a pleasant if short adventure worth revisiting a couple times after. At an $11 price point its a must play for fans of the genre - 8/10

…

Expand

A simple, comedic game with plenty of charm. A great time to be had and all it takes is putting on a hat

This game has great graphics! ...With humor like this, this game was brought a long way and strongly carries the game from beginning to end,

This game has great graphics! ...With humor like this, this game was brought a long way and strongly carries the game from beginning to end, even though I found myself skipping dialog at times. However, when it comes to battles and the like it's awfully simple and at times feels unbalanced, resulting in either you or the enemy being too overpowered. There are however interesting bosses and side questing to do in the game, and the campaign itself is decent enough to get by. Definitely worth a check for its price.

…

Expand