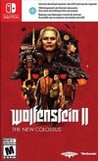 Summary:

Wolfenstein II: The New Colossus is the highly anticipated sequel to the critically acclaimed, Wolfenstein: The New Order developed by the award-winning studio MachineGames. An exhilarating adventure brought to life by the industry-leading id Tech 6, Wolfenstein II sends players to

Wolfenstein II: The New Colossus is the highly anticipated sequel to the critically acclaimed, Wolfenstein: The New Order developed by the award-winning studio MachineGames. An exhilarating adventure brought to life by the industry-leading id Tech 6, Wolfenstein II sends players to Nazi-controlled America on a mission to recruit the boldest resistance leaders left. Fight the Nazis in iconic American locations, equip an arsenal of badass guns, and unleash new abilities to blast your way through legions of Nazi soldiers in this definitive first-person shooter. America, 1961. The Nazis maintain their stranglehold on the world. You are BJ Blazkowicz, aka Terror-Billy, member of the Resistance, scourge of the Nazi empire, and humanitys last hope for liberty. Only you have the guts, guns, and gumption to return stateside, kill every Nazi in sight, and spark the second American Revolution.

…

Expand
Developer:

Panic Button, MachineGames

Genre(s):

Action

,

Shooter

,

First-Person

,

Arcade

# of players:

No Online Multiplayer

Cheats:

On GameFAQs

Rating:

M
Please enter your birth date to watch this video:
You are not allowed to view this material at this time.
Wolfenstein: The New Colossus - Official Nintendo Switch Launch Trailer
For players more interested in narrative than challenge, look no further. With powerful storytelling, strong performances from the central cast and disturbingly relevant themes, The New Colossus is a high water mark for AAA stories. As it fires on all cylinders to deliver bombast and blood with its right hand, be warned — the most devastating hits come from its subtle left hook.

This version of Wolfenstein II: The New Colossus shows us that a Nintendo Switch can be powerful, adult and capable of anything possible.

As it goes for a Switch game as a whole, this is certainly one of the better releases on the system from a third party company. While you get just the vanilla version of Wolfenstein II: The New Colossus, the fact that you get it on the Nintendo Switch in amazing form is something to behold. The game looks solid, the intensity of the original release is still intact, and the gameplay doesn't drop off much when playing it portable. It's a must-have for Nintendo Switch owners dying for a first-person shooter.

Wolfenstein II is a deep and varied shooter. Its story, with few exceptions, is excellently written and performed. A reliance on long, pre-rendered cutscenes may bog down the pacing now and then, but even in those moments the story was compelling enough to keep me going.

There are better-looking versions of this wonderful shooter, but Wolfenstein II on the Switch is a technical marvel in its own right.

On the big N hybrid, the MachineGames shooter retains much of its disruptive play personality, keeping the rewarding properties of one of the best shooters of the past year substantially intact.

Wolfenstein II: The New Colossus wants the Nazi-killing theme of the blood-obsessed Wolfenstein series to assert its modern-day relevance in a world where the word "resistance" has become a rallying cry.
Once again Bethesda make a masterpiece switch port.
I loved the game, so much fun and great history.

I will play yougblood next

No way this game should fall below the 85% mark. It's an excellent port that keeps the experience intact. Panic Button did an amazing job as

No way this game should fall below the 85% mark. It's an excellent port that keeps the experience intact. Panic Button did an amazing job as usual, maximizing the capacity of the Switch for a perfect handheld experience. If you want crisper graphics, play the other versions, but on the switch screen the game is just perfect!

…

Expand

Well a very good game. with a very deep storyline. Was amazed with the story and was so amazed also with how they come up with the idea of a 2

Well a very good game. with a very deep storyline. Was amazed with the story and was so amazed also with how they come up with the idea of a 2 weapon hands on. very good all in all

…

Expand

Increíble que este juego se mueva en Switch con absoluta fluidez. Gran historia e inmersión, frenetismo, gran banda sonora y control

Increíble que este juego se mueva en Switch con absoluta fluidez. Gran historia e inmersión, frenetismo, gran banda sonora y control perfecto. Inmprescindible si te gustan los shooters. Me encantaría ver la primera parte en Switch. 9/10

…

Expand

I won't even talk about the graphics as we all know what to expect in terms of down grade on the switch. Gameplay wise, it's Doom, Doom Doom

I won't even talk about the graphics as we all know what to expect in terms of down grade on the switch. Gameplay wise, it's Doom, Doom Doom and Doom, in a new setting/location. I played through the entire game on hard mode and it was thoroughly entertaining, if you liked Doom you'll probably like this one equally. The story; I'm shocked to read reviews saying it was too long or bad etc, it was one of the few times i didnt mind long cut scenes in a shooter. The story is compelling and hits home for a lot of people with it's connection to social issues. The only downside I had was the length. Where are the Silent Hills and Syphon Filters of today, with hours of gameplay before even asking what extras are in it. For $60, I shouldnt beat the story as a leisure gamer, in a matter of two or three days. That was a big disappointment for me at such a high price point, but other than that, game is pretty exceptional and a great addition to your Switch lib

…

Expand

Un 1st Person Shooter clásico pero refrescante para lo que tenemos hoy en día. Pese a que trata de ser más profundo que DOOM echando mano de

Un 1st Person Shooter clásico pero refrescante para lo que tenemos hoy en día. Pese a que trata de ser más profundo que DOOM echando mano de una buena historia, no está a la altura del masacrador de demonios en términos de jugabilidad.

Lo bueno:

- Una historia cruda que evoluciona de la mano con las mecánicas del gameplay.
- La violencia macarra propia de la época en que se hizo el primer Wolfenstein resulta refrescanrte.

Lo malo:

- Tener que presionar un botón para agarrar curaciones, armaduras e items distrae mucho si estamos en medio de una escaramuza.
- Que el botón de lanzar granada y el de cambiar de arma sea el mismo es una enorme estupidez.

…

Expand

While I'm impressed by the port from the technological point of view, I have to say: THIS GAME IS S**T.

This is a game for adult people, doWhile I'm impressed by the port from the technological point of view, I have to say: THIS GAME IS S**T.

This is a game for adult people, do you really believe that you need to tell adult people that Nazis are bad in the way you would explain it to a 4 years old? "NATSI BAAAAAAD. BOO BOO NATSI. NO NATSI".
The storytelling of that game is an insult to my intelligence. In the beginning I thought this is a joke, but no, the really believe that their audience are a bunch of mentally disabled chaps that won't be able to process some serious storytelling. How could they **** this game up that baldy, after the first one was a true gem?

…

Expand