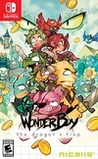 Summary:

Boasting beautiful, hand-drawn animations and a re-orchestrated soundtrack, the cult classic returns with a unique blend of exploration, action, and adventure!

Cursed into a half-human, half-lizard monstrosity by the Meka-Dragon, you are in search for a cure! The only way you can returnBoasting beautiful, hand-drawn animations and a re-orchestrated soundtrack, the cult classic returns with a unique blend of exploration, action, and adventure!

Cursed into a half-human, half-lizard monstrosity by the Meka-Dragon, you are in search for a cure! The only way you can return to human form is to find the Salamander Cross, a magical item with the power to remove curses...

With each dragon slain, the curse intensifies, transforming you into different animals! Explore large, interconnected locations populated with grumpy monsters and exotic dragons!

Play as the games classic character, Hu-Man, or as his brand-new, long-awaited co-star Hu-Girl. You can also inhabit Lizard-Man, Mouse-Man, Piranha-Man, Lion-Man, and Hawk-Man, and use their unique abilities to uncover the lands deepest secrets.
Enjoy 3 difficulty levels catering to players of all types, and switch from modern graphics and sound to 8-bit graphics/audio at any time - even during gameplay!

…

Expand
Developer:

Lizardcube

Genre(s):

Action Adventure

,

General

# of players:

No Online Multiplayer

Cheats:

On GameFAQs

Rating:

E10+
Please enter your birth date to watch this video:
You are not allowed to view this material at this time.
Wonder Boy: The Dragon's Trap - Launch Trailer
Wonder Boy is full of wistful retro charm, and an absolutely essential purchase on the Nintendo Switch eShop.

Wonder Boy: The Dragon's Trap is a dream come true for all the fans of the original Master System classic, Lizard Cube gave us a new standard for how to make classic game remakes.

This may be the most beautiful hand-drawn 2D game I've ever played, and I'd frequently stop while playing just to marvel at the mastery of how each scene was reworked. [Issue #28 – July/August 2017, p. 20]

Wonder Boy: The Dragon's Trap is a remarkable remake of a classic from '89, with an outsanding artistic direction and a clever re-arrangement of the original OST.

Wonder Boy: The Dragon's Trap is a fantastic remake that clearly shows how much the developer Lizardcube loved the original. However, as fun and well made it is, we are talking about a Master System game you can clear in a couple hours or so: it's somewhat overpriced at the moment.

Lizardcube has both made The Dragon's Trap more vibrant and set a fascinating standard for game remakes.

Wonder Boy: The Dragon's Trap is amusing for a few hours before it turns rather stale. The combat system is fast and sharp, but also repetitive, and because there is so little in terms of story and characters, there are few reasons to replay the game once the short adventure is over.
If you grew up with this or old games, you´re in home. Great visuals and music and has a retro option to play the old way, the only terrible

If you grew up with this or old games, you´re in home. Great visuals and music and has a retro option to play the old way, the only terrible thing on the old version was the slow pause option, which was thankfully fixed here, everything is smooth,

…

Expand

Beautiful and charming graphics, spot-on controls, and very solidly designed levels. Simply a great game.
I've never played the originalBeautiful and charming graphics, spot-on controls, and very solidly designed levels. Simply a great game.
I've never played the original game, so I don't use the option to turn the graphics back to 8-bit style, but it's a fun option to have.
Oddly the game hardest in the beginning and get progressively easier as you acquire more health and weapons/armor. You'd think it would make more sense if the game became more difficult along the way. So stick with it at the start and you'll be rewarded with a fun game.
The only negative point for me is that some item shops are hidden and impossible to find without the use of a walkthrough.

…

Expand

Really great port of a retro game. If you look at the gaming mechanics with current standards they fall short in many ways though... I have

Really great port of a retro game. If you look at the gaming mechanics with current standards they fall short in many ways though... I have the 9 for being an almost perfect retro port. If you compare the game with new jump'n runs like Rayman Legends it would only be a 5 or 6 in my opinion.

…

Expand

I've never played the original Wonder Boy: The Dragon's Trap, so this remastered version was fun for me. The artwork and character animations

I've never played the original Wonder Boy: The Dragon's Trap, so this remastered version was fun for me. The artwork and character animations are really great, and I'm impressed by their ability to modernize the game while keeping the gameplay exactly the same. It's a great game, but I do wish it had a bit more of a storyline or context to the main character's ultimate quest. Considering it's just a remastered version of an old game, however, it's not like they could have changed it. I suppose it's just an example of how the old style of video games don't always hold up to modern standards, even when developers modernize the graphics. I definitely still recommend buying the game if you haven't played the old version, or if you played the old version and you absolutely loved it. At $20, it's worth the price, but don't expect it to be the best game you've ever played.

…

Expand

Beautiful, great job remaking the game, it's a little short but it's a great game, the music and the visuals are gorgeous.

I have to admit I had never played the original title and I was quite impressed with this new version!! Wow it must have been one of the

I have to admit I had never played the original title and I was quite impressed with this new version!! Wow it must have been one of the coolest/better games back in 1989! Even when I was changing the new style to the retro one for a minute or two I found myself still liking the game. The different characters and abilities were pretty fun, but the mouse-man combat style is frustrating (very short range). The game is somewhat hard in general, but it is not that bad in my opinion. The graphics are awesome and the bosses are good, but frustrating (you need to hit them on the head and it is easy to take damage if you get too close). I find the price a little high therefore I bought it when it was 25% off. I completed the game with almost everything in 7 hours, but I only completed two of ''the unknown'' sections as I did not enjoy them or understand the purpose of them. The game is not that long therefore I would suggest you to wait for a sale if you are not already convinced. The platforming aspect was a little stiff in general, but barely noticeable.

This title deserves a 7.5 out of 10 in my book.

…

Expand

Didn't get very far in this game as it was too frustrating.

Pros: - Solid visuals - Had a very interesting NES feel Cons: - EvenDidn't get very far in this game as it was too frustrating.

Pros:
- Solid visuals
- Had a very interesting NES feel

Cons:
- Even though I played lots of NES games I was easily frustrated with what to do here
- This probably would have been good 15 years ago

…

Expand