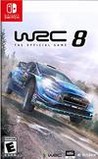 Summary:

The most complete and authentic official WRC simulation yet. New physics for all surfaces, a completely redesigned career mode, dynamic weather conditions, 50 teams, 14 countries, 100 tracks, weekly challenges and an eSports mode.
Developer:

Kylotonn

Genre(s):

Racing

,

Arcade

,

Automobile

# of players:

No Online Multiplayer

Cheats:

On GameFAQs

Rating:

E
Despite its graphic issues, the rally experience is guaranteed. It gives us a perfect opportunity to enjoy the big licenses through its different and fun modes, as well as a demanding but pleasant control scheme.

Despite the drawbacks, I still find WRC 8 on Switch to be a cool experience for race fans who are craving a more raw, complex experience. It's nice that the KT Racing team sees so much potential in the Switch considering the fact it has yet to skip bringing any of its recent projects over. Here's hoping the team's support continues and their mastery over Switch hardware continues to improve.

If WRC 8 had been better optimised for the Nintendo Switch, the game would have received a higher score. That being said, it is a thoroughly enjoyable rally experience that any racing fan should purchase.

While not unplayable, it is a shame that WRC 8's fantastic gameplay has been tarnished somewhat by the control issues of Nintendo's console.

WRC is overall enjoyable despite the steering issue. Managing the career mode and/or just doing the season is a fair amount of content and gameplay to take part in. Unfortunately, steering being a huge mechanic in the WRC8 makes it speed past the finish line a little behind the other racing titles already on the Switch.

Cut features, heavily downgraded visuals and inadequate controls make the Switch version of WRC 8 simply a lot less enjoyable. And that's a real shame.

WRC 8 is an ugly game with lousy controls, and there's not much you can say in its favour. Unless you like turning kamikaze driving into an art form, of course — but even then, putting up with a bad racing game just to mess with its internal logic seems like a bridge too far.
I bought this game in hopes of expanding my realistic racing game selection on Switch following a great experience with Grid: Autosport. This

I bought this game in hopes of expanding my realistic racing game selection on Switch following a great experience with Grid: Autosport. This is a completely different beast from Grid however. It is accessible enough to novice gamers, or those with little to no interest in rallying, but high difficulty could put some off.

In terms of content, to my personal knowledge, the is the same full-fat game as is on the competing consoles. The only major draw-back, to be expected, is the visuals. The game is still capped at 30fps, the same as PS4 and X-One, but as you can imagine, graphics have been paired back....A LOT. The game looks serviceable enough, though I do get the impression they could have pushed the visual aesthetic just a little bit more without sacrificing frame-rate. But hey, its early days, and we live in the days of post launch patches, so we will just have to wait and see. Saying that, car models look great, the lighting is better than expected, and weather, terrain, and environmental damage effects do look the part to be fair.

As a rallying experience, this is surely in the top of its class. There are plenty of modes, with plenty of customisation options, and a hefty amount of tracks across various locales with equally various weather conditions. On the controls side of things, I haven't noticed any form of motion control input, but then again, I can't see how it would work well here unless you had a dedicated steering wheel accessory. Pro controller at least works a dream and the cars feel nice and weighty in response.

Overall, if you were able to stomach the visual downgrade in the switch ports of games like Doom, Wolfenstein II, and the Witcher 3: Wild Hunt, then you likely won't be that affected much by this port. Behind the screen of flat, low-poly environmental textures and almost non-existent anti-aliasing lies a superb rallying experience that offers hours-upon-hours of enjoyment.

Graphics: 5/10
Gameplay: 9/10
Controls: 8.5/10
Audio: 8/10
Lasting Appeal: 8.5/10.

…

Expand

This game is brilliant... As a rally game enthusiast for almost 25 years, I can tell you that this has to be the best rally game I have

This game is brilliant... As a rally game enthusiast for almost 25 years, I can tell you that this has to be the best rally game I have played, ever. Career, stage design, physics, everything is top notch. And you get full licensing from sponsors to crews, cars, countries, etc. All that in the palm of your hand!!!? Ctazy. Oh and it runs very well on my switch lite... Highly recommended.

…

Expand

This game is great! I was doubting a lot if I should stick to V-Rally or get this. There is so much negativity around this game for the

This game is great! I was doubting a lot if I should stick to V-Rally or get this. There is so much negativity around this game for the graphics but c'mon people, this is the Nintendo Switch, not the PS4 or XOne. I uninstalled V-Rally within 15 minutes after trying WRC 8. There are 14 SUPER varied locations compared to 6 in V-Rally (rally locations). The locations I tried had great backgrounds where the distant views look very nice. Sure, there is pop-in, there is pixelation, but the locations are very colorful. Some low resolution scenery in the far background looks a bit like drawn art, which to me, instead of being bothered I actually enjoy the Borderlands style of trees.

If you drive seriously you don't notice the reduced graphics as you are to busy to keep your car on te road! You can choose weather and time of day for each track as far as I can see. I tried 4 tracks in 4 different locations and I could choose night, noon etc! This game over V-Rally anyday! I'm very happy that I watched many videos including handheld ones and tried to get to my own conclusion rather believing the people expecting the Switch to do the impossible.

…

Expand

I have the game for Switch, Xbox One and PS4. It is obvious that graphically the Switch version is much behind the more powerful platforms.

I have the game for Switch, Xbox One and PS4. It is obvious that graphically the Switch version is much behind the more powerful platforms. Resolution is lower, and hits the handheld mode quite much, making some of the stages hard to play due to poor visibility. Most of the stages are totally fine in handheld as well. In docked mode the visibility issues are not really there, and I can play pretty much the same as on other platforms. The graphics are of course not the same, but still adequate to my taste. Performance is good in general, but e.g. first Turkey stages suffer framerate drop early in the stage.

The game overall is just the same in all platforms. The features are all there. Handling seems to be pretty much the same as well, at least I don't feel the difference when changing platforms.

Controls are probably the biggest drawback on Switch. I've played PS4 and Xbox with both controller and wheel. I'm getting fastest times with wheel, obviously. When playing with controller, I'm usually few seconds faster with PS4 and Xbox compared to Switch. I was able to get pretty close with a setup where I use analog throttle, but brake with L1 and use ABS. After getting used to this, the game is actually really enjoyable and I get a good experience.

I bought the game to have portable rally game, and for that this is the best you can get at the moment and for that purpose this is better than the reviews indicate. My 8 points are in Switch context, and not compared to the other platforms.

If you like rally and you want to play on-the-go, you should get this game. Also, if you only have Switch, and like rally, you should get this game.

…

Expand

Extremly good rally experience on the switch with wroooooooooong graphics. Otherwise its ok

WRC 8 looks great in docked mode and sounds fab, but as a racing SIM it can be very hard to control even on easiest mode (equivalent trying to

WRC 8 looks great in docked mode and sounds fab, but as a racing SIM it can be very hard to control even on easiest mode (equivalent trying to balance a pencil on your finger). I've found the Switch version also crashes fairly regularly. This can be fixed by playing in airplane mode, but that means some of the advanced functionality is not available. The Switch version of WRC 8 looks like it's been ported from a PC version and the text size is very small and not adjustable, so not an accessible game if you have any issues with eyesight.

Despite all of the issues, this game is quite fun, even if I am unlikely to attempt to compete the career mode. My review score is based on the heavily discounted version available in the Nintendo shop and would have been significantly lower had I picked this up at full price.

…

Expand

Have people forgotten there are older consoles with older versions of this game on them which look 100% better than this version.
WRC5 is onHave people forgotten there are older consoles with older versions of this game on them which look 100% better than this version.
WRC5 is on Vita. I just had a race and its so much smoother and looks heaps better than this version.
This might be 30fps smooth but its got so many graphical glitches and looks so bad I would rather a 10fps game which looks great than a smooth game that looks crap.

Because they did such a great job with WRC5 on Vita I thought they could easily make a Switch version of WRC8. Well I was wrong. What they've done here is port over the other console version then dumbed it down so its so stupid and ugly it fits. What they should've done is remade it for the console. They could've easily have done it but they are stupid and money hungry and went the quick, crap port version instead of the rebuild for a lower powered console.
Even use an engine from PS3 would've been good. Use an old engine one that matches that console wouldve been better than what we have here.

And EVERYONE complaining about the controls, GET OVER IT. As I said, I just played WRC5 on Vita and that was great, full green race, came first and I haven't played it for about 6 months, and back then it was probably 1 race and 6 months before that 1 race. I don't usually play it often, takes me years to complete the campaign and still not finished on Vita.
As this version is so poorly made and so many glitches and no update to fix them in sight I doubt I'll ever finish it on Switch. I have to keep remembering to put it in Flight mode before I finish a race or it crashes as it cant connect online and crashes when it fails. With Flight Mode on it doesn't connect online and works. Desperately needs a patch to fix this but they wont do it. Would've been fixed way before I brought it if they were going to do it. (I only brought this last week)

This is so buggy, glitchy, poorly made i don't recommend it to anyone. Unless they release a patch and fix it which they wont I stand by my review. Don't bother with this one on this console. If you want a WRC game get it on any other console, not Switch, you wont like it. Even with it on sale I got ripped off.

…

Expand