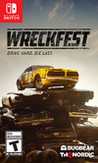 Summary:

Break the rules and take full-contact racing to the limit with Wreckfest! Expect epic crashes, neck-to-neck fights over the finish line and brand-new ways for metal to bend -- These are the once-in-a-lifetime moments that can only be achieved in Wreckfest, with its true-to-life physics

Break the rules and take full-contact racing to the limit with Wreckfest! Expect epic crashes, neck-to-neck fights over the finish line and brand-new ways for metal to bend -- These are the once-in-a-lifetime moments that can only be achieved in Wreckfest, with its true-to-life physics simulation crafted by legendary developer Bugbear, who also brought you FlatOut 1 & 2! Burn rubber and shred metal in the ultimate driving playground! Wreckfest is jam-packed with upgrade and customization options. Whether you are preparing for your next demolition derby with reinforced bumpers, roll cages, side protectors and much more, or setting your car up for a banger race with engine performance parts like air filters, camshafts, fuel systems, etc., Wreckfest is shaping up to be the best combative motorsport game out there.

Features:

* Awesome Cars -- Old, banged-up, patched-together cars that simply ooze style! From old American heavy-hitters to agile Europeans and fun Asians, you won't find anything like this in other games.

* Meaningful Customization -- Change not only the look of your cars but also upgrade their body armor!

* Multiplayer -- Wreck your friends online and take racing to the limit while chasing for demolition dominance!

* Challenge modes -- Have hilarious fun with crop harvesters, lawn mowers, school buses, three-wheelers and more!

…

Expand
Developer:

Bugbear

Genre(s):

Racing

,

Arcade

,

Automobile

# of players:

Up to 16

Cheats:

On GameFAQs

Available On:

Stadia

Rating:

T
Wreckfest is one of the more impressive Switch ports we've seen, taking a game that already had performance issues on more powerful hardware and delivering a relatively stable version with reasonable loading speeds and all its debris-flinging carnage fully intact. Handheld play is a little less visually acceptable, and the Switch tax rears its ugly head again, but just like the rough-and-ready roadsters in the game, we ultimately had a great time behind the wheel.

If you're looking for the ultimate Wreckfest experience on your big screen, you'll likely want to look at other versions of the game over this one. But if you're looking for a version you can take with you, this Switch port of Wreckfest is more than respectable enough to suit the job. For those completely new to the game, you'll find this to be an excellent choice if you're looking for a somewhat more destructive racing experience than the norm.

Wreckfest is one of the best Switch ports ever with great gameplay and visuals and a lot of content available, both for single player and online races. Just a few performance issues and adaptation to portable mode tarnishes a great racing game.

Wreckfest on the Nintendo Switch is a fantastic technical achievement. It's an absolute delight of a game that doesn't take itself too seriously, yet still offers enough depth and longevity for avid racing fans.

Wreckfest is an intense, fun, action-packed game that brings together arcade style racing and vehicle smashing, and it works great on the Nintendo Switch. With plenty of options and game modes to choose from, Wreckfest is a varied and complete experience and one which should be on the radar of any fan of car-smashing action.

The Switch doesn't have many racers that offer the same kind of thrills and excitement as Wreckfest at its best.
Simply wow. This game is the exact reason why you even have switch. Not very many complaints about this one

Great Game, very good port! 100% playable on the Nintendo Switch. Good graphics and surround sound.

This might be my favorite Switch port ever. Very little was lost in translation and it feels like Bugbear has employed magical wizards to make

This might be my favorite Switch port ever. Very little was lost in translation and it feels like Bugbear has employed magical wizards to make this a reality. It runs at a rock solid 30fps most of the time with 16 cars on track, particle effects, the damage modeling fully intact, and even great lighting effects. My only slight complaint is not with the game, but rather the Switch controls. They simply aren't the best you can get, I have a Switch Lite but I did get used to how it feels here. The DLC also is not included but frankly, I am okay with buying the DLC again to reward Bugbear for such an amazing job squeezing this game onto a handheld like this and doing it phenomenally.

…

Expand

"For those looking for a very different racing experience, Wreckfest offers hectic fun that runs surprisingly well considering how nice it

"For those looking for a very different racing experience, Wreckfest offers hectic fun that runs surprisingly well considering how nice it looks. The difficulty may be off-putting to some gamers, but being any easier would ruin this intense experience."

https://theeliteinstitute.net/2022/09/30/wreckfest/

…

Expand

I'm playing this on a switch oled in handheld mode only. My only complaints is that the sound is to low. I play gas guzzlers extreme and fast

I'm playing this on a switch oled in handheld mode only. My only complaints is that the sound is to low. I play gas guzzlers extreme and fast and furious the rise of shifter and I can barely hear wreckfest. Wreckfest plays no different than the other games. It looks really good and has good destruction. I also played online. My wifi comes from my cellphone provider. I noticed no frame rate drops, lags, or clipping. Also the font size on the oled screen I can barely read. Add a point if you play it on your TV. Other than that it has nice detailing and good hd rumble feedback

…

Expand

Graphically it's what I expected, it's ugly and low resolution, a lot of pop, but I'm OK with it ,it's to be expected, it's definitely

Graphically it's what I expected, it's ugly and low resolution, a lot of pop, but I'm OK with it ,it's to be expected, it's definitely playable especially portable. What I'm not OK with is multiplayer performance, it's very very bad, I never had any issues with online games, I have very good Internet speed.

the problem is the cars clip into each other and there's a lot of issues with control because of lag, you basically can't control your car - it steers in directions you're not steering. It kills all enjoyment, so I would say it's only a single player game

…

Expand

Singleplayer part of the game is fine, graphics are ugly though. Multiplayer is pretty empty all the time, also multiplayer network

Singleplayer part of the game is fine, graphics are ugly though. Multiplayer is pretty empty all the time, also multiplayer network performance is pretty bad for me, it lags a lot, other games work great for me. So I would recommend to buy it on discount

…

Expand