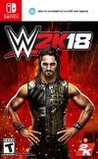 Summary:

WWE video games are back on Nintendo platforms with WWE 2K18, available for the first time EVER on Nintendo Switch. Featuring cover Superstar Seth Rollins, WWE 2K18 promises to bring you closer to the ring than ever before with hard-hitting action, stunning graphics, drama, excitement, new

WWE video games are back on Nintendo platforms with WWE 2K18, available for the first time EVER on Nintendo Switch. Featuring cover Superstar Seth Rollins, WWE 2K18 promises to bring you closer to the ring than ever before with hard-hitting action, stunning graphics, drama, excitement, new game modes, additional match types, deep creation capabilities. A new MyCAREER experience puts you on the path to greatness as you journey along on the road to WrestleMania. Explore WWE through free-roaming backstage, conversing with WWE Superstars, forming alliances, making enemies, seeking out quests, and strategizing for upcoming matches. Road to Glory. Can your MyPlayer make it to the WWE Hall of Fame? Compete with opponents online to improve your MyPlayer by earning unlockables, boosts and upgrades all while securing your entry into special events that are held alongside real-life WWE special events, such as pay-per-views.

…

Expand
Developer:

Yuke's

Genre(s):

Sports

,

Individual

,

Combat

,

Wrestling

# of players:

Up to 6

Cheats:

On GameFAQs

Rating:

T
Please enter your birth date to watch this video:
You are not allowed to view this material at this time.
WWE 2K18 - Cena (Nuff) Edition Reveal Trailer
It's another rushed effort from 2K Games which botches the launch of an eagerly anticipated title. It's so frustrating because WWE 2K18 is packed with content and could have been truly special, if a little more care had been applied. Maybe a patch can salvage this release but for now you want to avoid it.

The fact that this is a terrible port on the Nintendo Switch only makes things worse. All I can hope for at this point is to have a developer show up with a vision, a way to turn the WWE series around and begin from scratch. Perhaps next year. The Nintendo Switch would be a perfect platform to start from scratch and create something truly magical that does the art of pro-wrestling the justice it deserves.

WWE 2K18 for the Switch wasn't ready to be released, plain and simple. The degree of slowdown in any match type with more than two people in the ring at the same time is simply unacceptable. Add onto that the weird audio glitches and an overall lack of polish, and the underwhelming single-player modes that impact all versions of WWE 2K18, and you have a Switch port that even the biggest of wrestling fans should stay far away from.

While co-developer Blind Squirrel has stated publicly it is working on implementing some post-launch improvements, it doesn't change the fact WWE 2K18 ever existed in this form at all. Switch has had an incredible 2017 and played host to some truly awe-inspiring ports, but as it stands the latest slice of sports entertainment is best enjoyed elsewhere. Wrestling fans with a Switch deserve better games than this sorry jobber.

WWE 2K18 is just painful to play. Almost everything about the port is poorly implemented, causing me to just feel utter sadness.

I feel bad calling this a bad game as I can see the makings of a good game in here, it's just unfortunate that all the technical issues completely destroy whatever chance this game has of being even remotely playable. I like to be the optimist and hope that with a future patch these issues can be resolved but at this point, I'm not sure if 2K is going to put the effort into it. Hopefully, 2K give it a decent shot with their next attempt if they try for another wrestling game on the system, be it WWE 2K19 or the ever hoped for follow up to No Mercy, heck I'd take an Allstars 2 at this point. Until then our hopes for a decent wrestling game on a Nintendo system will be just that, hopes.
I love the lag so much it makes it extremely playable for everyone also the glitches make it even more enjoyable

If I'd spent more than £20 for this, it'd definitely be lower, but I managed to pick the deluxe edition up for £18 and it's not great. One on

If I'd spent more than £20 for this, it'd definitely be lower, but I managed to pick the deluxe edition up for £18 and it's not great. One on one, one on two and triple threat matches run perfectly fine, but anything more than that is abysmal. Entrances are a nightmare, mycareer is unplayable, audio quality is significantly worse than the console counterparts, crashes happen frequently and the graphics are comparable to WWE 2k14. We've seen the switch do better with doom and Skyrim, how can't this run fine. I'd like a WWE 2k21 on the switch but if it's anything like WWE 2K20 I'll pass

…

Expand

I cannot believe that 2K games sat down, played this game, and said, "OK, it's good enough." It's easily the worst Switch game ever due to its

I cannot believe that 2K games sat down, played this game, and said, "OK, it's good enough." It's easily the worst Switch game ever due to its horrendous framerate, compressed/glitchy audio, numerous bugs, and PS2-level graphics.

…

Expand

The switch version is unplayable and you should never buy it. They are nit interested in fixing it and the game is still full price on the

The switch version is unplayable and you should never buy it. They are nit interested in fixing it and the game is still full price on the nintendo eShop

…

Expand

This game just doesn't run in any way that you could ever look at it and think "that seems like it's ready to be sold to consumers" the frame

This game just doesn't run in any way that you could ever look at it and think "that seems like it's ready to be sold to consumers" the frame rates of some of the Wrestlers intros can drop to single digits and none of them are sync'd correctly with their music which means the presentation is just horrific to sit through.

When you play this you just can't help but think how much of a shame it is that they didn't simply lower the res, even drop it down to something like Sub HD 480p and lower the number of 3d models in the crowd or remove things like smoke effects which murder the framerate and this could have been one of the best Switch ports on the market, considering that every bit of content from the other systems seems to be present, but .... yeah it all just feels like it's running in super slow motion which makes the pinning and submission mini games damn near impossible to do since there's half a second+ of input lag at all times.

Such a shame that this was launched in the state it is just to make a Christmas release.

…

Expand

Worst game ever! I have never played a game this bad in my entire life. I don't think I even need to go into details because everyone knows

Worst game ever! I have never played a game this bad in my entire life. I don't think I even need to go into details because everyone knows how bad this game is. Bring back the N64 titles! That's how you make a wrestling game! I don't get it, NBA 2k18 was great, but this game fails in every aspect. I was embarrassed to even play this game.

…

Expand