Publisher:

Nintendo

Release Date:

Jul 29, 2022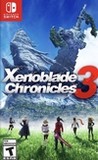 Summary:

"Fighting to liveand living to fight" - A brand new RPG adventure awaits in Xenoblade Chronicles 3. Bringing together the futures of Xenoblade Chronicles and Xenoblade Chronicles 2, this title will take players to the world of Aionios, home to two hostile nations. Keves: a nation where

"Fighting to liveand living to fight" - A brand new RPG adventure awaits in Xenoblade Chronicles 3. Bringing together the futures of Xenoblade Chronicles and Xenoblade Chronicles 2, this title will take players to the world of Aionios, home to two hostile nations. Keves: a nation where mechanical technology was developed. Their armies are composed of units consisting mainly of combat vehicles. They use units of small, mobile weapons operated by soldiers riding them.
Agnus: a nation strong in ether, a magical technology. Their forces are built around units that specialise in ether combat, and they fight with small, mobile, autonomous weapons that use ether technology.
Six soldiers hailing from these nations, will take part in a grand tale with life as its central theme.
Noah: One of the protagonists of Xenoblade Chronicles 3 and a solider of Keves. Noah is also an "off-seer" who mourns for soldiers who've lost their lives on the battlefield.
Lanz: An ally of Noah's who wields a great sword that doubles as a shield.
Eunie: A childhood friend of Noah and Lanz who has a sharp tongue and rough personality. She specialises in healing her allies in battle.
Mio: The other protagonist of this story, Mio is a soldier of Agnus and an off-seer like Noah.
Taion: A tactician who fights alongside Mio using his smarts and insight.
Sena: This soldier is an ally of Mio and Taion. Despite her petite figure, Sena wields immense physical strength!

…

Expand
Developer:

Monolith Soft

Genre(s):

Role-Playing

,

Action RPG

# of players:

No Online Multiplayer

Cheats:

On GameFAQs

Rating:

T
Please enter your birth date to watch this video:
You are not allowed to view this material at this time.
Xenoblade Chronicles 3 - Direct Teaser Trailer
Nintendo Force Magazine

Nov 9, 2022

I began XC3 knowing I'd enjoy it because of the fun I had with the previous games. What I didn't expect was for this to become one of my favorite JPRGs of all-time! With its engaging open world, engrossing combat system, loveable characters and gripping story, this game is a masterpiece of the genre! [Issue #62 – November/December 2022, p. 67]

We found Xenoblade Chronicles 3 to be a timeless gem that will go down in history as one of the greatest JRPGs ever made. Its beautiful story, great gameplay and beautiful visuals make it a must-have for anyone. A flawless game for a legendary saga.

Xenoblade Chronicles 3 is a massive undertaking that hits some extremely high points while only presenting a few issues like the performance struggles at times due to the Switch's limitations. I fell in love with the cast almost immediately, and I can't wait to see their stories progress in future DLC. This is a game that is going to sit with me for years and is a very serious Game of the Year contender.

Xenoblade Chronicles 3 is an exemplary JRPG on the Nintendo Switch, improving on the already great titles that came out before it while still welcoming newcomers.

This epic adventure is the culmination of the series. The world is vast and filled with combat sequences while also providing an engaging plot to suck you in.

Epic giant role-playing game that stays true to the tradition of the series and creates a distinctive world that shakes your foundations after umpteen hours of play.

Xenoblade Chronicles 3 just cannot get out of its own way. This is, after all, a game that provides a tutorial on how to complete tutorials, and it keeps piling on slight mechanics well into the 20-hour range.
Without any doubt, best entry in the franchise, fix a lot of issues in the first two games (such as side quests, and narrative issues) and

Without any doubt, best entry in the franchise, fix a lot of issues in the first two games (such as side quests, and narrative issues) and makes the best characters in the whole franchise, please buy this game!

…

Expand

Best in the series by far, as it should! Masterpiece, they keep introducing new mechanics way past the opening chapters, this could be

Best in the series by far, as it should! Masterpiece, they keep introducing new mechanics way past the opening chapters, this could be complicated but everything is explained and the slow approach makes it feel like im learning and even evolving the characters. Many games i just put down, but this i cant put down.

Handheld or docked, i like both. It runs very good in my opinion and is contrary to many jrpgs a full fletched game. I love it.

…

Expand

Best combat system of the series, peek fiction and awesome osts! Amazing characters design, I wonder how they did such a masterpiece for Switch!

Edit: after completing the game im feeling compelled to give this game a perfect score due to the lore and its sheer size of content in

Edit: after completing the game im feeling compelled to give this game a perfect score due to the lore and its sheer size of content in contrast to my initially explained reason to give it a 9/10.

This is a love letter to all Xenoblade fans when it comes to all the references of past games. Without getting into too much detail or spoilers there is just a few caveats to the game that hinders it to have a perfect score, like the fact that all initial tutorials are vast and not skippable.

Now for the goods things: The combat mechanic is mostly unchanged from previous games, in fact, it feels like a combination of Xenoblade 1, 2 and Torna DLC, while also simplifying its chain attack functionality. Leveling became non tedious thanks to the existence of new mob category (ELITE) which grants a minimum of 150% EXP bonus, combined this with overkill, a chain attack function which adds a 300% EXP bonus and you have the recipe of easy leveling.

Story is very intriguing and it doesn't shy away from the concepts of betray, grief, despair, death and fear. it shows a very crude reality of war, while also introducing concepts of existentialism something that most Xeno series include on their stories.

Overall, its a well rounded story, gameplay is smooth and dynamic, cinematics are incredibly filled with emotion from the characters involved, and the game engine can handle heavy amounts of passive and aggressive NPC without feeling slow or stuttering, making its vast world feel alive and not empty at all.

…

Expand

Great story, Gameplay way verter than Theo 2 last games, i fall on love on its more i play ir! Must buy for game of jrpgs and Nintendo switch onera!

Almost perfect. My only complaints are the obnoxious, unskippable tutorials and how hard it is to find certain quest markers later in the

Almost perfect. My only complaints are the obnoxious, unskippable tutorials and how hard it is to find certain quest markers later in the game. Story is amazing, game play is amazing, music is amazing, environments are amazing.

…

Expand

Gráficos: malos Jugabilidad: malísima
Combate repetitivo
Historia aburrida y sin sentido Una estafa por lo que cobran y lo que dan. Es lo que hay j