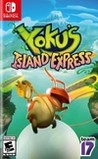 Summary:

Yoku's Island Express is an open world/metroidvania-style pinball adventure, Seamlessly blending platform navigation with pinball mechanics across a large open world.
Please enter your birth date to watch this video:
You are not allowed to view this material at this time.
Yoku's Island Express - 10 Minutes Of Gameplay
Yoku's Island Express is out on basically everything, and wherever you can grab it, I heavily recommend it. The game is just an absolute treat from top to bottom, perfect even for people who aren't particularly interested in pinball. It puts these two genres together extremely well, making them both feel fresh and fun in a way I haven't seen in a good bit. The kind of imagination and design on display is always great to see, and you'll find yourself wishing for more as soon as the credits roll.

Yoku's Island Express is a genuine breath of fresh air, combining pinball and Metroidvania mechanics in a way that feels truly inspired. Add in one of the most appealing fantasy worlds you'll find on the eShop, and you have yourself an instant left-field classic.

Yoku's Island Express is a delight, plain and simple. It's gorgeous, plays beautifully, and I hope it's the start of a new franchise, because I want to play a lot more of this.

A strangely successful mix of genres that plays both a mean pinball and a highly competent game of Metroidvania, and all wrapped up in some utterly charming presentation.

Who said Metroidvania and pinball can't exist in the same game? Yoku's Island Express shows the opposite by being a great game, thanks to very uncommon and never frustrating gameplay.

Edge Magazine

Jun 21, 2018

It's almost tempting to say that this feels like the combination of pinball and platforming that Sonic The Hedgehog wishes it was. [Aug 2018, p.108]

For the most part though, Yoku's Island Express is a lot of wholesome, whimsical fun. It manages to make the hybrid of two disparate genres work in some inspired ways, and the result is a unique game full of surprises that is sure to delight players. The only flaw is when the mechanics outweigh their welcome and stop feeling unique – the moments where Yoku is just a pinball game, or just a Metroidvania, are generally the weakest.
The most fun I can remember having with an indie game. It is delightful and addictive, with fun new mechanics introduced throughout. Ingenious

The most fun I can remember having with an indie game. It is delightful and addictive, with fun new mechanics introduced throughout. Ingenious combination of pinball and platformer.

…

Expand

This game was pure charm and unique mechanics. Totally enjoyable from beginning to end. Great for handheld play as well and you'll want to

This game was pure charm and unique mechanics. Totally enjoyable from beginning to end. Great for handheld play as well and you'll want to 100% the game. It's not a difficult game, but still very fun and worth playing.

…

Expand

Lovely and fun, keeps you hooked for hours and most importantly, truly relaxing. The pace lets you explore at peace, but at the same time

Lovely and fun, keeps you hooked for hours and most importantly, truly relaxing. The pace lets you explore at peace, but at the same time never lets you get bored. I fell in love from the demo and purchased it on a sale and it was the best investment. Truly recommend!

…

Expand

This is a charming little game that takes platforming to an odd new level - a pinball hybrid! You explore an island filled with unique animals

This is a charming little game that takes platforming to an odd new level - a pinball hybrid! You explore an island filled with unique animals and other critters as the island's new post master, helping them with their problems and working to save the god of the island who's fallen into a deep sleep. You help them by shooting yourself around places as an adorable beetle with a ball, using bumpers and other familiar pinball methods to collect fruit and even take on bosses. The music is super chill and relaxing, and knows when to pick up and slow down at the right times. This game is a honest joy, and for the first game made by Villa Gorilla after 5 years of effort, you can really see the love.

…

Expand

Jad it for a while and didn't play till this week. Game is beautiful, mechanics are solid and well developped. Variety is high. There is a lot

Jad it for a while and didn't play till this week. Game is beautiful, mechanics are solid and well developped. Variety is high. There is a lot to do.

On the few negative side.
To get from 1 place to another it can be quite frustrating.

…

Expand

Very original concept, and well executed. It's probably a bit too much on the easy side of things, but it's fun to play, the music is nice and

Very original concept, and well executed. It's probably a bit too much on the easy side of things, but it's fun to play, the music is nice and the graphics are great. Overall a game well worth playing.

…

Expand

This is a great and beautiful game, however I feel there was something that wasn't stated so clearly and I'll do it here. Yoku is a open world

This is a great and beautiful game, however I feel there was something that wasn't stated so clearly and I'll do it here. Yoku is a open world pinball game, do not get Yoku unless you like pinball.

…

Expand