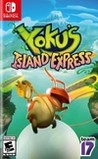 Summary:

Yoku's Island Express is an open world/metroidvania-style pinball adventure, Seamlessly blending platform navigation with pinball mechanics across a large open world.
Developer:

Villa Gorilla

Genre(s):

Action

,

Pinball

# of players:

No Online Multiplayer

Cheats:

On GameFAQs

Rating:

E10+
Please enter your birth date to watch this video:
You are not allowed to view this material at this time.
Yoku's Island Express - 10 Minutes Of Gameplay
Yoku's Island Express is out on basically everything, and wherever you can grab it, I heavily recommend it. The game is just an absolute treat from top to bottom, perfect even for people who aren't particularly interested in pinball. It puts these two genres together extremely well, making them both feel fresh and fun in a way I haven't seen in a good bit. The kind of imagination and design on display is always great to see, and you'll find yourself wishing for more as soon as the credits roll.

Yoku's Island Express is a genuine breath of fresh air, combining pinball and Metroidvania mechanics in a way that feels truly inspired. Add in one of the most appealing fantasy worlds you'll find on the eShop, and you have yourself an instant left-field classic.

Yoku's Island Express is a delight, plain and simple. It's gorgeous, plays beautifully, and I hope it's the start of a new franchise, because I want to play a lot more of this.

Yoku's Island Express is wholly unique - a seamless blend of platformer, pinball, and puzzle game that never outstays its welcome our wears out its charming visual style. Highly recommended. NOTE: Our copy was provided by Team17 for review purposes.

Yoku's Island Express combines pinball with exploration in an irresistibly charming and gorgeous adventure game.

This is a strange concept that works great. This "pinballvania" offers a unique experience for those who are looking for a different platformer.

For the most part though, Yoku's Island Express is a lot of wholesome, whimsical fun. It manages to make the hybrid of two disparate genres work in some inspired ways, and the result is a unique game full of surprises that is sure to delight players. The only flaw is when the mechanics outweigh their welcome and stop feeling unique – the moments where Yoku is just a pinball game, or just a Metroidvania, are generally the weakest.
The most fun I can remember having with an indie game. It is delightful and addictive, with fun new mechanics introduced throughout. Ingenious

The most fun I can remember having with an indie game. It is delightful and addictive, with fun new mechanics introduced throughout. Ingenious combination of pinball and platformer.

…

Expand

This game was pure charm and unique mechanics. Totally enjoyable from beginning to end. Great for handheld play as well and you'll want to

This game was pure charm and unique mechanics. Totally enjoyable from beginning to end. Great for handheld play as well and you'll want to 100% the game. It's not a difficult game, but still very fun and worth playing.

…

Expand

Yoku, while short, was one of the most densely-packed fun games I have ever played. Two genres that I'm normally not super crazy about,

Yoku, while short, was one of the most densely-packed fun games I have ever played. Two genres that I'm normally not super crazy about, Pinball and Metroidvania, combine to create a world that is incredibly fun to explore with each area feeling like a unique spin on the concept. The world is lighthearted but has a feeling of depth, like a ghibli movie or indie animation, which kept me entranced the way whole way through. There's a surprising wealth of characters and side quests to discover, and it is all done with loads of charm. There is a lot of backtracking near the end of the game, like many other metroidvanias, but the mechanics kept this from feeling too intrusive and accommodations like the Beeline help smooth it out as well. It's about 5 hours if you want to beat the game, but that time doubles if you wish to 100% it, and there is a mechanic in the game that encourages at least one replay, which I wish to do anyways. I strongly recommend it to people who love physics-based platformers and metroidvanias in general.

…

Expand

La original idea de combinar de manera que realmente funcionen los generos metroidvanias y pinball hacen ya de este juego una llamativa opcion

La original idea de combinar de manera que realmente funcionen los generos metroidvanias y pinball hacen ya de este juego una llamativa opcion para probar algo diferente. Sumarle a esto unos preciosos y coloridos graficos y una ambientacion musical muy chill-out, junto carismaticos animalisticos personajes y es imposible no ver el cariño vertido en crear este juego.
Como puntos negativos del juego hay que señalar no obstante los nacidos de la propia dinamica: si como a mi, no se te dan bien las mecanicas de pinball, algunas zonas pueden ser algo frustantes, aunque debido a la imposibilidad de morir se convierte en una lucha por seguir intentandolo. Algo similar ocurre con una de las ultimas habilidades desbloqueadas, que nos permite lanzarnos como una honda en determinados lugares, pero que al ser introducida al final del juego y ser realmente dificil de dominar, haga mas frustante de lo debido algunas areas secretas donde la necesitamos. No obstante esto son "peros" muy menores, yla capacidad de introducir nuevas mecanicas en cada zona, haciendolas frescas y nada repetitivas es tambien loable.
Y si quereis conseguir el 100% (sin guia, como toca) os espersn buenas horas quebrandoos la cabeza, buscando areas secretas, formas de llegar a este o a aquel cofre, o maneras de resolver los ingeniosos puzzles que nos lanzaran algunos habitantes de la isla.

…

Expand

Yoku's Island Express
A Metroidpinballvania
Yoku's Island express is a 7 hour long Metroidvania game where you play as a postmaster beetleYoku's Island Express
A Metroidpinballvania
Yoku's Island express is a 7 hour long Metroidvania game where you play as a postmaster beetle named yoku you're here to deliver some mail, but this sets you on a quest of gathering the three chiefs of the island to perform a ritual to save makuma, the life blood of this island…
and in Metroid vania fashion this means going as far as you can on this one giant connected map completing quests to get new items to reach new areas rinse and repeat until credits role…
this isn't an ordinary metroidvania game though,,
The entire map is one giant pinball machine..
you have full control of yokuyoure rolling along this ball, but often you'll find yourself in a mini pinball area where you lose full control and are just focused on the flippers.. hitting targets, collecting fruit so you can unlock other targets and fast travel bee line posts.. even working towards larger fruit carrying capacity
for probably the first half of the game, the fruit feels worth collecting and looking out for..
it feels scarce despite seemingly being all over the place due to how pricey unlocking bumpers and new items is..
this encourages exploration, and youll soon find collectables insinuating there are a few secrets to uncover on this island, adding more intrigue….
Everything about this game is so charming and well designed..
As a metroidvania, I naturally felt overwhelmed at times…
this game is very unlinear, you have a map you can keep referring to to the area you need to get to.. but until you've explored an area its clouded.. so finding the route to get there is completely up to you..
youll constantly run into for the time being dead ends as you might not yet have the ability to get past a certain point..
though if you stop and talk to the characters of this world, the game does a great job of giving you hints on where to go to next, or which area to investigate a little..
As a giant pinball game, traversing upwards can feel a bit frustrating at times… as you are relying on timing od the ball and the triggers and you can feel a little out of control, but yokus island express is also super forgiving..
you cant really die in this game.. you can only lose fruit and traversal progress…
but none of it is ever too painful..
Its just enough to keep you engaged and putting in a decent amount of effort…
there are also side quests here on top of the collectables..
tons to do to keep you exploring and hooked in this polished pinball world..
This is a really unique experience worth checking out..
theres nothing out there like it.
I give Yokus Island Express
a 7.5/10

…

Expand

This is a great and beautiful game, however I feel there was something that wasn't stated so clearly and I'll do it here. Yoku is a open world

This is a great and beautiful game, however I feel there was something that wasn't stated so clearly and I'll do it here. Yoku is a open world pinball game, do not get Yoku unless you like pinball.

…

Expand