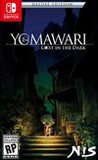 Summary:

To break a curse placed upon her, a young girl must venture into the haunted streets of her town at night to search for her lost memories while evading
the twisted spirits that lurk in the darkness.
Please enter your birth date to watch this video:
You are not allowed to view this material at this time.
Yomawari: Lost in the Dark - Announcement Trailer - Nintendo Switch
You could say that this Yomawari suffers a little from the diminishing returns of sequels. Each sequel feels less fresh and original than the previous one, and while stagnation might never quite set in (after all, there are a lot of properties that have dozens of titles), audiences start taking the qualities of what these games do well for granted. That being said, Yomawari: Lost In The Dark is such a fascinating, beautiful little horror game. With some smart mechanics, spot-on perfect pacing and atmosphere, and an intense, melancholy narrative this horror experience achieves something rare for video game horror: spooky good times that will make you think and even feel.

Yomwari: Lost in the Dark promises much in its presentation and delivers on every aspect, and will assuredly become a cult classic among horror veterans.

Yomawari: Lost in the Dark is the third entry in the deceptively cute Yomawari series of horror games and continues an effectively frightening tradition. Fans of J-Horror will likely appreciate the slow and atmospheric situations, but there are plenty of jump scares to keep you on your toes. The story is simple, but effective, and the unique way it goes about conveying the tale will keep you glued to the screen. Just make sure you don't look away, though. There's no telling what you'll see in the dark.

Yomawari: Lost in the Dark has pleased us, but it is very continuist just like its previous installments. However, its disturbing atmosphere mixed with the sweetness of its main characters creates a contrast that has kept us hooked once again.

Yomawari: Lost In the Dark uses every resource it has to create an unsettling and involving horror puzzle experience. It provides plenty of scares and a surprisingly effective story that should be enough to compel players forward even after the game starts to lose its impact.

If you are a horror fan who has never played a Yomawari game, Lost in the Dark will offer you a unique horror experience. But if you are an old fan, this feels like a recycling of the first two titles. Either way, it is an excellent game if you are into an unusual mix of creepy and cute.

Lost in the Dark is very much a sequel, for better of worse, and delivers exactly what you would expect from Yomawari.