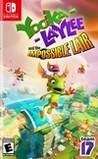 Summary:

Yooka & Laylee are back in a brand-new platform hybrid adventure. They must run, jump and roll their way through a series of challenging 2D levels, face a puzzling Overworld and rally the Royal Bee-tallion to take down Capital B and his Impossible Lair.
* The overworld isn't just a hub toYooka & Laylee are back in a brand-new platform hybrid adventure. They must run, jump and roll their way through a series of challenging 2D levels, face a puzzling Overworld and rally the Royal Bee-tallion to take down Capital B and his Impossible Lair.
* The overworld isn't just a hub to hop from level to level, it provides a whole separate gaming experience. Explore and unlock more 2D levels by completing objectives and puzzles, rescue Royal Bees and find collectibles.
* Alternate Level States. Think you've got a level figured out? Try it in its alternate state! Flip switches in the overworld to create new landscapes.
* Bee-at the Impossible Lair. Players are free to tackle Capital B's Impossible Lair at any time; however, they may find it too much of a challenge without the help of the Royal Bee Guards.

…

Expand
Developer:

Playtonic Games

Genre(s):

Action

,

Platformer

,

2D

# of players:

No Online Multiplayer

Cheats:

On GameFAQs

Rating:

E
Please enter your birth date to watch this video:
You are not allowed to view this material at this time.
Yooka-Laylee and the Impossible Lair - 2D Platforming Gameplay | PAX West 2019
A proposal that maintains a great difficulty curve and a unique structure, which borrows from The Legend of Zelda: Breath of the Wild, for the most skilled.

Donkey Kong Country fans rejoice: this is the spiritual successor you've been waiting for. The worst thing you could say about it is that the overworld exploration may prove to be too involved for those who are in it purely for the runny-jumpy stuff, but those who are happy to mix platforming with top-down adventuring and don't mind adapting to the constantly changing pace will find the best of both worlds here. Yooka-Laylee and the Impossible Lair is a fantastic sophomore effort that pays tribute to Rare's past and establishes Playtonic as one of the UK's most exciting studios.

Yooka-Laylee and the Impossible Lair marries a variety of platforming mechanics in a meaty campaign with tons of challenges ahead. It's as polished as it is focused and as true to the genre as you can get. Now, sign me up for the next one.

Overly familiar in many ways but not without a splash or two of its own inventive ideas. Sure, some are more successful than others but in the end, you're left with a challenging and reliably entertaining platformer and a great extension of the Yooka-Laylee brand.

Yooka-Laylee and the Impossible Lair is a great homage to the Donkey Kong Country series, mixing its 2D mechanics with a 3D worl map to explore. The last level is always accessible to try out, but the collectibles you will find along your journey gives the game a tiny feels of an RPG. With so many secrets to fond across both the levels and the environment, there are plenty interesting things to look out in PlayTonic's second game.

Yooka-Laylee and the Impossible Lair is, at its worst, an enjoyable 2D platformer. Some of the level design is a tiny bit pedestrian, but the dynamic duo have a versatile moveset that helps make rolling around levels fun. Where this game shines is in the sum of its parts. The individual levels might not be outstanding, but combining those with alternate versions and a light and engrossing overworld make the whole package that is Playtonic's second game a thrilling one. They might not have regained the crown from Retro Studios in the realm of Donkey Kong Country-like games, but they certainly retained the googly eyes.

Having to backtrack through stages to eventually reach and tackle the Impossible Lair would be more tolerable if the final encounter wasn't such a steep difficulty spike, but in truth it's likely you'll tire of its routine platforming well before that disappointment sets in. The Impossible Lair is definitely a better attempt at capturing the magic of platformers than Yooka-Laylee's first crack at it, but it's still not remarkable. If you're itching to return to a bygone era, then The Impossible Lair might scratch it. Just don't expect much beyond that.
If you're a fan of 2D platformers, especially the original SNES DKC games, don't miss this one!

Love this game!!! I don't know whether this or dk is better, but it's still a great game!

Amazing... I am fan of the DK trylogy in SNES and this game is more like snes games than DKC retuns and tropical freeze, very good music very

Amazing... I am fan of the DK trylogy in SNES and this game is more like snes games than DKC retuns and tropical freeze, very good music very good lairs I would like a donkey kong game made from the team of Yooka- Layiee

…

Expand

this is a fantastic 2.5D platformer. It's also 60 fps both docked an undocked!

Bardzo dobra gra platformowa. Piekna i kolorowa i bardzo grywalna. Czołowka platformerow na switchu

Great game. It doesn't beat DKTF in any way, but it's a really nice platformer. Good graphics and nice control. A bit looser than the DK serie.

I love the first game, seriously! But this is one of the worst games i have ever played:

-First of all, the story. The story is bad, sinceI love the first game, seriously! But this is one of the worst games i have ever played:

-First of all, the story. The story is bad, since a lot of boring new characters appear and the humor that characterized the first installment doesnt appear at all.
-The graphics are pretty nice but the 30 FPS are not tolerable.
-The gameplay is generic so dont expect too much.
-Dlc and general gameplay. Is broken! And the DLC add more frustration!
Dont buy this game! :P

…

Expand