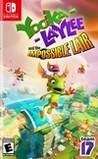 Summary:

Yooka & Laylee are back in a brand-new platform hybrid adventure. They must run, jump and roll their way through a series of challenging 2D levels, face a puzzling Overworld and rally the Royal Bee-tallion to take down Capital B and his Impossible Lair.
* The overworld isn't just a hub toYooka & Laylee are back in a brand-new platform hybrid adventure. They must run, jump and roll their way through a series of challenging 2D levels, face a puzzling Overworld and rally the Royal Bee-tallion to take down Capital B and his Impossible Lair.
* The overworld isn't just a hub to hop from level to level, it provides a whole separate gaming experience. Explore and unlock more 2D levels by completing objectives and puzzles, rescue Royal Bees and find collectibles.
* Alternate Level States. Think you've got a level figured out? Try it in its alternate state! Flip switches in the overworld to create new landscapes.
* Bee-at the Impossible Lair. Players are free to tackle Capital B's Impossible Lair at any time; however, they may find it too much of a challenge without the help of the Royal Bee Guards.

…

Expand
Developer:

Playtonic Games

Genre(s):

Action

,

Platformer

,

2D

# of players:

No Online Multiplayer

Cheats:

On GameFAQs

Rating:

E
Please enter your birth date to watch this video:
You are not allowed to view this material at this time.
Yooka-Laylee and the Impossible Lair - 2D Platforming Gameplay | PAX West 2019
It's such a shame that Nintendo have little interest in developing a sixth DKC, but at the same time it's incredible how Playtonic nailed the formula so well. Fun levels, on point difficulty, visuais and soundtrack very well executed and a slew of new ideas really makes The Impossible Lair feel like a sequel to a series that we like so much, and not just a cheap knock-off.

Yooka-Laylee and the Impossible Lair marries a variety of platforming mechanics in a meaty campaign with tons of challenges ahead. It's as polished as it is focused and as true to the genre as you can get. Now, sign me up for the next one.

Even with plenty of superb 2D platformers releasing in recent years, Yooka-Laylee and the Impossible Lair easily belongs alongside the best the generation has to offer thanks to excellent level design and platforming that is evocative of past classics from the genre.

Overly familiar in many ways but not without a splash or two of its own inventive ideas. Sure, some are more successful than others but in the end, you're left with a challenging and reliably entertaining platformer and a great extension of the Yooka-Laylee brand.

Yooka-Laylee and the Impossible Lair may not recreate the whole platforming genre but the experience included in this game is nothing short of welcoming for both fans of platform games and beginners. Boasting a world that's a pleasure to explore along with a humorous dialogue that's full of personality, Yooka-Laylee's spin-off is a delight to play and a recommended work for everyone.

Yooka-Laylee and the Impossible Lair is a great homage to the Donkey Kong Country series, mixing its 2D mechanics with a 3D worl map to explore. The last level is always accessible to try out, but the collectibles you will find along your journey gives the game a tiny feels of an RPG. With so many secrets to fond across both the levels and the environment, there are plenty interesting things to look out in PlayTonic's second game.

Having to backtrack through stages to eventually reach and tackle the Impossible Lair would be more tolerable if the final encounter wasn't such a steep difficulty spike, but in truth it's likely you'll tire of its routine platforming well before that disappointment sets in. The Impossible Lair is definitely a better attempt at capturing the magic of platformers than Yooka-Laylee's first crack at it, but it's still not remarkable. If you're itching to return to a bygone era, then The Impossible Lair might scratch it. Just don't expect much beyond that.
Bardzo dobra gra platformowa. Piekna i kolorowa i bardzo grywalna. Czołowka platformerow na switchu

The most fun I've had with a 2D platformer since DKC Tropical Freeze, which in turn is a platfomer that- barring the other DKC titles- I

The most fun I've had with a 2D platformer since DKC Tropical Freeze, which in turn is a platfomer that- barring the other DKC titles- I enjoyed immeasurably more than any other 2D platformer on the market. Highly recommended.

…

Expand

this is a fantastic 2.5D platformer. It's also 60 fps both docked an undocked!

Gran juego de plataformas, divertidísimo de jugar. 60 fps sólidos, gran diseño de niveles y buena banda sonora.

Lo único malo que puedoGran juego de plataformas, divertidísimo de jugar. 60 fps sólidos, gran diseño de niveles y buena banda sonora.

Lo único malo que puedo decir es la poca variedad de enemigos.

…

Expand

The levels are clearly inspired by the new DKC games, even though they don't reach the quality of them. But it was an interesting idea that

The levels are clearly inspired by the new DKC games, even though they don't reach the quality of them. But it was an interesting idea that you can change them with interactions on the over world. And there we are at the best part of the game. It makes SO MUCH fun exploring the over world because of the many fun puzzles there are. The game is better than the first game in my opinion. Important to notice is that this game feels, other than the first game, finished.

…

Expand

I don't understand who this game is for. It's too dull and repetitive and the last level is way too hard to work as a casual playthrough. More

I don't understand who this game is for. It's too dull and repetitive and the last level is way too hard to work as a casual playthrough. More hardcore players will be bored out of their minds until that last level which, even then, is more irritating and time-wasting than challenging. Finally, completionists will see the 100% quest slowly sap all the joy out of the experience until you're wondering why you're still playing. It seems like no matter what kind of player you are, this game will let you down in some way.

Contrary to what many reviewers have claimed, the level design is absolutely not good in this game and this is my main complaint. Mechanics and art assets are reused liberally so all the levels really start to blend together, worsened by the fact that there are two versions of every level. It recycles the same generic factory, city, forest themes over and over. Even if you disregard the repetitive visual theming, the levels would still blend together. Donkey Kong Country had a great formula of making sure every level had a unique gameplay hook. In spite of this game being a direct homage to DKC, it does not follow that formula, as mechanics are randomly thrown together to make levels and reused throughout the entire game. Worse, each level is broken up into several discrete sections that are connected by doors. These doors are the death of this game to me. For one, they make the level design feel much less engrossing as you're randomly warped from segment to segment. They feel like video game levels and not actual places. Worse, you cannot go backwards through any of these doors, meaning that if you missed a collectible, you need to restart the entire level. The 100% quest is made awful by this one thing alone and I really recommend you ignore the coins, you only need about 50% of them to get to the end and the 100% reward is quite underwhelming.

Next up is the difficulty or lack thereof. There is no punishment for death aside from losing your items and even that can be circumvented with an upgrade. There's even very little punishment for getting hit as you have a few seconds to grab Laylee back like baby Mario in Yoshi's Island. This can also be extended with an upgrade. What these two things mean is that the game is way too easy for its primary 40 levels. I can't remember a single time where the game got even remotely challenging and I was able to charge through like an idiot for the majority of my playthrough. It's dull and lacks the challenge factor that makes DKC and most 2D platformers so addictive. The mechanics are quite floaty as well and don't feel particularly good.

Lastly is the eponymous "Impossible Lair," the brutal final level that you can play at any time. While the primary levels are far too easy, this level is far too punishing. I assumed that if I played all the other levels and got all health bees that this would be fairly straightforward but alas, this was not the case. Even with every upgrade, this thing took me 3 hours and a dozen tries. 4 bosses, multiple loading screens, an escape sequence, and more! It's a time sink and it can feel like beating all the other levels was a waste of time when the end still demands perfection.

YL2's only saving grace is its hub world. It's very exploratory and will definitely scratch the collect-a-thon itch. Fans of the first game will relish their time here but it's tragically only about 20% of the game overall. This part of the game is very strong but it's just not strong enough to hold up the rest of the game.

To reiterate, I just don't understand who this game is for. If you're looking for a straightforward platformer, the game is too dull and repetitive to hold your attention. If you're a completionist and like collecting things, say you're a fan of Yooka Laylee for instance (SARCASM), then the 100% quest will turn the game into an absolute slog. If you like challenging games, the first 80% will be far too easy and the impossible lair is more irritating and time-wasting than it is challenging. If you don't like challenging games, then the impossible lair will slap you in the face after 10-15 hours and deny you from completing the game! It just doesn't work for anyone! Even if they fixed the difficulty curve, the floaty jumping and repetitive level design would still render this a mediocre platformer. This game may be more polished than the first Yooka Laylee but it sure isn't as compelling.

…

Expand

I love the first game, seriously! But this is one of the worst games i have ever played:

-First of all, the story. The story is bad, sinceI love the first game, seriously! But this is one of the worst games i have ever played:

-First of all, the story. The story is bad, since a lot of boring new characters appear and the humor that characterized the first installment doesnt appear at all.
-The graphics are pretty nice but the 30 FPS are not tolerable.
-The gameplay is generic so dont expect too much.
-Dlc and general gameplay. Is broken! And the DLC add more frustration!
Dont buy this game! :P

…

Expand