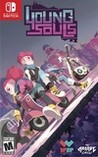 Summary:

As orphans, Jenn and Tristan's life path brought them to a mysterious scientist, who took them in and cared for them as his own children. But one day, he disappeared under very odd circumstances.

While searching desperately for him, the duo found a hidden cellar and the Moon Gate portal,As orphans, Jenn and Tristan's life path brought them to a mysterious scientist, who took them in and cared for them as his own children. But one day, he disappeared under very odd circumstances.

While searching desperately for him, the duo found a hidden cellar and the Moon Gate portal, transporting them to a dangerous parallel world where goblins thrive.

Your adventure begins as you fight to bridge these two very different worlds.

Young Souls is a gorgeous 2D brawler meets story-rich action RPG. Fight hordes of belligerent goblins, level up with hundreds of weapons and accessories, explore, and journey between worlds, as rebellious twins battle their way to save their foster father.

…

Expand
Developer:

1P2P

Genre(s):

Action

,

Beat-'Em-Up

,

2D

# of players:

No Online Multiplayer

Cheats:

On GameFAQs

Available On:

Stadia

Rating:

M
Young Souls is a prime example of the adage good things come to those who wait; with the title finally sprung from Google Stadia exclusivity, it's the perfect time to see how the game manages to capture the ephemeral fun factor of a brawler, while proffering a multitude of options to make the game more or less challenging, depending on what the player is seeking. Add that to a great narrative with a visually engaging comic-book style of storytelling that doesn't shy away from challenging topics, anyone looking to dive into a well-paced and superbly-executed adventure should start right here.

Young Souls combines two genres, beat 'em ups and RPGs, beautifully. The story is intriguing, and the artwork is stunning. Mix in a bunch of equipment that you can upgrade and explore, and you have a well-built game. It takes a lot for a game to break into my all-time favorite list for this genre, but Young Souls did just that.

Those of you who were big fans of Castle Crashers or Streets of Rage 4 will find plenty to love here. Young Souls smartly mixes RPG-lite elements with a compelling story, non-linear structure, and some impressively satisfying beat 'em up combat to make for an experience that you won't want to miss. Despite some rare performance hiccups which tarnish the Switch version slightly compared to the more powerful platforms, Young Souls still proves itself to be one of the best beat 'em up titles on the system, and we'd give this one a high recommendation to anyone who enjoys a good brawler, co-op or solo.

The player also has the possibility of settling the challenge at his convenience and at any time. Another very good point that allows you to appreciate in all circumstances the universe of Young Souls, which has been the subject of very special care despite a writing that is ultimately quite perfectible.

Nintendo Force Magazine

Jun 28, 2022

Young Souls succeeds when it comes to style, and the world it invites you to explore – both the human world above and the goblins' underworld below – is truly inviting. But for this game, you'd be better served to play on PC, PlayStation or Xbox instead of the Switch. [Issue #60 – July/August 2022, p. 23]

Young Souls is a very thoughtfully-designed game with a lot of satisfying systems to engage with. Taken together with its attention to making the game feel like a proper adventure, it's almost enough to carry it all the way through. But at least for me, it felt like the game dragged on a couple of hours longer than I would have preferred. There are also some performance issues plaguing this game, and it even crashed on me a few times. None of this was enough to put me off of Young Souls, but it certainly curbed some of my enthusiasm for it as a whole.

Alas, I wanted to love Young Souls more than I did, but the barely serviceable port gets in the way of what should have been a great experience. While there are some odd design choices in terms of how equipment is acquired and the fact that there isn't enough to spend your money on, the minute-to-minute gameplay is certainly better than your generic beat-'em-up. These foul-mouthed twins had me cracking up on multiple occasions, but the software closing unexpectedly had me cursing just as often. There's definitely potential with this one, but it's probably worth exploring other platform options if you have them. Even though you can see the heart and charm that goes along with these two souls, a bit more polish would have gone a long way.