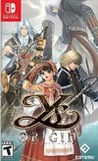 Summary:

700 years before the events of Ys I & II, the land of Ys was on the brink of destruction. Demons came in droves and forced the twin Goddesses who ruled the land to whisk their subjects away from the surface, into the safe embrace of the clouds. The demons were persistent, however,

700 years before the events of Ys I & II, the land of Ys was on the brink of destruction. Demons came in droves and forced the twin Goddesses who ruled the land to whisk their subjects away from the surface, into the safe embrace of the clouds. The demons were persistent, however, erecting a massive tower in pursuit. The battle that raged upon the ground had begun ascending for a second round up above.

…

Expand
Developer:

Falcom

Genre(s):

Role-Playing

,

Action RPG

# of players:

No Online Multiplayer

Cheats:

On GameFAQs

Rating:

T
Ys Origin is a fantastic game and definitely a good way to get into the series itself. The controls feel pretty fluid for the most part. You have several different difficulty options to choose from, so anyone from newcomers to experts can enjoy the game. The visuals still look pretty good today, and the soundtrack is nice to just sit back and listen to. If you're looking for a way to get into the series, Ys Origin is a great place to start.

Ys Origin on Switch is one of the most focused, fluid, and exhilarating action RPGs around.

What downsides it does have are either due to its age or just the fact that the designers prioritized a fun dungeon crawl over character building. That's fine. The game you have here is a fine, crisp, energetic dungeon crawl that's good to pick up and play and rewards you with bosses that are tough enough to matter but not so hard that you'll want to throw the game in the garbage. So let's hear it for Ys Origin. And if you're in the mood for any of that? Give it a shot, why don't you?

Ys Origin serves up undeniably fun hack-and-slash action, with just enough lore to keep newcomers and series veterans alike satisfied. Although there is a healthy challenge and tons of replay value, staying inside of the same tower can get dull.

While not particularly deep in combat system and level design, Ys Origin is still enjoyable today just like 14 years ago, thanks to reactive controls and an extreme fluidity of the experience, also on the narrative front.

Ys Origin is fine on Nintendo Switch. It's a decent if curious choice for the Nintendo platform, although its simplistic nature means it should be fun to pick up to play on the go. With Ys IX coming to the rest of the world next year, this could be a good place to get an idea of what the series is about - although potential players should know about its limitations.
This is a great game for hand held play. Great Ys game , not with Adol as the main character. New attacks feel like a twin stick shooter.

I can't believe how far down the list of best Switch games this comes. This is one of my favourite games ever and no nostalgia, I only played

I can't believe how far down the list of best Switch games this comes. This is one of my favourite games ever and no nostalgia, I only played it in the last couple of years

This is an action, adventure, puzzle RPG, with end to end dungeons, with great bosses at the end of them. It's challenging but fair, with multiple difficulty settings. If you're not a finger wizard, even normal is pretty hard at times.

I generally hate menu's but the menu's in this are easy to navigate and two simple pages.

Graphics - great, looks really nice. I prefer games with a lighter colour scheme but I like everything on this. I think the look is really fitting with other elements of the game.

Sound - I really enjoyed the sound track, absolutely superb music, again it suits the game and keeps the vibe of the game flowing.

Enemy variety - loads of bosses, with new types of baddies on each level.

Boss battles - brilliant, can seem incredibly hard at first but once you do a few attempts and learn the attack patterns, they get easier until you win. Depending on difficulty setting, you may need to level up. Levelling up is fun and if too much levelling is required, then it is because you have chosen the wrong difficulty.

Gameplay - Just loads of fun. 2.5D platforming, hack and slash, puzzles, story. A bit of everything but lots of mashing up baddies.

Story - I don't care for game stories because they're usually rubbish, or have terrible voice acting. This is written dialogue and great stories. Different depending on who you play through as.

This whole game just gels so well, with all elements of it being fun. The graphics, sound, story, bosses everything is just balanced really nicely and all of the aspects compliment each other really well.

I just can't understand the lack of attention this game gets. To sum it up, it is like a top down Zelda game on speed but without the overworld. Just a fantastic game and I mentioned the word fun a few times, it is something so many games lack and that is simple fun entertainment.

I still come back to this game regularly and there are not many games I return to.

…

Expand

A perfect introduction in the series! It's considered to be the best JRPG and as soon as you start the game you'll get to know why,

A perfect introduction in the series! It's considered to be the best JRPG and as soon as you start the game you'll get to know why, straightforward and engaging story & characters, fluid controls designed for both easy-going or speerun gameplay, great atmospheric music at all times and non-stop action. It brings to mind a mix of of classic games such as Secret Of Mana, Zelda: A Link To The Past and even Metroid & Castlevania. Ys Origin is a great and very enjoyable game with high replayability, a must play for all rpg/action fans.

…

Expand

This game made me feel nostalgic about the Secret of Mana era. This is my first entry is the Ys series and that's quite a nice one. Everything

This game made me feel nostalgic about the Secret of Mana era. This is my first entry is the Ys series and that's quite a nice one. Everything feels simple at first : old school 2D graphics, classical RPG musics and ARPG gameplay, a story of good and evil. But, the whole thing plays so smooth, good rythm, punchy fights, nicely put bosses, fairly balanced challenge, a story a bit deeper than anticipated, what do we need more ? For those like me who never played the franchise, this is a good entry point I think.
It could've been a bit better in terms of replayability (can't say more without spoiling).

…

Expand

This a fun little game. Its like a low carb version of an action RPG, where it takes away a lot of the complexity and the spectacle of a major

This a fun little game. Its like a low carb version of an action RPG, where it takes away a lot of the complexity and the spectacle of a major release, but keeps all of the core elements in tact. This almost feels like a remastered version of an SNES era action RPG, which is not a bad thing. There isn't much here besides the gameplay, which is pretty solid and entertaining enough to get me to play the game to end. The story is bland, the characters are not interesting, the levels are unimaginative, the graphics are alright, the music is okay, etc. You really have to be a fan of retro action RPG and hack and slash games to get into it. Not a bad game, fun little gem on the eshop.

…

Expand

Great action gameplay with a cutesy art style. Be warned, the story is nauseatingly cheesy and so painfully anime that you'll want to quit.

Great action gameplay with a cutesy art style. Be warned, the story is nauseatingly cheesy and so painfully anime that you'll want to quit. The bosses and the action keep you around, but good lord the story is bad.

…

Expand

I would say this game is suited purely to jrpg fans. The dialogue is grating, and drawn out, while the plot is filled to the brim with tropes.

I would say this game is suited purely to jrpg fans. The dialogue is grating, and drawn out, while the plot is filled to the brim with tropes. This is not why I picked up this game though, the real time combat was the real draw. Unfortunately there are very few tools at your desposal, you cannot dodge or guard, but you can jump, attack, and use magic; however there are few ways in which you can use these abilities. The first boss took me a number of attempts mainly because I was trying to find ways to make the combat enjoyable, then to get it over with as quickly as possible, then I relented and beat the boss the proper way, by slowly running around and occasionally hitting it, there was no skill or thought required just my willingness to sit there, bored, and occasionally press the attack button. Variety does pick up later in the game when you unlock more magic/abilities, but the game still requires nothing from the player than to slowly pick away at the enemies health while easily avoiding attacks (which require no dodging or timing). Outside boss battles the game is a shallow beatemup, again there is nothing required of the player other than to mash the attack button while running to avoid slow attacks, shortly after starting the game I stopped fighting minor enemies entirely, not good considering that is a large chunk of the game. The enviroment is severly lacking in variety, there is an enormous amount of repitition and recycled content, the only interesting aspect of the game is the bosses which are disappointing as well.

…

Expand