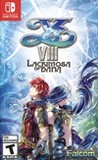 Summary:

Ys returns with a brand new adventure for the first time in 8 years! Adol awakens shipwrecked and stranded on a cursed island. There, he and the other shipwrecked passengers he rescues form a village to challenge fearsome beasts and mysterious ruins on the isolated island. Amidst this, Adol

Ys returns with a brand new adventure for the first time in 8 years! Adol awakens shipwrecked and stranded on a cursed island. There, he and the other shipwrecked passengers he rescues form a village to challenge fearsome beasts and mysterious ruins on the isolated island. Amidst this, Adol begins to dream of a mysterious blue-haired maiden living in an unknown world. Join Adol as he unravels the riddle of the cursed isle and the blue-haired maiden Dana in Ys VIII: Lacrimosa of Dana!

FEATURES:

An Epic Tale - Follow Adol on his latest adventure and uncover the mysteries of the cursed island.
Party On! - Change your playable character on-the-fly as you battle ferocious foes in lighting-fast combat.

Another Side - Unravel the mystery of the blue-haired maiden Dana through her unique gameplay sections.

It Takes a Village! - Rescue your fellow shipwrecked passengers and bring them to your village where they will provide valuable services.

…

Expand
Developer:

Falcom

Genre(s):

Role-Playing

,

Action RPG

# of players:

No Online Multiplayer

Cheats:

On GameFAQs

Available On:

Stadia

Rating:

T
The story is true artistry in motion, keeping things fresh and gripping even hours in, not afraid to take risks or introduce new things in ways that feel organic every single time. The Switch has found another great title, thanks to the port of Ys VIII: Lacrimosa of Dana, and I cannot recommend it highly enough.

Ys VIII: Lacrimosa of DANA is an incredible and unforgettable game. Its excellent soundtrack and sense of adventure greatly brightened the moments I spent with it. It is a must have game for owners of a Nintendo Switch.

Ys VIII is a marvelous game that truly deserves more attention. With my limited exposure to the series I am impressed each time I dive in. Those looking for a classic JRPG that hits all the right notes, you will be hard-pressed to find a better experience, especially on the Switch. I am glad this series is getting more exposure, and would love to see it eventually make its way onto every platform. Don't be afraid of the number, this is a great game to dive head first into.

It's an RPG that asks a hefty time commitment and doesn't offer particularly deep character storylines – but the combat, overall story, and character progression make Ys VIII: Lacrimosa of DANA a journey well worth taking.

With many original good ideas, Ys VIII : Lacrimosa of DANA is a pure gem. Even the Fedex quests are nicely integrated in the game and the only real flaw is that the game looks like a PS Vita game more than a Switch game.

In the event you come into this category, porting will undoubtedly satisfy your palates and bewitch you with an engaging and long-lasting product.

Ys VIII on Switch is a polarizing experience. It does some things so well, such as offering the full breadth of PS4 content on the go and a mostly solid framerate - but resolution woes, a translation that still leaves a lot to be desired despite seeing an overhaul, and more makes it somewhat hard to recommend this version of the game.
Just finished this game and I miss the experience already... The story was breathtaking, the characters were admirable and the gameplay was

Just finished this game and I miss the experience already... The story was breathtaking, the characters were admirable and the gameplay was topnotch... Can't wait for Ys IX. This is truly a hidden gem more people should know about. This is the first Ys game I've played and this makes me want to play the previous Ys games.

…

Expand

This is in my opinion the best non exclusive switch game, it's only one negative thing I can say about the game and that is the graphics, it

This is in my opinion the best non exclusive switch game, it's only one negative thing I can say about the game and that is the graphics, it doesn't look very good, everything else is perfect

…

Expand

This is an RPG well worth playing, 100+ hours of fun in my case. 50 hours in the game is still introducing new features that fit well and add

This is an RPG well worth playing, 100+ hours of fun in my case. 50 hours in the game is still introducing new features that fit well and add to the loop. finding new castaways always brings progress and the story was a big surprise as I did not expect something so grand. The whole game was a wonderful surprise. As a big RPG player who has been playing final fantasy, dragon quest and y's this game is truly a great.

…

Expand

This game is what made me make an account on metacritic. I have completed the game and must say that it was a very good experience. The

This game is what made me make an account on metacritic. I have completed the game and must say that it was a very good experience. The combat in this game is great and always keeps the game entertaining. The story feels fresh throughout the game. I usually do not really follow stories and completely found myself wanting more with this game. It does run at 30fps and graphically reminds me of a Playstation 2 game. However, I am a firm believer that graphics do not make games and this game is a perfect example. The crafting system is fun. I never felt like I had to excessively grind for things to complete the game. I would highly recommend this game for your Nintendo Switch if you have not already played it. It's a great game to be able to play on the go. It really shines in portable mode. I would say I played 40% portable and 60% docked.

…

Expand

>>Story: It centers around a adventurer named, Adol, with his bud Dogi.Where he starts off on a ship coming from Xandria and heading to

>>Story: It centers around a adventurer named, Adol, with his bud Dogi.Where he starts off on a ship coming from Xandria and heading to Eresia.(It takes place shortly after YsV)
In search of his next adventure till they come close to a "Cursed" island, Seiren, tht has caused many a ship wreck.They got a lil too close and get attacked by a undersea creature tht sinks the ship.
Adol ends up on the island as a castaway.He starts off his adventure trying to find any surviving castaways and a way to get off the island.But their seems to be more to wht this island contains
Honestly the story was pretty engaging and when u find out a pretty good bit of wht this island is at the halfway point of the story, the pacing of the story just keeps hitting moment to moment and honestly never slows down, in a good way.
Also has a Bad, Normal and Good ending.
>>Graphics: Its a game ported from the PS Vita with a bump n resolution and higher res UI. Thts pretty much it....a pretty bare bones port imo They didnt bother updating some of the assets to look good on a tv.Shadows are still blocky, render distance for grass is pretty short, enemies move at half framerate at a distance and a few smaller things. BUT still the game looks great overall despite the noticeable Vita assets. (Switch version when played in handheld keeps constantly switching between 576p and 720p, even when there isnt much goin on and ur just standing. Most notable in the "hub" area of the game; but overall not noticeable in normal gameplay.) Plus the locations are pretty varied so never looks bland.
>>Gameplay: So like typical jrpg fashion u start out as Level 1. As u continue to level up, u get incremental boosts to ur stats. As u level up, u unlock more skills for ur character (and other party members) to use in combat and the skills are pretty varied from each member. They may hav some similarities but overall hav their own "identity" to make it entertaining. U can hav up to 4 skills slotted to use in combat.The more and more u use a skill, it will level up and boost its stats to be more effective in damage or reduced SP use. (SP is essentially the currency in ur meter to use skills) Skills can be like slash upwards to air, dive honing onto a enemy, parry into a big blast, big wide aoe spin, blast radius shot, etc.; SP can be recovered by just normal attacks onto enemy, if u wait till a blue TING visual/noise pops on ur character then ur next attack will fill a good portion of SP to use.
Now there is a skill called a, EXTRA skill where its unique to the individuals of the party; its a separate meter tht can be filled from constant use of ur regular skills. Once it fills completely, u can unleash it to a big powerful attack. (Pretty anime in nature u culd say. lol)
>>Gameplay Part 2: Now as u find more castaways as u progress the story (some require ur own searching tht isnt in line with the story entirely), tht help open up more facilities. Blacksmith, clothing maker, Trade shop, Farming, Accessory making, etc.
The ones I listed (except) farmer will be given to u just by following the story missions instead of a need to search.
Also u need to rescue castaways to help clear blocks in paths to get to the next part of the island; story related and side stuff.
Blacksmith is where u upgrade ur weps and get armor (obviously lol); For wep upgrading u can level up wep to lvl 3 if u bring the right materials; as u progress through the story u will find "Fire Stones" tht will help upgrade ur wep to the next Tier and affects them visually. (some cool designs) Same with armor on needing to find materials.
Now on gathering materials, its typical to like survival games or MH, where u need to gather from material spots. Veins, trees, plants, fishing, etc.
Now in the game as u reach a point in the story early on, u hav to partake in Raids. Where beasts attack ur hub.U need to build fortifications, support, etc. from materials u find out on ur adventure; level them up as well. Once u complete raids, u are graded with how u performed. Eradication, EXTRA skill use, no damage, etc. The higher ur grade, the better materials u get as ur rewards.
Later on in the story, u partake into something similar called, Hunts. Where u eradicate overpopulation areas of the island tht might be a threat to ur hub. Where u places torches in set locations and protect them, since they weaken beast nests and enemies to make easier and faster to kill; till at the end the Boss appears tht u must defeat.
Now to get the Good ending in the game, u must acquire 200 Rep by doing story, castaway related sidequests, giving castaways gifts (tht appear in the Trade shop or Chests u find in the game), rescuing more castaways, etc.Its not too hard to get it if u keep doin alot of stuff;Took me 46 hrs to get nearly everything done.
>>Music: I'll just list some tracks tht I like and let u judge. I really luv the OST of the game overall. SunshineCoastline, NextStepTowardTheUnknown,AtoZ(best 1)

…

Expand

solid game fairly engaging just missing endgame/high level content to make you feel like there was a reason for getting all the unlock-ables.

this game is not good. really the worst soundtrack and the story is not fun it all