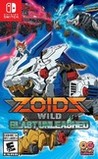 Summary:

Unleash the wild mecha power and animal instinct of Zoids, in spectacular head-to-head battles on Nintendo Switch. With stunning graphics faithful to the Zoids Wild anime, and an intuitive 3D combat system that lets you chain incredible combos instinctively, Zoids Wild: Blast Unleashed is

Unleash the wild mecha power and animal instinct of Zoids, in spectacular head-to-head battles on Nintendo Switch. With stunning graphics faithful to the Zoids Wild anime, and an intuitive 3D combat system that lets you chain incredible combos instinctively, Zoids Wild: Blast Unleashed is the ultimate showdown between your favorite pilots and their Zoids. But are Zoids merely weapons, or your partners? Your skill in combat will decide who wins between warring factions including Arashi's Team Freedom and the power-hungry Team Dark Metal, in a new Zoids story. So choose your hero, step on to the battlefield, and fight to awaken the greatest bond between human and Zoid – then use the hidden power known as Wild Blast to defeat your rivals!
With a huge choice of characters, Zoids and game modes, Zoids Wild: Blast Unleashed takes mecha combat to the next level. Settle scores in 2-player battles, challenge yourself in Mission Mode and Battle Tactics Mode, and hone your skills in Practice Mode. Are you ready to command the strongest lifeforms in the world?

…

Expand
Developer:

Takara Tomy

Genre(s):

Action

,

General

# of players:

No Online Multiplayer

Cheats:

On GameFAQs

Rating:

E10+
Zoids Wild: Blast Unleashed is the perfect game to discover the Zoids franchise, with an intense story mode and fast-paced battles of giant mecha in the shape of a dinosaur. However, it is a title that is not very deep and lacks online modes.

Even for newcomers to the franchise, there's plenty of arena brawling fun to be had in Zoids Wild: Blast Unleashed. It's sorely missing online multiplayer and the story mode is of inconsistent quality but it's never not exciting to smash giant robot apes rode by anime villains with a Mecha shaped like a Lion. Never.

Zoids Wild: Blast Unleashed has come to do one thing: fight. Battle techniques built into gameplay have come a long way since the last arcade Zoids title, but Blast Unleashed manages to bring a strong, technical fighting emphasis to a long-running franchise.

Zoids Wild: Blast Unleashed is a light and colourful arena brawler that will please younger fans of the show, but anyone else will likely burn through it in short order.

Zoids Wild: Blast Unleashed is a relatively harmless licensed anime arena fighter. Superfans may enjoy its presentation, but nothing is here to rewards them for their time. The fighting system lacks any real depth of engagement, which boils down to a mindless button-masher until there's a winner. Like the franchise, for me at least, Zoids Wild: Blast Unleashed is just forgettable.

Zoids Wild: Blast Unleashed isn't setting any records or making innovative strides into the fighting game hall of fame. We'll never see it any sort of formal competition. But even so, there's heart to it. It tries to stay true to the the source and does offer some degree of variation to it. It is just made for a very small, narrow audience.

Zoids Wild: Blast Unleashed is a button-mashy, overly simplistic fighter that's aimed at young kids but doesn't even manage to lift its game enough to satisfy a junior audience on any level outside of very basic fan service. There's a serious lack of modes or variety here, especially for the not-insignificant price tag, and what is included is let down by a lazy story mode and some shockingly simple enemy AI. Serious Zoids fans may derive some fleeting pleasure from seeing their favourite characters battle it out, but, for everyone else, this is a mega-hard sell and a fighter that absolutely fades into insignificance when compared to other examples of its genre.
Actually I liked it more than I expected, the in game mechanics are deep enough to have me involved, its a pretty good arena fighter whit a

Actually I liked it more than I expected, the in game mechanics are deep enough to have me involved, its a pretty good arena fighter whit a decent rooster, and most of the zooids feel different to play with.

…

Expand

Zoidswild Blast Unleashed
Tons of content, not enough care
Zoidswild Blast Unleashed is a fighting game based off of the anime Zoids wild,Zoidswild Blast Unleashed
Tons of content, not enough care
Zoidswild Blast Unleashed is a fighting game based off of the anime Zoids wild, and I'm a bit impressed as much as I am disappointed in zoidswild...
Theres so much content here, 16 characters and different forms of those characters to unlock.. I just would've liked a little more effort put into this game overall…
The main chunk of content outside of the obvious 2 player versus modes is this games lengthy story mode, you get to play through this story mode as most of this games characters to unlock them all, and there is even a secret story mode to unlock which is the exact same thing as regular story mode, just with alternate zoids… so the good news is there is so much content and unlockable here in zoidswild.. The bad news though is that not nearly enough care went into making the story mode any interesting.. you would think a game based off of an anime would have an interesting story to follow.. the work is alrady done for you.. just turn it into a game like the budokai series did for dragon ball z., but sadly its just a hey we don't like you, well we don't like you story, lets fight eachother, youll get play as the good guys and the bad guys.. thankfully each zoid in this game feels unique enough to keep the battles feeling decently fresh.. but outside of the feel.. the combat here in zoidswild is so simple that I cant see it being a staple in your fighting collection, moves are as simple as waiting or a bar to fill up and holding down the button need to unleash it.. feeling almost like a real time pokemon game… zoidswild blast unleashed is laughably easy for the most part of its story, only getting a little challenging when the computer learns how to spam press the block button later on… thankfully the secret side of the story does offer more challenge though.. that being said, zoids wild blast unleashed is an okay casual fighting game.. it takes a while to get bored of going through the motions, unlocking new charactrs and skins.. I jst wish there were more dragging me thorugh.. Such as a story mode with some effort, care, stakes, and cut scenes… I again felt for the most part I was going through the motions trying to see all there is to see...
I can see fans of zoids wild being content with this game, but there isn't enough here to create any new fans unfortunately..
I give Zoidswild Blast Unleashed
a 6/10

…

Expand