Publisher:

505 Games

Release Date:

Nov 19, 2019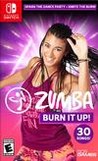 Summary:

Everyone's favorite dance party is back! Zumba is a global movement that brings the fun to fitness with over 15 million people taking weekly classes across 186 countries.
Don't mistake this for a dance game, it is not really meant to be played competitively, but instead it is a fitness experience. For fans of Zumba, or those who want to try it, this offers a great exercise and the opportunity to work up a sweat in an enjoyable way in the comfort of your own lounge room. This professionally package workout game is nicely presented and offers a fun fitness motivator and is a solid alternative to heading to a gym, provided you have the space.

Those who are familiar with or already participate in Zumba classes are going to love the familiarity of Zumba: Burn it Up and the distraction-free access to the routines. Those who aren't, however, will have to get past an initial period of ineptitude while you figure out the moves. I'd personally rather do that at home than at an actual Zumba class, but with nothing here beyond the energetic exercises to keep you motivated, actual classes will serve you better if you're in it for the long haul.

Zumba: Burn it Up! will appeal to the hardcore fans of the workout program and for those who want to do some serious cardio. While it's not going to win points for its lack of killer top tracks or limited modes, it's a great time for those serious about their exercise goals.

With a few more song options and maybe a way to slow down the dances so you can learn them at a slower pace, Zumba Burn It Up! is a worthwhile addition to your library if you're looking for a fun way to work out.

Ultimately, Zumba Burn It Up! knows its audience, and thankfully there's really nothing much to complain about with this new iteration; it's a perfectly fine addition to a series that continues to truck along relatively painlessly. A bit more variation with the songs would have been nice, and whilst we appreciate that this is targeted to people who likely already have a certain degree of fitness, the game could do a much better job at easing in newcomers. Look, we're not getting any younger...

By itself, it's hard to really recommend the Switch version of Zumba Burn It Up! The tracking isn't great and it's not something you'd ever want to spend hours with. However, as a greater part of a workout regimen, it certainly has its place. If anyone is looking for something to pair Ring Fit Adventure or Fitness Boxing with, this is fairly decent addition.
It gets my heart rate up without making me feel like I'm doing a workout. I have a real problem with motivating myself to exercise, so I

It gets my heart rate up without making me feel like I'm doing a workout. I have a real problem with motivating myself to exercise, so I appreciate how quickly you can get into the action, without having to do a ton of set up, wading through confirmations, menus, etc. Ring Fit has more content and is more of a game, but it's hard to stay motivated to attach/detach controllers, swap cartridges and constantly adjust the leg strap. When I want to squeeze in a quick workout, Zumba is now my to-go. I know I look like an idiot dancing, but I'm having fun, burning calories, and for once - sticking with it.

…

Expand

This review contains spoilers

, click expand to view

.

The game sucks ass don't buy it I tried it for 30 minutes and instantly got bored. There are much better exercise games. Don't waste your time

…

Expand

This game is so bad the game are YouTube videos but they have points and the songs are so bad