| The House in Fata Morgana - Dreams of the Revenants Edition - | Shin Megami Tensei III: Nocturne HD Remaster | Calculator |
| --- | --- | --- |
| | | |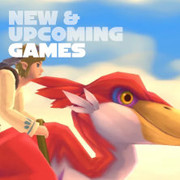 Find release dates, trailers, and scores for major upcoming and recent videogame releases for all platforms, updated weekly.
1.

Famicom Detective Club: The Missing Heir

Solve a murder mystery surrounding a wealthy Japanese family. Hunt for clues, talk to suspects, and explore the Japanese countryside after tragedy strikes the wealthy Ayashiro family. Filled with suspense, this tale follows an amnesia-stricken detective trying to unravel his own past amidst the horrors of a harrowing murder investigation. Play at home, on the go, or in your favorite reading nook—only on the Nintendo Switch™ system. Play Famicom Detective Club in English for the first time. Originally released in Japan only, the Famicom Detective Club™: The Missing Heir game has been localized with English text and modernized for Nintendo Switch. While the graphics, music, and sound effects have been recreated, players can choose the original 8-bit soundtrack. Discover a piece of Nintendo history with the Famicom Detective Club series of games. Buy one Famicom Detective Club game, get the other at a discount Famicom Detective Club: The Missing Heir is the first entry in the series. The game's prequel, Famicom Detective Club: The Girl Who Stands Behind, is also available on Nintendo eShop. If you purchase one of these games on Nintendo eShop, you can get $10 off the other when also purchased on Nintendo eShop.

2.

Shantae

Genie-girl Shantae is the self-appointed guardian of a small fishing village, Scuttle Town. Living life in a lighthouse rather than a bottle, she's constantly on the lookout for danger. When the nefarious lady-pirate, Risky Boots catches wind of the treasure that was recently unearthed in the village, she launches an attack. To get Scuttle out of trouble, it's up to Shantae to prove that she's the rightful 'Guardian Genie' to the best of her dancing, buying and hair-whipping abilities. Now crack that whip! * Play on the Game Boy Advance system for enhanced color and to unlock hidden secrets! * Over 50 Locations and Mini-Games! * Learn 'Dance Magic' to transform Shantae and learn new attacks!

3.

Monster Hunter Rise

Rise to the challenge and join the hunt. The action-RPG series returns to the Nintendo Switch! Set in the ninja-inspired land of Kamura Village, explore lush ecosystems and battle fearsome monsters to become the ultimate hunter. It's been half a century since the last calamity struck, but a terrifying new monster has reared its head and threatens to plunge the land into chaos once again. Hunt solo or in a party with friends to earn rewards that you can use to craft a huge variety of weapons and armor. Brand new gameplay systems such as the high-flying 'Wire Action' and your canine companion 'Palamute' will add exciting new layers to the already robust combat that Monster Hunter is known for. Whether it's at home, on the go, online or offline - you'll always be ready for your next hunt on the Nintendo Switch!

4.

SaGa Frontier Remastered

The 1998 PlayStation® classic is back: SaGa Frontier is remastered. The team of eight have returned – now with Fuse added as a playable character. Choose your favorite character and embark on your own unique journey. Each of the eight characters have different goals and endings. Your choices will affect how events unfold using the Free-Form Scenario System. This in-depth system will allow you to manipulate and expand a story all your own. Challenge yourself in nail-biting battles by using "glimmer" as well as learning new skills such as the ability to fire consecutive special attacks from multiple team members.

5.

Littlewood

The world has already been saved. Now it's time to rebuild your town, learn new hobbies, and forge lifelong friendships in this peaceful and relaxing RPG.

6.

Gnosia

The Gnosia lie. Pretending to be human, they'll get in close, trick and deceive, and then eliminate one victim at a time... The crew of a drifting spaceship, facing off against a mysterious and deadly threat known as the "Gnosia" and having no idea who among them is really the enemy, formulate a desperate plan for survival. The most suspicious among them will be put into "cold sleep" one by one, in an effort to rid the ship of Gnosia. Gnosia is a Sci-Fi Social Deduction RPG in which you will engage in discussion with a variety of unique characters, with the aim of identifying the Gnosia among the group. Players will have to use what information they can gather during the discussions to ascertain whom they think is Gnosia and then vote to put them into cold sleep. As you progress, your abilities will improve - but so will those of the crew. As the numbers of crew members, Gnosia, and various "roles" increase, it will become increasingly difficult to determine who is telling the truth. Work in collaboration with or against other crew members to ensure your survival until the end. ・Repeatedly play through "loops", triggering special events to unravel mysteries in a uniquely original narrative. Certain events will unlock new commands for you to use during discussions. ・Step into a variety of roles to develop different character builds. Your stats will determine how effectively you can sway the group's opinion or lie, and will also affect your likelihood of being selected for cold sleep. ・Engage with an engrossing and eclectic cast of characters and experience randomly triggered events, each one unique to its subject. Character events will reveal information about your crewmates in the form of special "Notes".

7.

Rogue Heroes: Ruins of Tasos

A dark evil stirs beneath the once peaceful land of Tasos Deep within the four Great Dungeons, the ancient seals that hold the Titans at bay are gravely weakened and their minions have unleashed terror upon the world. The Goddesses who forged the seals long ago have made a desperate plea for a band of heroes to come forth and save the people from a terrible fate Rogue Heroes is a 1-4 player classic adventure game with modern rogue-lite elements. Team up with friends to combat procedural dungeons, explore an expansive overworld full of secrets and take down the Titans to save Tasos!

8.

Pac-Man 99

40 years after the classic Pac-phenomenon rocked the gaming world, PAC-MAN is back in a new 99-man battle royale. Get back in the maze and chase down the iconic ghosts. Who will be the last PAC-MAN standing?

9.

PUSS!

In PUSS! you have to get through mazes without touching walls to reach the exit portal. All the levels are randomly sequenced, so every run is different. The game's visuals are based on different elements of modern art: glitch art, surrealism, psychedelic art, web punk, vaporwave, naive art, etc.

10.

Toree 3D

A bite-sized 3D Platformer with a few weird elements. Life as a chirp is hard: As Toree straddles about, a creepy mean guy comes rushing along and steals Toree's ice cream. In an attempt to right this wrong, Toree starts a furious chase through nine carefully crafted levels with a strong emphasis on speed and flow. Late 90s low poly aesthetic. Fast paced platforming. 9 levels with unique elements. 2 secret characters to unlock speed rankings in each level to promote replayability.