| Animal Crossing: New Horizons | The Elder Scrolls: Blades | The Wonderful 101: Remastered |
| --- | --- | --- |
| | | |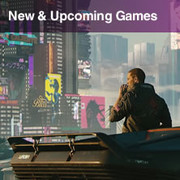 Find release dates, trailers, and scores for major upcoming and recent videogame releases for all platforms, updated weekly.
1.

Streets of Rage 4

Publisher Dotemu (Wonder Boy, Windjammers 1/2) and developers Lizardcube (Wonder Boy) and Guard Crush Games today revealed Streets of Rage 4, an all-new continuation of SEGA's iconic arcade brawler series known for its radical fights, jammin' '90s beats and dashing sparring gloves and bandanas. Streets of Rage, known as Bare Knuckle (Bea Nakkuru) in Japan, is a trilogy of beat 'em up games developed and published by SEGA in the 1990s. Famously known for its non stop action and electronic dance influenced music - scored by Yuzo Koshiro and Motohiro Kawashima - the series has gained the status of cult classic throughout the years. It is considered one of the best beat 'em up series of all time. After many years, Axel and Blaze are finally picking up the fight where they left. Featuring hand-drawn visuals from the team behind 2017's gorgeous Wonder Boy: The Dragon's Trap remake, Streets of Rage 4 builds upon the classic trilogy's gameplay with new mechanics, a fresh story and a gauntlet of dangerous stages with a serious crime problem. Streets of Rage 4 recalls classic gameplay but it stands as an entirely original arcade-style romp thanks to the expertise of Guard Crush Games and Dotemu. Whether players gang up with a friend or clean up the city solo, Streets of Rage 4 is a skull-bashing, chicken-chomping delight all set to a thumping soundtrack sure to get your blood pumping. Features: * The comeback of the legendary Streets of Rage series. * Beautiful graphics fully hand-drawn animated by the studio behind Wonder Boy: The Dragon's Trap. * Classic gameplay enhanced with brand new mechanics. * Soundtrack by a wide line-up of world-class musicians. * Braised chicken served on a pristine plate.

2.

Metro Redux

In 2013 the world was devastated by an apocalyptic event, annihilating almost all mankind and turning the earth's surface into a poisonous wasteland. A handful of survivors took refuge in the depths of the Moscow underground, and human civilization entered a new Dark Age. The year is 2033. An entire generation has been born and raised underground, and their besieged Metro Station-Cities struggle for survival, with each other, and the mutant horrors that await outside. You are Artyom, born in the last days before the fire, but raised underground. Having never ventured beyond the city limits, one fateful event sparks a desperate mission to the heart of the Metro system, to warn the remnants of mankind of a terrible impending threat. But will they even listen? Rather than stand united, the factions of the Metro are locked in a struggle for the ultimate power, a doomsday device from the military vaults of D6. A civil war is stirring that could wipe humanity from the face of the earth forever. Including the epic single-player campaigns of both Metro 2033 and Metro: Last Light, Metro Redux takes you on a journey from the forgotten catacombs beneath the subway to the desolate wastelands above, where your actions will determine the fate of mankind. Metro Redux is the ultimate double game collection, including the definitive versions of both Metro 2033 and Metro: Last Light, now available on Nintendo Switch™ Newcomers to the series will get the chance to experience two of the finest story-driven shooters of all time in one vast package; an epic adventure combining gripping survival horror, exploration and tactical combat and stealth. Those who favoured the more survival-horror oriented gameplay of 'Metro 2033' can play both campaigns in the 'Survival' Play-Style, a fraught, slow burn fight for survival. Those who enjoyed the more action-oriented gameplay of 'Metro: Last Light' can try the 'Spartan' Play-Style, providing Artyom with a powerful set of combat skills. With the legendary Ranger Mode included to offer an extra layer of challenge and immersion, and all previous released DLC, Metro Redux offers 50+ hours of AAA FPS gameplay for an incredible price.

3.

Hatsune Miku: Project Diva MegaMix

[Also known as "Hatsune Miku Project Diva Mega39"] Based on the popular Hatsune Miku: Project DIVA Future Tone, Hatsune Miku: Project DIVA Mega Mix takes the series to a new dimension on the Nintendo Switch, giving both new fans and Project DIVA veterans ways to play at home or on the go. Rhythm game modes features both traditional button controls, as well as a new game mode exclusive to the unique functions of the Nintendo Switch.

4.

WHAT THE GOLF?

The golf game for people who hate golf! A silly physics-based golf parody where every golf course is a new surprising type of golf, some brilliant or hilarious, others so absurd they will make you go: WHAT THE GOLF? Golf a house, a horse or car! Features: - More surprising new golf mechanics than you can imagine - Epic golf boss fights - Made by people who know nothing about golf - First (and hopefully the last) game that let you golf a horse - Will NOT make you a better golf player - Surprises!

5.

Pokemon Mystery Dungeon: Rescue Team DX

You can meet and recruit Pokémon in a dungeon-crawling adventure within their world! Build a rescue team to take on mysterious, changing dungeons and strategically plan your moves as you venture forth to make the Pokémon world a safer place…and uncover your true purpose along the way. As you recruit Pokémon, these trusty teammates will need somewhere to stay, so build camps to house, manage, and strengthen your Pokémon friends. Think hard about who is right for the job and how to approach each mysterious dungeon as you prepare a rescue team. You'll move a single square at a time or use Auto mode to speed up movement until you engage other Pokémon in turn-based battles—but don't forget about Pokémon strengths and weaknesses! This version adds gorgeous watercolor-inspired graphics, and more! Get comfortable in being a Pokémon, there's a lot of work to do.

6.

Wunderling

Take control of the Wunderling, a low-level video game goon who has just unlocked the power to jump. Unable to stop or change direction at will, you will need to plan ahead and master the Wunderlings' abilities to navigate treacherous scrolling levels and chase down that pesky Hero.

7.

Hidden Through Time

Hidden Through Time is a game of hide and seek with objects scattered throughout the wonderful history of our world. Use cryptic hints to discover every secret as you explore the colourful hand drawn levels.

8.

Shinsekai: Into the Depths

Capcom presents a fresh and original undersea exploration game, filled with unique visual and audio experiences for you to discover. The land has slowly but steadily been covered with ice, forcing mankind to take refuge in the ocean. Even the sea cannot protect them forever. The ice overtakes the undersea home of a lone aquanaut, forcing an unplanned journey of exploration and discovery. Take control and follow a mysterious mechanical creature ever deeper... Could there be others still living on so far beneath the surface?

9.

Indivisible

INDIVISIBLE is inspired by classics like Valkyrie Profile and Metroid, and has the unique character, world, and gameplay depth Lab Zero is known for. Meet Ajna, Indivisible protagonist. Ajna is a headstrong girl raised in a remote village. Her father, the town's guardian, has trained her to be strong in mind and body to prepare her for things to come. Ajna discovers a mysterious power in herself, and sets off on a world-spanning journey. Along the way, a number of unique heroes will join her on her quest.

10.

Metro: 2033 Redux

Metro 2033 Redux is the definitive version of the cult classic 'Metro 2033', rebuilt in the latest and greatest iteration of the 4A Engine for Next Gen. Fans of the original game will find the unique world of Metro transformed with incredible lighting, physics and dynamic weather effects. Newcomers will get the chance to experience one of the finest story-driven shooters of all time; an epic adventure combining gripping survival horror, exploration and tactical combat and stealth.