| The Legend of Zelda: Tears of the Kingdom | Xenoblade Chronicles 3: Expansion Pass Wave 4 - Future Redeemed | Etrian Odyssey Origins Collection |
| --- | --- | --- |
| | | |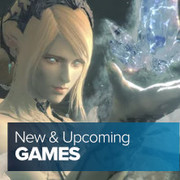 Find release dates, trailers, and scores for major upcoming and recent videogame releases for all platforms, updated weekly.
1.

Warhammer 40,000: Boltgun

Load up your Boltgun and plunge into battle headfirst! Experience a perfect blend of Warhammer 40,000, classic, frenetic FPS gameplay and the stylish visuals of your favourite 90's retro shooters. Play a battle-hardened Space Marine on a perilous mission across the galaxy, as they battle against the Chaos Space Marines and daemons of Chaos. In glorious boomer shooter style, unleash your devastating Space Marine arsenal as you blast through an explosion of sprites, pixels and blood. Run, jump and charge across huge levels to shoot, shred and slice the worst heretics across the galaxy!

2.

Atelier Ryza 3: Alchemist of the End & the Secret Key

Ryza and her friends are living their lives on Kurken Island when news of a sudden appearance of a mysterious group of islands in nearby waters arrives. To find a way to save her island, Ryza and her friends will set off on final adventure surrounding the "roots of alchemy." The stage for this adventure is a vast open field! The field is made up of multiple maps that are connected seamlessly. Enjoy this adventure in a vast and 'living' field that is one of the largest in the Atelier series. You can do many things with the key! Obtain various types of keys which can be used in different instances of exploration, synthesis, and battle. Each key has a different effect, so use it to enjoy the adventure conveniently!

3.

Fatal Frame: Mask of the Lunar Eclipse

Fatal Frame (aka Project Zero): Mask of the Lunar Eclipse takes place a decade after five girls mysteriously disappeared at a festival on Rogetsu Isle, an island in southern Japan. While all of the girls were eventually rescued, their memories were lost, with only the faint remembrance of a single melody and a seemingly possessed masked woman dancing in the moonlight. Now, ten years later, with still no memory of the events surrounding their disappearance, two of the five girls have died - discovered with covered faces and found in a tragic, crying pose. The remaining three girls now head off to the eerie island to solve the mystery of their friends' death, while also unlocking the mystery of the memories left behind. The remastered game features an all-new Photo Mode, along with new and altered costumes, and enhanced graphics including the improved rendering of shadows and light, delivering a more immersive and frightening experience. In addition, in-game movies and character models have been brushed-up to deliver a story that shines, both narratively and aesthetically as the three remaining girls attempt to rediscover their past before becoming victims once again.

4.

Rakuen: Deluxe Edition

Rakuen is a story-based adventure game about a little Boy who becomes bored with living in a hospital, and eventually asks his mother if she'll escort him to the fantasy world from his favorite storybook. Throughout the game, the Boy begins to learn more about the patients who live around him. They each have their own secrets and struggles that are mysteriously tied to the strange hospital. In helping those around him, the Boy deals with questions about empathy, hope, and what it means to leave behind a legacy by coming to terms with his own story.

5.

Xenoblade Chronicles 3: Expansion Pass Wave 4 - Future Redeemed

Set before the events of Xenoblade Chronicles 3, join a cast of new and familiar characters in this original story scenario that connects all three instalments in the Xenoblade Chronicles series. Future Redeemed also features new battle mechanics, such as Unity Combo, where two characters can attack in unison.

6.

DREDGE

Dredge is a fishing adventure with a sinister undercurrent. Sell your catch, upgrade your vessel and dredge the depths for long-buried relics. Explore the stories of the strange locals and discover why some things are best left forgotten. Starting from your new home in a group of islands known as The Marrows, upgrade your engines and set sail for the neighboring regions - each with their own unique fish, personalities and secrets. Dredge up forgotten treasures. Outsmart unremembered terrors. Someone wants very badly to retrieve relics lost to the ocean floor. The work is lucrative, but can you trust them? What will they use the relics for? And will they ever be satisfied? It's not just the sharp rocks and shallow reefs you need to watch out for - keep your eyes on the depths below and the sky above. The biggest threat to your safety might come from within.

7.

Tin Hearts

Behind every brilliant invention, hides a magical story. Guide a troop of tin soldiers through a magical toy-filled world, in this immersive puzzle adventure game from members of the team that brought you Fable.

8.

The Legend of Zelda: Tears of the Kingdom

An epic adventure across the land and skies of Hyrule awaits in The Legend of Zelda™: Tears of the Kingdom for Nintendo Switch™. The adventure is yours to create in a world fueled by your imagination. In this sequel to The Legend of Zelda: Breath of the Wild, you'll decide your own path through the sprawling landscapes of Hyrule and the mysterious islands floating in the vast skies above. Can you harness the power of Link's new abilities to fight back against the malevolent forces that threaten the kingdom?

9.

Bayonetta Origins: Cereza and the Lost Demon

Turn back the pages of the Umbra Witch's story to learn where it all began. Take control of Cereza and her first demon Cheshire to fend off faeries and solve puzzles.

10.

Paranormasight: The Seven Mysteries of Honjo

Shogo Okiie, an ordinary office worker, visits Kinshibori Park in the dead of night with his friend, Yoko Fukunaga, to investigate a well-known local ghost story: The Seven Mysteries of Honjo. Shogo doesn't quite believe Yoko when she talks about how the Mysteries are connected to the Rite of Resurrection and doesn't pay it much mind - that is, until strange events begin to unfold before his very eyes. Meanwhile, several others are making their own investigations into The Seven Mysteries... Detectives investigating a series of strange deaths, a high-school girl seeking the truth behind her classmate's suicide, and a mother who has sworn revenge for her lost son. Their desires and motives intertwine and interplay, with the Seven Mysteries of Honjo at the core, leading the story towards a battle of wits and curses.