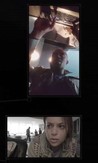 Summary:

You craft the story as Kelly and her band of misfit hackers transform from pranksters to leaders of an international movement. As they take on the media, the military, and the powers that be, where you focus will shape the direction of the story and the actions the characters take.
Developer:

Eko

Genre(s):

Adventure

,

Visual Novel

# of players:

No Online Multiplayer

Cheats:

On GameFAQs
Its inability to show you the agency you may or may not possess robs the experience of the satisfaction it so desperately wants to give you on its final scene.

As a game there isn't really much on offer here, and it's not as engaging in choice as other more recent FMV games, but I am looking forward to seeing #WarGames continue and for the price alone it's worth a gander.
Triggering certain events in order to progress can be a little confusing at times and a little bit of help would've been nice. You can't

Triggering certain events in order to progress can be a little confusing at times and a little bit of help would've been nice. You can't really interact with very much and when it comes to the gameplay there's nothing to it. A fast forward button would've been a very welcome addition because it does get tedious very quickly especially when played multiple times. If you don't like FMV game's then this game doesn't do anything different that will change your mind. Does #WarGames do enough to get a recommendation from me? Over the past few year's there's been a few FMV game's that have made their way to the Xbox One and it's a genre you either love or hate. Thankfully I don't mind this particular genre but it has to keep me interested otherwise things become tedious very quickly. #WarGames does keep you interested just about and it does have a decent story, but even though it has a decent story it doesn't have much else. That being said it probably does just enough to get a small recommendation from me but I will say though that if you're after a decent FMV game then there are better games out there for you to get to grips with.

…

Expand