| FIFA 21 | Crash Bandicoot 4: It's About Time | NHL 21 |
| --- | --- | --- |
| | | |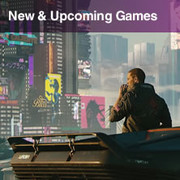 Find release dates, trailers, and scores for major upcoming and recent videogame releases for all platforms, updated weekly.
1.

Tony Hawk's Pro Skater 1 + 2

Drop back in with the most iconic skateboarding games ever made. Play Tony Hawk's Pro Skater & Tony Hawk's Pro Skater 2 in one epic collection, rebuilt from the ground up in incredible HD. All the pro skaters, levels and tricks are back and fully-remastered, plus more.

2.

Manifold Garden

Manifold Garden is a first-person exploration game. Rediscover gravity and explore an Escher-esque world of impossible architecture. Witness infinity in first person, and master its rules to solve physics-defying puzzles. Cultivate a garden to open new paths forward, where an eternal expanse awaits.

3.

Yakuza Kiwami 2

Kazuma Kiryu thought his Tojo Clan days were behind him. He and the young girl in his care, Haruka Sawamura, have built a peaceful life from the ashes of conflict. All it took was a single gunshot to shatter that peace. Yukio Terada, the Fifth Chairman of the Tojo Clan, has been assassinated. With war on the horizon, the legendary Dragon of Dojima is pulled back into the world he wanted to leave behind. Kiryu must travel to Sotenbori, Osaka in an attempt to broker peace between the rival clans, but Ryuji Goda, known as the Dragon of Kansai, will stop at nothing to get his war. In this world, there can only be one dragon. Rebuilt from the ground up, Yakuza Kiwami 2 uses the Dragon Engine to update one of the series stand-out titles into a modern classic. The PC version includes all the enthusiast features you've come to expect: 4K resolution, unlocked framerates, customizable controls, and robust graphics options. Play fan favorite minigames including updated versions of the Cabaret Club simulator and Clan Creator, or check out all new additions like an arcade port of Virtual On, golf bingo, and Toylets. Also new to Kiwami 2 is the 'Majima Saga' which features Goro Majima in his own playable adventure revealing events that occur prior to the game.

4.

The Touryst

You are just arriving at the Monument Islands. Want to go swimming? Or rather take a dive into the deep sea? Or do you want to visit the amusement arcade, do some shopping, dance at the beach party? Fancy some surfing? Or will you talk with the strange old tourist and listen what he has to say about these ancient mysterious monuments..

5.

Wasteland 3

In Wasteland 3 you take command of a squad of Desert Rangers, lawmen and women in a post-nuclear world, trying to rebuild society from the ashes. More than a century after the bombs fell, you're fighting a losing battle to keep your beloved Arizona alive. Then the self-proclaimed Patriarch of Colorado radios, promising aid if you'll do a job he can only entrust to an outsider—rescue his land from the ambitions of his three bloodthirsty children. You're dispatched on a desperate quest from the scorching deserts to the snowy mountains to start from scratch, building a new base, finding a snow-worthy vehicle, training new recruits, and fighting your way through hostile frozen wastes. All the while, you'll have to decide who to trust in this land torn apart by corruption, intrigue, warring factions, crazed cultists, cutthroat gangs, and bitter sibling rivalries. Build a reputation for yourself by making decisions that will profoundly impact Colorado, its inhabitants and the story you experience. Will you be Colorado's savior or its worst nightmare? Wasteland 3 is a squad-based RPG from inXile entertainment, featuring challenging tactical turn-based combat and a deep, reactive story full of twists, turns, and brutal ethical decisions that will keep you hooked whether you're a Wasteland veteran or new to the series. Create a squad of up to six Rangers and customize them with perks and abilities geared to your playstyle. You even get your own battle truck, which you can upgrade into a hardened war beast, bristling with weapons, to help mow down your enemies.

6.

NHL 21

Gameplay in NHL 21 has gotten smarter, faster and a whole lot flashier. With innovative moves and massive improvements on both sides of the puck, players have more options than ever before to take control of the game and impose their playstyle on opponents. Recognize Revolutionary with Gameplay in NHL 21. A brand new Be A Pro experience gives you the chance to live the life of an NHL player, on and off the ice. Impress the front office, go early on draft day, and chase greatness as you earn your spot on the first line, compete for the Stanley Cup, and become the league's next best. Recognize Future with Be A Pro in NHL 21. World of Chel makes it easier than ever to jump in, and play solo or connect with friends on your way to wins and rewards. This year, we're introducing Ranked Seasons — where you'll compete across each of the four modes to earn rewards and play in the new EASHL Club Finals. [Electronic Arts]

7.

Welcome to Elk

Welcome to Elk is a biographical adventure set on an island like no other, where every character you encounter has a story to tell. From the weird and wonderful to the dark and desperate, all the tales told on Elk are based on true stories of life on the road less traveled.

8.

Heroes of Hammerwatch - Ultimate Edition

9.

Inertial Drift

Inertial Drift tears up the racing rule book with innovative twin-stick controls, completely re-imagined driving mechanics and a roster of fiercely individual cars.

10.

Lair of the Clockwork God

WHY PLAY ONLY ONE GENRE OF GAME when you could be playing two slightly different ones at the exact same time? BEN is a die-hard, old-school LucasArts Adventure fan. He has one foot stuck in the 90s, his feet never leave the floor, and he's happiest collecting any old junk he can lay his hands on, in the hopes of combining it all together to solve a satisfying puzzle. His cohort and sidekick DAN has aspirations to be the next big hit indie platform character. He's got everything he needs: he's hip, he's sensitive, and his nose is a different colour to the rest of his face. LAIR OF THE CLOCKWORK GOD sees you switching between both characters and using their unique abilities together in a race-against-time effort to stop all the Apocalypses happening simultaneously, by teaching an old computer about feelings. Solve classic point-and-click style puzzles as Ben to create unique upgrade items for Dan, so he can jump higher, run faster and blast away at everything with a shiny new gun. Then, run and jump as Dan to unlock new areas and exciting new puzzles for Ben!