| King's Bounty II | NieR Replicant ver.1.22474487139... | Samurai Warriors 5 |
| --- | --- | --- |
| | | |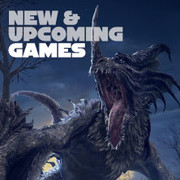 Find release dates, trailers, and scores for major upcoming and recent videogame releases for all platforms, updated weekly.
1.

UnMetal

In 1972 a crack commando squad threw you in prison for a crime you didn't commit. You promptly escaped from a maximum-security stockade to the underground trying to survive from these soldiers of fortune. UnMetal is a 2D stealth/action game (with a bit of humor) where the goal is to escape from an enemy military base. But what started as a simple break out ended up being an inside operation to prevent a massive attack against the NATO. You play as Jesse Fox who finds himself imprisoned in a covert military base where he was arrested for a crime he didn't commit. Jesse must now escape using his dry wits, quick words, improvised skills, arsenal of warfare, violent explosives, MacGuyvered gadgets, and an elaborate explanation of how it all went down. If that all fails, he'll use his fists. * Uncover a clandestine plot as you escape from an enemy base where you were imprisoned for a crime you didn't commit. * Modern gameplay mechanics that pay homage to a solid classic. * Gain experience and skills by utilizing stealth to take down your enemies. * Deceive, adapt, and do whatever is necessary to escape even if you have to impersonate a cat. * Enjoy the thrill of interrogation as you elaborate specifics of your great escape to a lieutenant who seeks to scrutinize Jesse's every word in an intricate report. * Decipher a plethora of satirical culture, gaming and movie references. You'll laugh, you'll cry and you'll fall in love with them. * Collect an arsenal of classic gear, things that go "pew-pew", maybe a thing or two that goes "BOOM!", and some things that go "BOING!", and definitely a thing that goes "SCRATCH". * Does this smell like chloroform to you?

2.

Unsighted

The few androids that remain are running out of Anima, the energy that gives all robots consciousness. It's up to you, Alma, to save your friends from becoming Unsighted. Explore the vast ruins of Arcadia, using every tool you can find. Time is ticking. They need you.

3.

Rainbow Billy: The Curse of the Leviathan

Rainbow Billy: The Curse of the Leviathan is a wholesome, creature capture, 2.5D Adventure-Puzzle-Platformer with RPG elements. It is a family-friendly and openly accessible adventure in which you must save whimsical creatures by bringing back color to the world you once knew! Rainbow Billy tells a universal coming of age story about dealing with changes in the world and accepting ourselves and the others around us! Sometimes it only takes a conversation, empathy, and a new point of view to make a world of a difference. EXPLORE A WONDROUS WORLD! From dark caverns on secret islands to hidden coves off in the stormy seas, explore a rich world filled with treasure, fish (because every great game has a fishing minigame!), friendship and... danger! SOLVE ENVIRONMENTAL PUZZLES! Each world is filled with clever challenges and secrets that unlock new areas to explore! BEFRIEND CURIOUS CREATURES! Meet over 60 strange, lovable creatures and help them with their problems in non-violent encounters! Create your own unique team to save the day! RECOLOR THE WORLD! Restore color to a monochrome world and help your friends find the courage to be their true selves in a story about empathy and growth.

4.

The Eternal Cylinder

In The Eternal Cylinder, players control a herd of adorable creatures called Trebhums and must explore a strange alien world filled with exotic lifeforms, surreal environments, and the constant threat of the Cylinder, a gargantuan rolling structure of ancient origin which crushes everything in its path. This unique ecosystem is a massive, procedurally generated land with unique animal AI, real-time world destruction, and organic exploration and puzzle design to create emergent gameplay that ensures no two playthroughs are ever the same. Your Trebhums begin at the bottom of the natural food chain but can mutate and evolve with new physical attributes and abilities by eating a variety of flora and fauna. Discover and adapt dozens of mutations, including new traversal skills like flying and swimming to reach new areas, and new senses to help overcome puzzles, challenges and dangers. Your many Trebhums can each have different mutations, and new mutations don't replace ones you already have, letting you stack ability sets in dynamic ways. Each mutation will also change the physical look of a Trebhum and stacking these will generate near countless surprising new creature designs which players will be able to organically discover as they explore this unique alien ecosystem. Game Features: * Unforgettable Alien World to explore: Players must explore a gorgeous procedurally generated world which is populated with unforgettable vistas and unique landscapes which have something new to discover around every corner. The Eternal Cylinder features an open-world which allows players to reach and explore any areas which they can see on the horizon. This encourages constant exploration and ensures that there's always something new to see. * Real-Time World Destruction: Everything in the world can be destroyed in real-time by The Eternal Cylinder, so players must continuously evade its destructive path in order to survive whilst marveling at the visual splendor of its godlike power. Story Driven Open-World Survival: Unlike many open-world survival titles, The Eternal Cylinder features a deep and engrossing story for players to uncover as they continue to explore the vast world. The game explores themes of family and heritage, and the lasting power of knowledge. * Build Your Own Alien Family: Unlike standard survival games where you have a main shelter that you can build or improve, in Eternal Cylinder players develop a nomadic herd of unique alien creatures called Trebhums. Players control one Trebhum from the herd at a time and the rest follow (Al controlled) but players can switch to any individual member of their herd at will. Explore the world to rescue more of your brethren and continuously expand your family. Control a herd which can grow to more than 20 members at any given time and imbue each of your Trebhums with their own unique mutations and skill sets. Players can create a custom name for each of their Trebhum, increasing the emotional bond between player and their Trebhum family. * Unique Mutation System: Although Trebhum's are generally frail and start their lives at the very bottom of the world's food chain, they have the unique ability to mutate and unlock new skills by consuming natural edibles which populate the game world. So, players must explore and experiment with a vast array of fruits, flora and alien creatures to unlock new powers and gameplay options. * 50+ Mutations to discover: Players can unlock more than 50+ unique mutations as they explore the world, each one of which enable new gameplay options. These include new traversal options such as the ability to fly and swim, but also new offensive moves like the ability to spit fire and create loud warning noises. New mutations allow players to explore new areas and each mutation stacks thus creating a truly expansive skill set which is constantly evolving. * A Trebhum for everyone: Enjoy a virtually endless visual variety of Trebhum designs, as each mutation combine with one another to create surprising new creatures. This allows your herd to continue to evolve as players explore new areas and players can share the unique look of their Trebhum family with the rest of the world online. * Layered Survival: Players need to manage multiple layers of resources in order to be able to survive. These include hydration level, various temperatures each with their own impact and stamina. * Living and Breathing Ecosystems: The world of The Eternal Cylinder is populated with more than 30 memorable handcrafted alien creatures. These creatures vary greatly in size and range from those smaller than a Trebhum, all the way to skyscraper sized leviathans who dominate the horizon. Each of these creatures feature their own dedicated Al and behave in natural ways. Players must learn their unique behaviors and discover surprising ways to utilize the natural food chain to their advantage and interact with every creature. * Organic Puzzle Solving and Progression: The world of the Eternal Cylinder has been designed to empower players to organically solve its mysteries and progress without the need for obvious prompts and mission logs. This allows for fully immersive exploration which rewards players of every skill level, as the greater majority of the puzzles are not required for progression but do provide unique experiences. * 4 Unique Biodomes lo Discover ond Explore: Players can explore 4 unique biodomes including alien savannas and infected habitats, each with their own dedicated ecosystems and unique creatures to discover. * Truly Emergent Gameplay: The Eternal Cylinder's lush procedurally generated world, vast number of mutations to discover and unlock, unique creature Al system, living natural ecosystem, real-time world destruction and organically placed puzzles combine to create near endless possibilities for emergent gameplay and help to ensure that no two playthroughs will ever be there same.

5.

Insurgency: Sandstorm

Insurgency: Sandstorm is a team-based, tactical FPS based on lethal close quarters combat and objective-oriented multiplayer gameplay. Experience the intensity of modern combat where skill is rewarded, and teamwork wins the fight.

6.

Chernobylite

Chernobylite is a new game from the creators of the critically-acclaimed Get Even. It's a science-fiction survival horror experience, mixing the free exploration of its disturbing world with challenging combat, unique crafting, and non-linear storytelling. Play as a physicist, one of the Chernobyl Power Plant's ex-employees, and investigate the mysterious disappearance of your beloved. Try to survive and reveal the contamination zone's twisted secrets. Remember, the military presence is not your only concern. Get ready for a thrilling adventure of survival, conspiracy, horror, love, and obsession. One that will prove to you that it's not about how you face your fears, it's about how you survive them. SURVIVE Ally or compete with other stalkers of the Chernobyl zone to survive. Remember that life is fragile, and it's your decisions that determine the fate of your companions. You can spend as long as you need preparing, however, be aware that your story is still being written. Every passing moment, your chances of success are dwindling: comrades are dying, supplies are running out, or an unexpected patrol could discover you. And on top of all this, supernatural dangers are arising around you in mysterious patterns. Each day brings new challenges with the ever-increasing severity of your current situation. Plan your strategy carefully if you want to survive. PLAY BY YOUR OWN RULES Craft your gear and weapons to protect yourself from the hostile military personnel and supernatural threats lurking in the zone. Make use of the sophisticated tools at your disposal to aid you in your struggle while navigating the rough and contaminated environment. Stay undetected and gather all the evidence you can to piece together events from the past. Decide what happens in the world around you by making choices and finding, or avoiding, the truth. EXPERIENCE Maintain your resolve and keep your wits about you the Chernobyl Nuclear Power Plant is not what it once was. No one can foresee the horrors that may have befallen your beloved. CHERNOBYLITE MAIN FEATURES: * Explore the beautiful and horrifyingly accurate 3D-scanned recreation of the Chernobyl Exclusion Zone. * Collaborate or compete with other stalkers of the Zone, but whatever you do, never fully trust them. Remember everybody has a hidden agenda. Always. * Face and survive the natural and supernatural threats. * Immerse yourself in the thrilling non-linear science-fiction horror story. * Make good use of your character's physics and chemistry knowledge to craft your equipment and manage your supplies. * Fight against the savage creatures pouring from the alternate reality. * Investigate and collect data with a set of sophisticated environment and substance analyzing tools.

7.

Jurassic World Evolution 2

Jurassic World Evolution 2 is the sequel to Frontier's Jurassic World Evolution, building upon the 2018 management simulation. It introduces a compelling, new narrative campaign, incredible new features, and awe-inspiring new dinosaurs brought to life with captivating authenticity. Together with expanded construction and more customisation options, the result is an even bigger, better and authentic Jurassic World game. FEATURES An Original Jurassic Story Immerse yourself in a compelling and original Jurassic World narrative set after the Earth-shattering events of Jurassic World: Fallen Kingdom. Lead efforts to control, conserve and contain dinosaurs as you work alongside iconic characters from the films, including Dr. Ian Malcolm (Jeff Goldblum) and Claire Dearing (Bryce Dallas Howard). Create your own Jurassic World Take control with deeper management tools and creative options. Construct and customise new buildings and flex your managerial muscle across never-before-seen locations ranging from dense forests to rocky deserts. Rescue and bioengineer more than 75 prehistoric species, including highly requested flying and marine reptiles , and watch them seek territory, fight and interact with staggering realism. Play with Chaos Theory Chaos Theory mode lets you play through key moments of your favourite films - with a twist. Experience "what-if" scenarios from iconic Jurassic World and Jurassic Park films, with each level set across eras and locations from all five movies. Immerse yourself at the heart of the Jurassic World franchise and see how things turn out when you are put at the helm of managing new challenges with unpredictable outcomes.

8.

Crysis Remastered Trilogy

The classic first person shooter from Crytek is back with the action packed gameplay, sandbox world, and thrilling epic battles you loved the first time around. Crysis Remastered Trilogy includes each of the single player campaigns from the legendary first person shooters Crysis, Crysis 2, and Crysis 3, optimized for today's hardware. Relive the adventure in this great value all in one bundle. Features: * Crysis Remastered: What begins as a simple rescue mission becomes the battleground of a new war as alien invaders swarm over a chain of Lingshan islands. Playing as super soldier Nomad, you are armed with a powerful Nanosuit equipped with Speed, Strength, Armor, and Cloaking abilities. Use avast arsenal of modular weaponry and adapt your tactics and gear to dominate enemies in an enormous sandbox world. * Crysis 2 Remastered: Aliens have returned to a world ravaged by climate disasters. As the invaders lay waste to New York and begin an assault that threatens the total annihilation of humankind, only you have the technology to lead the fightback. Equipped with the upgraded Nanosuit 2.0, customize your suit and weapons in real time and unlock powerful new abilities in the battle for humanity's survival. * Crysis 3 Remastered: Returning to the fight as super soldier Prophet, the search for the alien Alpha Ceph continues, but now you must also expose the truth behind the C.E.L.L. corporation, which has turned New York City into a sprawling urban rainforest sheltered by a giant nanodome. Fight through seven distinct districts and decimate your opponents in a blaze of brute force using the Nanosuit's superior technology, or use stealth to achieve your goals and become humanity's silent savior. Equipped with your powerful and deadly new Predator Bow, there's no wrong way to save the world.

9.

Flynn: Son of Crimson

Help Flynn and his mythical companion Dex save Rosantica before the evil from The Scourge claims his home. In Flynn: Son of Crimson, you'll go on a journey of discovery and conflict as you learn to master the power of Crimson Energy.

10.

Unpacking

Unpacking is a zen puzzle game about the familiar experience of pulling possessions out of boxes and fitting them into a new home. Part block-fitting puzzle, part home decoration, you are invited to create a satisfying living space while learning clues about the life you're unpacking.