| Elden Ring | Teenage Mutant Ninja Turtles: Shredder's Revenge | Weird West |
| --- | --- | --- |
| | | |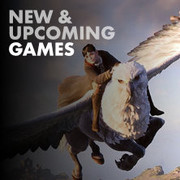 Find release dates, trailers, and scores for major upcoming and recent videogame releases for all platforms, updated weekly.
1.

Signalis

Awaken from slumber and explore a surreal retrotech world as Elster, a technician Replika searching for her lost partner and her lost dreams. Discover terrifying secrets, challenging puzzles, and nightmarish creatures in a tense and melancholic experience of cosmic dread and classic psychological survival horror.

2.

Akane

Imagine the rain-soaked neon streets of Mega-Tokyo. You, your loyal katana and hordes of mad Yakuzas. There's no happy ending this time. Take down as many thugs as you can with you! Akane is a brutal arena arcade slasher based on one-hit-one-kill gameplay mechanics.

3.

Pathfinder: Wrath of the Righteous

Embark on a journey to a realm overrun by demons in a new epic RPG from the creators of the critically acclaimed Pathfinder: Kingmaker. Explore the nature of good and evil, learn the true cost of power, and rise as a Mythic Hero capable of deeds beyond mortal expectations. Your path will lead you to the Worldwound, where the opening of a rift to the Abyss has unleashed all-consuming terror across the land. For over a century, the neighboring nations have fought fearlessly, trying to drive the enemy back - but to little avail. Now, you have the chance to put an end to this conflict, but the path to salvation is far from clear-cut. Will you become a shining angel, backed by noble paladins? Or a powerful necromancer with hordes of immortal undead in your thrall? Or something else entirely? Lead your army and challenge mighty demon lords. Your crusade will set in motion a chain of events that will leave you - and the world itself - forever changed.

4.

Sophstar

Sub-Lieutenant Soph has lived in Galanian for her whole life, having no memory of when her existence started, and no idea of how she developed her teleporting powers. But after being sent for a recon mission, all of what she knows about herself is about to change. Sophstar is a vertical arcade shoot'em up with heavy inspiration from the best games of the genre from the 90s, while adding new-exciting features and regular game modes for both casual home players and hardcore arcade fans.