| Borderlands 3 | The Outer Worlds | Stela |
| --- | --- | --- |
| | | |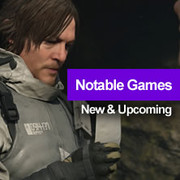 Find release dates, trailers, and scores for major upcoming and recent videogame releases for all platforms, updated weekly.
1.

Monster Hunter: World - Iceborne

Monster Hunter World: Iceborne is the highly anticipated massive expansion to Monster Hunter: World, the best-selling Capcom title of all time with more than 12 million units shipped worldwide adding to the series total of more than 53 million units to date. This gargantuan follow-up rivals the gameplay volume from the original release and features a new icy setting, storyline, monsters, gameplay options, and more. The game's all-new story picks up after Monster Hunter: World and whisks hunters away to the newly discovered chilly locale that, once fully explored, becomes the largest region in World so far. The new locale is home to several new and returning monsters ready to challenge hunters throughout their expeditions and raises the stakes with the added higher difficulty Master Rank. Iceborne continues the skill-based progression and robust crafting system found in World and expands that with several new gameplay features that broaden the player's combat repertoire. All this leads to the ultimate hunter test against the mysterious new flagship monster, Velkhana.

2.

Gears 5

Sera is crumbling, your enemies uniting. Humanity's reliance on technology has become their downfall and enemies are uniting to wipe out all survivors. As Kait, journey back to uncover the origins of the Locust, and fight with your squad to protect what's left.

3.

Ancestors Legacy

A history-inspired, real-time strategy game influenced by historical events in the Middle Ages. Combining resource management and base building with large-scale, squad-based battles across vast battlefields and a cinematic action camera that puts you right in the middle of the battle.

4.

Gaijin Charenji 1: Kiss or Kill

Gaijin Charenji 1: Kiss or kill is a shoot-them-up where you do not shoot only to kill. In Kiss Or Kill you have the choice between eliminating your enemies or kissing them. Debuted on another console in 1998 by Yoshihiro Takahashi, Kiss Or Kill was completed 21 years later by his son Yosuke Takahashi. Discover this unusual work, a game from another era, a video game UFO. This game talks about love and war, in this sense, the development studio is committed to donate 10% of the proceeds of the game for actions in favor of the reintegration of child soldiers in partnership with "SOS Enfants" (www.sosenfants.com).

5.

Felix the Reaper

Felix works at The Ministry of Death and is in love with Betty The Maiden from The Ministry of Life. He believes that going to the human world as a field reaper will enable him to one day meet her. Hence he's taken the job of making sure people die — and taught himself to dance to impress the love of his life.

6.

eFootball PES 2020

Experience realism and authenticity in this year's definitive football game: PES 2020. GAMEPLAY: New dynamic dribbling skills, new first touch techniques and finely-tuned ball physics, all developed in close consultation with renowned midfielder Andrés Iniesta. MATCHDAY: Pick a side and join forces with newcomers and veterans alike in a grand struggle for dominance in this new online competitive mode. MASTER LEAGUE: A completely revamped ML experience awaits — featuring a new interactive dialogue system, an overhauled menu design and a more realistic transfer market realized through improved data integration.

7.

Blasphemous

Blasphemous is a punishing action-platformer that combines the fast-paced, skilled combat of a hack-n-slash game with a deep and evocative narrative core, delivered through exploration of a huge universe comprised of non-linear levels.

8.

Trine 4: The Nightmare Prince

TheTrine series returns to the magic of 2.5D! Join three iconic heroes as they set off on a quest through fantastical fairytale landscapes to save the world from the Nightmare Prince's shadows.

9.

GreedFall

Explore uncharted new lands as you set foot on a remote island seeping with magic, and filled with riches, lost secrets, and fantastic creatures. Forge this new world's destiny, as you befriend or betray companions and entire factions. With diplomacy, deception and force, become part of a living, evolving world - influence its course and shape your story. * Engage in a core roleplaying experience achieve quests and complete objectives in a multitude of different ways through combat, diplomacy, deception, or stealth. * Complete freedom in character progression play as a male or female, customize your appearance, and freely choose your abilities, spells and skills. * Delve into a mysterious world of magic begin a grand journey and uncover ancient secrets protected by supernatural beings, manifestations of the island's earthly magic.

10.

Code Vein

In the not too distant future, a mysterious disaster has brought collapse to the world as we know it. Towering skyscrapers, once symbols of prosperity, are now lifeless graves of humanity's past pierced by the Thorns of Judgment. At the center of the destruction lies a hidden society of Revenants called Vein. This final stronghold is where the remaining few fight to survive, blessed with Gifts of power in exchange for their memories and a thirst for blood. Give into the bloodlust fully and risk becoming one of the Lost, fiendish ghouls devoid of any remaining humanity. Wandering aimlessly in search of blood, the Lost will stop at nothing to satisfy their hunger. Team up and embark on a journey to the ends of hell to unlock your past and escape your living nightmare in Code Vein.