| Elden Ring | Teenage Mutant Ninja Turtles: Shredder's Revenge | Weird West |
| --- | --- | --- |
| | | |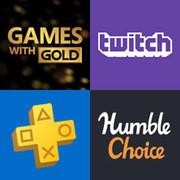 A frequently updated list of free games available from Epic Games Store, PlayStation Plus, Xbox Game Pass, PC Game Pass, Xbox Games With Gold, Prime Gaming, Humble, IndieGala, Steam, and other services.
1.

Signalis

Awaken from slumber and explore a surreal retrotech world as Elster, a technician Replika searching for her lost partner and her lost dreams. Discover terrifying secrets, challenging puzzles, and nightmarish creatures in a tense and melancholic experience of cosmic dread and classic psychological survival horror.