| Halo Infinite | Nobody Saves the World | Tom Clancy's Rainbow Six Extraction |
| --- | --- | --- |
| | | |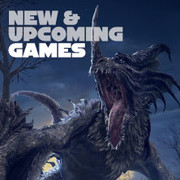 Find release dates, trailers, and scores for major upcoming and recent videogame releases for all platforms, updated weekly.
1.

Forza Horizon 5

Your Ultimate Horizon Adventure awaits! Explore the vibrant and ever-evolving open world landscapes of Mexico with limitless, fun driving action in hundreds of the world's greatest cars.

2.

Halo Infinite

When all hope is lost and humanity's fate hangs in the balance, the Master Chief is ready to confront the most ruthless foe he's ever faced. Begin anew and step inside the armor of humanity's greatest hero to experience an epic adventure and finally explore the scale of the Halo ring itself.

3.

Marvel's Guardians of the Galaxy

Fire up Star-Lord's jet boots for a wild ride across the cosmos in this third-person action-adventure game, a fresh take on Marvel's Guardians of the Galaxy. With the unpredictable Guardians at your side, blast your way from one explosive situation to another, with original and iconic Marvel characters caught in a struggle for the fate of the universe. You got this. Probably.

4.

Just Dance 2022

Just Dance 2022, the ultimate dance game, is back with new universes and 40 hot new tracks from chart-topping hits like "Believer" by Imagine Dragons, "Level Up" by Ciara, and more. Looking for the perfect game to dance to the latest hits and share some fun with friends and family? Just Dance 2022 is for you. • Exercise while having fun and start your own your routine with Sweat mode. • Team up with your friends and rule the dance floor in Co-op mode. • Engage the little ones with eight kid-friendly songs and choreographies with Kids mode.

5.

Oddworld: Soulstorm Enhanced Edition

In Oddworld: Soulstorm, you pick-up where New 'N' Tasty left off. Abe has undergone an unwanted transformation from being a clueless Mudokon cog, literally about to be chewed up by the Glukkons' big business machine, into an unlikely hero, a beacon of hope. Abe was someone who went about his life, blind to what was happening around him, and then woke to a deeper uncomfortable reality and had no choice but to make a change. Abe may not have wanted to be a hero, but there was, and remains, some greatness in Abe. A greater purpose. A greater good. All of which got him into enormous amounts of trouble and continues to do so. Revolutions start small and build from unexpected places. You and Abe are the beginning. In Oddworld: Soulstorm, you will begin to understand the power of many will be needed to solve problems that the individual alone cannot. Based on the concept of Scavenger's Economy, you will loot from trash cans, pickpocket, and search through lockers for items to craft into weapons and tools to use to help save your fellow Mudokons while you try to unlock the dark secrets behind Brew. Whether you prefer the classic Abe playstyle of sneaking and problem solving or using scavenge for what you need to create an arsenal that you can hand off to your followers that you have saved along the way, Oddworld: Soulstorm gives you more choices to replay with different approaches. Add in light RPG elements, leader boards, trophies for completionists, and a progression system and Soulstorm sets a new standard for next-generation action adventure platformers.

6.

The Elder Scrolls V: Skyrim Anniversary Edition

The Anniversary Edition includes Skyrim Special Edition and 74 creations, all 48 currently available and 26 to be released. These showcase over 500+ individual elements such as quests, items, armor, houses, etc.

7.

Nobody Saves the World

From the developers of Guacamelee! 1 + 2 comes Nobody Saves the World, a new twist on Action RPGs, in which you play many different character Forms, each with their own unique gameplay mechanics.

8.

Evil Genius 2: World Domination

Evil Genius 2 is a satirical spy-fi lair builder, where players take control of an Evil Genius and set their plans for world domination in motion. When it feels this good to be bad, the Forces of Justice don't stand a chance! Build your own unique evil lair and cover operation, train a force of criminal minions, defend your lair from the Forces of Justice, and dominate the world with a doomsday device in this direct sequel to the 2004 cult classic!

9.

Riders Republic

Jump into the Riders Republic massive multiplayer playground! Meet and compete with other players, and ride hard with an exciting range of activities such as bike, ski, snowboard, wingsuit and rocket wingsuit. Live out the rider's fantasy as you roam free in a huge, vibrant open world, always buzzing with other players around you. Immerse yourself in iconic American national parks including Bryce Canyon, Yosemite Valley, Mammoth Mountain... all mashed up for you to shred! Squad up with your friends and compete in a wide range of multiplayer modes: feel the rush of downhill races, dominate maps in team vs team competitions, or give it your best shot in epic mass PvP races with more than 50 other players. Go all out. Join the madness!

10.

Chorus

Take control of Nara, once the Circle's deadliest warrior, now their most wanted fugitive, on a quest to destroy the dark cult that created her. Unlock devastating weapons and mind-bending abilities in a true evolution of the space-combat shooter. Along with Forsaken, her sentient starfighter, explore ancient temples, engage in exhilarating zero-g combat, and venture beyond our waking reality. Lead Nara and Forsaken, her sentient ship, as their quest for redemption takes them across the galaxy and beyond the boundaries of reality. Enter a dark new universe, teeming with mystery and rife with conflict. Explore epic locations such as sprawling space stations and strange planes of existence beyond our own. Attain powerful weapons and combat upgrades. Master your ship's unique drift mechanic and deadly mind-bending abilities, including extra-sensory perception, teleportation, and telekinesis. Chain your powers together to become the ultimate living weapon.