| The Medium | Control: Ultimate Edition | Werewolf: The Apocalypse - Earthblood |
| --- | --- | --- |
| | | |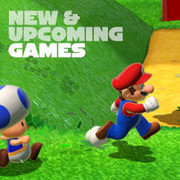 Find release dates, trailers, and scores for major upcoming and recent videogame releases for all platforms, updated weekly.
1.

Hitman 3

Death Awaits HITMAN 3 is the dramatic conclusion to the World of Assassination trilogy and takes players around the world on a globetrotting adventure to sprawling sandbox locations. Agent 47 returns as a ruthless professional for the most important contracts of his entire career. Supported by his Agency handler, Diana Burnwood, 47 joins forces with his long-lost friend Lucas Grey. Their ultimate mission is to eliminate the partners of Providence, but they are forced to adapt as their hunt intensifies. When the dust settles, 47 and the world he inhabits will never be the same again. Top of the World Every mission location in HITMAN 3 is meticulously detailed and packed full of creative opportunities. Players will have unrivalled freedom to complete their objectives and the game world will react to everything they do. A Platform of Assassination The World of Assassination trilogy is fully realised with HITMAN 3 as the ultimate place to play all three games. Players of previous HITMAN games will be pleased to know that it will be possible to 'import' locations that they own from the previous two HITMAN games into HITMAN 3, essentially putting all 20+ locations from the entire trilogy in one place. Playing the entire trilogy from beginning to end, from within HITMAN 3, also means that the progression systems in HITMAN 3 work across all locations. You can unlock an item in Dubai and take it with you to Paris, for example. HITMAN 2 players will have the option to carry over their hard-earned unlocks and progression into HITMAN 3.

2.

Gears 5: Hivebusters

Return to Gears 5 with the Hivebusters expansion and undertake their first suicide mission. Explore the tropical Galangi islands, battle enemies with the team's ultimate abilities and confront a deadly new predator.

3.

The Medium

Become a medium living in two different worlds: the real one and the spirit one. Haunted by the vision of a child's murder, you travel to an abandoned hotel resort, which many years ago became the stage of an unthinkable tragedy. There you begin your search for difficult answers. As a medium with access to both worlds, you have a wider perspective and can see more clearly that there's no one simple truth to what others perceive. Nothing is what it seems, everything has another side. The Medium features a "dual" soundtrack by Bloober Team's Arkadiusz Reikowski and legendary composer Akira Yamaoka of Silent Hill fame.

4.

Call of the Sea

A weird tale of otherworldly mystery. Call of the Sea is a first-person adventure puzzle game set in the 1930s that tells the story of Norah, a woman on the trail of her missing husband's expedition. The search takes place on a strange but beautiful island in the South Pacific, filled with secrets waiting to be unearthed. It is an otherworldly tale of mystery, adventure, and self-discovery.

5.

Morkredd

Morkredd is a tense, physics-based co-op puzzle game for one to two players combining skill-based puzzle-solving, a challenging balance of light and shadow, and a dark world full of secrets to unlock.

6.

Control: Ultimate Edition

After a secretive agency in New York is invaded by an otherworldly threat, you become the new Director struggling to regain Control. This supernatural third-person action-adventure game will challenge you to master a combination of supernatural abilities, modifiable loadouts and reactive environments, while fighting through a deep and unpredictable world. Become the new Director struggling to regain Control. You are Jesse Faden, a young woman with a troubled past. You become the new Director of the Bureau of Control Our frontline in researching and fighting against supernatural enemies like the Hiss threatening our very existence. You'll uncover the secret activities of the Bureau agents and explore the strange and shifting halls of the Bureau's headquarters, The Oldest House. Unlock new abilities with Objects of Power and upgrade your Service Weapon to take on bigger and more powerful enemies. Venture into lost sectors in the challenging Expeditions mode. Solve puzzles and complete quests to discover the secret of Jesse's past and the true purpose of the Bureau of Control. Above all, you must defeat the relentless Hiss. Control is Jesse Fadens's story. The main plot focuses on her personal search for answers as she grows into the role of the Director. The world of Control has its own story, as do the allies Jesse meets along the way. Side-quests and Secrets are everywhere. Jesse works with other Bureau agents, decodes cryptic ciphers and discovers strange Bureau experiments. World Within a Location Explore diverse environments and shifting architecture in a deep unpredictable world, set within a sprawling New York building. Flexible and Supernatural Combat System Define your playstyle by integrating supernatural abilities, upgrades, and modifiable loadouts. Reactive Environments6 Harness dynamic environmental destruction for exciting combat possibilities and master complex rituals to alter your surroundings. Reality Meets the Unexplainable Dive into a dark and brutalist-inspired world where daily reality has been corrupted by an otherworldly force.

7.

Werewolf: The Apocalypse - Earthblood

You are Cahal, a powerful Garou who chose to go into exile after losing control of his destructive rage. He can transform into a wolf and a Crinos, a huge ferocious beast. Master your three forms and their powers to punish those who defile Gaia.