| The Lord of the Rings - Gollum | Street Fighter 6 | Diablo IV |
| --- | --- | --- |
| | | |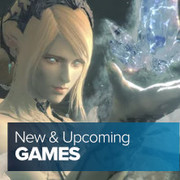 Find release dates, trailers, and scores for major upcoming and recent videogame releases for all platforms, updated weekly.
1.

Fatal Frame: Mask of the Lunar Eclipse

Fatal Frame (aka Project Zero): Mask of the Lunar Eclipse takes place a decade after five girls mysteriously disappeared at a festival on Rogetsu Isle, an island in southern Japan. While all of the girls were eventually rescued, their memories were lost, with only the faint remembrance of a single melody and a seemingly possessed masked woman dancing in the moonlight. Now, ten years later, with still no memory of the events surrounding their disappearance, two of the five girls have died - discovered with covered faces and found in a tragic, crying pose. The remaining three girls now head off to the eerie island to solve the mystery of their friends' death, while also unlocking the mystery of the memories left behind. The remastered game features an all-new Photo Mode, along with new and altered costumes, and enhanced graphics including the improved rendering of shadows and light, delivering a more immersive and frightening experience. In addition, in-game movies and character models have been brushed-up to deliver a story that shines, both narratively and aesthetically as the three remaining girls attempt to rediscover their past before becoming victims once again.

2.

After Us

Play as Gaia, the Spirit of Life, and navigate stunning platforming environments in an abstract world to salvage the souls of extinct animals. Revive these creatures after learning their final fate: the last whale harpooned, the final eagle caged, the last deer hunted down, and more, while you survive encounters with dangerous, oil-covered Devourers that roam the wasteland in search of remaining life. In this emotional journey from the creators of the critically acclaimed Arise: A Simple Story, you alone can restore life to the planet.

3.

Planet of Lana

A planet that used to be a place of undisturbed balance between human, nature, and animal has now become something else entirely. The disharmony that had been in the making for hundreds of years has finally arrived in the form of a faceless army. But this is not a story about war. This is a story about a vibrant, beautiful planet - and the journey to keep it that way. Planet of Lana is a cinematic puzzle adventure framed by an epic sci-fi saga that stretches across centuries and galaxies.

4.

The Last Case of Benedict Fox

Descend into a limbo of decaying memories as Benedict Fox, a self-proclaimed detective bound to his demon companion. Use that bond to explore the minds of the recently deceased in search for clues as you uncover the mysteries of an old mansion where a couple was murdered and their child has gone missing. Treat yourself to a dark intrigue full of secret organizations, forbidden rituals, and cold-blooded crimes in a hand-crafted adventure brought to life through a fascinating Burton-esque art style.

5.

Dead Island 2

Dead Island 2 is stylish, vibrant and flooded with zombie infection. Explore iconic, gore-drenched Los Angeles. Meet larger-than-life characters. Slay countless foes in exquisitely bloody detail. And evolve to become the ultimate Zombie Slayer! A deadly virus is spreading across Los Angeles, turning inhabitants into zombies. Bitten, infected, but more than just immune, uncover the truth behind the outbreak and discover who -or what- you are. Los Angeles is in quarantine and the military have retreated. Only you, and the handful of others who happen to be resistant to the pathogen, hold the future of the city (and humanity) in the balance. Features: Explore HELL-A – Dead Island 2 takes players across the most iconic locations of the City of Angels, now stained with horror, in an exciting pulp journey from the verdant suburbia of Beverly Hills to the quirky promenade of Venice Beach. Brutal Melee Sandbox – Combat delivers the most intense, visceral and gory first person experience possible, with plenty of weapons and tactical (and brutal) options to chew your way through the zombie horde. Whether you're slicing, smashing, burning or ripping, we want you to truly feel it. Be the Ultimate Zombie Slayer – There are six characters to choose from, each with their own unique personality and dialogues. You can fully customize the abilities of each Slayer, with our brand-new skill system allowing you to re-spec instantly and try out the craziest builds. Zombie Infestation – Ready to experience the most advanced dismemberment system in games? Our LA is crawling with zombies that look and react realistically. These mutated wretches are the reanimated, rotten heart of Dead Island 2 with dozens of distinct zombie types, each with their own mutations, attacks and hundreds of visual LA-themed variants. Our monsters are relentless, challenging, and true Los Angelinos. Will you be able to survive? A Cinematic Co-op Adventure – As a proper RPG experience, Dead Island 2 offers plenty of exciting quests, a crazy cast of characters, and a thrilling pulp story, to truly immerse you in its twisted universe. Re-playability is guaranteed. Add an over-the-top co-op mode for up to three players, and you'll stay in LA for a very long (and gory) trip.

6.

SIFU

Sifu is the story of a young Kung Fu student on a path of revenge, hunting for the murderers of his family. One against all, he has no allies, and countless enemies. He has to rely on his unique mastery of Kung Fu as well as a mysterious pendant to prevail, and preserve his family's legacy. The hunt for your enemies will take you through the hidden corners of the city, from the gang-ridden suburbs to the cold hallways of the corporate towers. You have got one day, and countless enemies on your way. For every mistake, time will be the price to pay. Careful positioning and clever use of the environment to your advantage are key to your survival. Use everything at your disposal: throwable objects, makeshift weapons, windows and ledges... The odds are stacked against you, and you will be offered no mercy. Kung Fu is mastery through practice, a path for both the body and the mind. Learn from your errors, unlock unique skills, and find the strength within yourself to master the devastating techniques of Pak-Mei Kung-Fu.

7.

Coffee Talk Episode 2: Hibiscus & Butterfly

Dust off your coffee machine and prepare your warmest smile to meet your customers again in the second episode of the much loved coffee brewing and heart-to-heart talking simulator; Coffee Talk Episode 2: Hibiscus & Butterfly. You are a barista, and your customers aren't always humans. Listen to their stories and influence their hearts with a warm cup of coffee or two.

8.

Anno 1800 Console Edition

Welcome to the 19th century, a time of industrialization, diplomacy, and discovery. Rich with technological innovations, conspiracies, and changing allegiances, this era presents the perfect setting for classic Anno gameplay. Anno 1800 provides players ample opportunity to prove their skills as a ruler as they create huge metropolises, plan efficient logistic networks, settle an exotic new continent, send out expeditions around the globe, and dominate their opponents by diplomacy, trade, or warfare.

9.

DREDGE

Dredge is a fishing adventure with a sinister undercurrent. Sell your catch, upgrade your vessel and dredge the depths for long-buried relics. Explore the stories of the strange locals and discover why some things are best left forgotten. Someone wants very badly to retrieve relics lost to the ocean floor. The work is lucrative, but can you trust them? What will they use the relics for? And will they ever be satisfied? It's not just the sharp rocks and shallow reefs you need to watch out for - keep your eyes on the depths below and the sky above. The biggest threat to your safety might come from within.

10.

GhostWire: Tokyo

Save a Tokyo under siege by spirits in a new adventure from mastermind Shinji Mikami and the team at Tango Gameworks. Explore the streets of a city filled with spirits and mysterious otherworldly threats, with an arsenal of powerful abilities at your command. Tokyo has become a city under siege; overwhelmed by paranormal threats beyond our understanding. After a devastating occult event leads to the disappearance of 99% of the city's population, only you stand between the loss of this great city and its salvation. After the vanishing, a strange encounter causes your own supernatural abilities to take shape. Explore a beautiful city that blends ultra-modern cityscapes and stunning ancient shrines as you purge the darkness from your home. Armed with a bevy of formidable, upgradeable powers, you will face off against evil spirits (referred to as The Visitors) haunting the city of Tokyo. Spirits like: * Amewarashi: This entity manifests as a young child in a yellow raincoat. Derived from the powerful emotions of sadness caused by being separated from his parents, as well as his innocent yet mischievous spirit, this Visitor will call for help and bring forth fellow spirit when it feels threatened. * Shiromuku: Shiromuku is a traditional type of pure white wedding kimono, and though she may appear to be a bride, this Visitor is actually a physical manifestation of powerful emotions. This Visitor represents regret and strong feelings for a partner she was never able to marry. * Kuchisake: Inspired by an actual urban legend, the Kuchisake-onna is a strong and agile opponent, capable of closing distances quickly to get at you with her large scissor blades. Be careful if she asks you if you find her attractive; there are no right answers there. Each spirit will have its own attack styles and weaknesses, so you'll need to combine your abilities in different ways to suit each unique combat encounter. But the spirits roaming the streets aren't the only threat. At the heart of everything the disappearance of the population, the appearance of the Visitors, and even your own supernatural abilities sits a shadowy group wearing "Hannya" masks. Who are they, what they want and how they will interact with you remains a mystery, and it will be up to you to determine their motives and unveil the mystery.