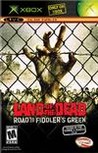 Summary:
Prepare for the Horror... A horrific plague breaks out and mobs of zombies are roaming throughout the tri-state area, killing people at random. You play Jack, a simple farmer who must rise beyond fear, and battle your way through hordes of terrifying undead who are bent on spreading the zombie plague. You encounter a mysterious man named Mr. Kaufman who has established Fiddler's Green, a fortified city, which holds the last of the living. He has offered you a special job, with an exceptional reward. An offer too good to turn down, but will you live long enough to reap the rewards? Based on the George A. Romero film, "Land of the Dead."
| | |
| --- | --- |
| Rating: | M |
| Developer: | Brainbox Games |
| Genre(s): | Action, Shooter, First-Person, Modern |
| Number of Players: | 1-8 Players |
| ESRB Descriptors: | Blood and Gore Intense Violence |
| License: | Movie |
| Connectivity: | Online System Link |
| Special Controllers: | Headset |
| Resolution: | 480p |
| Number of Online Players: | 8 Players Online |
Designer/Producer/Programmer credits provided by
GameFAQs
.
If you contributed to this game and feel you should be credited, please read our
FAQ
.
| | |
| --- | --- |
| 77 | #77 Most Discussed Xbox Game of 2005 |
| 22 | #22 Most Shared Xbox Game of 2005 |