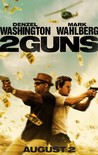 Director:

Baltasar Kormákur

Genre(s):

Action

,

Drama

,

Thriller

,

Comedy

,

Crime

Rating:

R

Runtime:

109 min
Please enter your birth date to continue:
You are not allowed to view this material at this time.
2 Guns is a movie based on smart callbacks and sly flip-flops of loyalty, regularly interrupted by spasms of well-staged violence.

In a season stuffed with empty eye candy, 2 Guns comes along as something of a welcome burrito — plenty satisfying and hardly nutritious.

The movie is loud, fun, quick moving, and features some nice acting turns.

Wahlberg and Washington are so good together, quips flying as fast as lead, that much is forgiven.

This is a here today, gone tomorrow trifle, albeit one with lots of gunplay. In midsummer, that may be enough, but it's still a shame that 2 Guns shoots so many blanks.

It's a complete mess, the spectacle of filmmakers blowing up their movie and everything in it, because they can't think of anything else to do.
Aight, so I saw this movie it had 1 gun in it. That movie was hella dope! but when I heard about 2 guns, man I was excited. I saw this movie

Aight, so I saw this movie it had 1 gun in it. That movie was hella dope! but when I heard about 2 guns, man I was excited. I saw this movie opening night, couldnt believe what i was seeing!!! 2guns has everything! twice as many guns as the other movies, they getting cash and the explosions so realistic you can feel the burn.
this movies 10/10 favorite movie.

…

Expand

The movie is cute and has some original scenes. The action and surprises are constant enough to keep you interested, and the one-liners aren't

The movie is cute and has some original scenes. The action and surprises are constant enough to keep you interested, and the one-liners aren't unbearable.

…

Expand

I thought this one was a lot of fun. It has a great mix of action and comedy that keeps it from being too serious and too silly. Washinton

I thought this one was a lot of fun. It has a great mix of action and comedy that keeps it from being too serious and too silly. Washinton and Wahlberg are great together and play off one another terrifically. Edward James Olmos and Bill Paxton are also really great in the film as well and just give the film a very solid cast. The only complaint I had was the movie feels a little rushed at the end but it didn't kill my enjoyment factor. Just a fun (and funny) movie.

…

Expand

Not an academy award movie but I must say very entertaining... interesting story line and good acting with good dialog between the actors...

Not an academy award movie but I must say very entertaining... interesting story line and good acting with good dialog between the actors... well worth seeing

…

Expand

Entertaining movie with two leading actors who display great chemistry. There are several plot twists which keep the movie alive and make it a

Entertaining movie with two leading actors who display great chemistry. There are several plot twists which keep the movie alive and make it a nice watch if you´re not asking for much. But it´s just that. It is the typical action movie made for male audiences (and straight) where women show their bodies more than males for no reason and a lot of violence happens.

…

Expand

Decent movie with great action! It's just not my type, if you wanna know my favorite movies, check out my profile. Otherwise i didn't like it

Decent movie with great action! It's just not my type, if you wanna know my favorite movies, check out my profile. Otherwise i didn't like it but i think that most people WILL. So my score is 5/10

…

Expand

A painfully appalling attempt at the humorous, buddy/action genre. This thing falls drastically short of being any way entertaining. It has

A painfully appalling attempt at the humorous, buddy/action genre. This thing falls drastically short of being any way entertaining. It has no story, poorly-drawn characters, irritatingly weak dialogue and boring action. Don't waste your time. There are plenty of better buddy/action films out there.

…

Expand