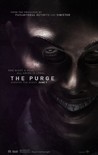 Summary:

In a future America devastated by crime and overcrowded prisons, the government provides a 12-hour period once a year when all criminal activity (including murder) is legal. A man attempts to protect his family from an intruder during one such period.
Director:

James DeMonaco

Genre(s):

Sci-Fi

,

Thriller

,

Horror

Rating:

R

Runtime:

85 min
Please enter your birth date to continue:
You are not allowed to view this material at this time.
The Purge clearly has a lot on its mind, but it never really manages to express it.

What should be a clammy exercise in claustrophobic, queasy tension becomes, in the hands of writer/director James DeMonaco, an underpowered compendium of over-familiar scare tactics and sledgehammer-subtle social satire.

So, fans, gear up for rock-em-sock-em action, yet don't be disappointed if much of the goonery seems a bit tepid and, dare I say, staged.

The film doesn't develop its one good idea so much as stumble around in the dark with it for 85 minutes, crashing noisily into the furniture.

Instead of being a creepy B-movie about the necessity of suppressing one's animalistic urges, The Purge is just an uninspired film.

The Purge is one of those unimaginative horror flicks that depend on skreeky music and sudden appearances to startle, but never actually frighten, the audience. The characters are undeveloped, the twists clumsily telegraphed and unsurprising.
I don't feel that the low user score is warranted. The movie deserves an 8/10 for originality alone. A great concept with some really quality

I don't feel that the low user score is warranted. The movie deserves an 8/10 for originality alone. A great concept with some really quality acting, I thoroughly enjoyed this movie which leans more towards the more extreme portions of the human condition but is nonetheless a thoroughly entertaining flick (unless you're a pacifist or bleeding heart liberal) which is certainly worth a watch

…

Expand

In 2022, just 8 years from now, the U.S. government has instituted a new holiday. One that has led to peace and prosperity, but at an extreme

In 2022, just 8 years from now, the U.S. government has instituted a new holiday. One that has led to peace and prosperity, but at an extreme cost to the less fortunate. For 12 hours, once a year, all crime is legal and people are given the opportunity to release their hatred and rage on anyone they can find. The cast isn't important to a film like this, it's all about the writers cynical message, that behind every smile is jealousy, behind every hand shake is anger, and trust has become a luxury that no one can afford. This Purge is all about the message that is being portrayed, but it has some major holes in the story. If all crime is legal for 12 hours, how come the only thing on peoples mind is murder? There weren't any rapes or bank robberies, nor where there any acts of terrorism or lashing out at authority. It was all about the killing. Most of the Purge is fairly predictable and it is what you would expect it to be. The big surprise comes at the end, which was extremely powerful, and really gives people the opportunity to question the message the writers have portrayed throughout the film. The only notable performance is that of the stars, Ethan Hawke, who was terrific, in a role I really didn't see him fitting into. The Purge is definitely all about the authors agenda and it is somewhat predictable, but what made the film for me, was the terrific ending, which really does give the audience the chance to challenge the cynical nature of the film.

…

Expand

The movie had a good premise, but the characters were all 2-dimensional. They didn't really learn anything. We already knew the the "purge"

The movie had a good premise, but the characters were all 2-dimensional. They didn't really learn anything. We already knew the the "purge" day would be bad, and you are left with the exact same conclusion at the end. The characters act completely irrational the entire movie, which is what you might expect from a horror movie, I guess.

If you like a movie with scary jump shots, little to no character development, and some shaky action scenes, you might like this movie.

…

Expand

Its concept and premise is rather different and interesting and it does make a good social and political allegory, but it is ruined by extreme

Its concept and premise is rather different and interesting and it does make a good social and political allegory, but it is ruined by extreme lack of logic, dumb characters, bad dialogue, bad acting (apart from a menacing Rhys Wakefield) and a lack of suspense and terror. The Purge mainly succeeds it create foreboding terror as shown in the first 15 or so minutes when it is setting up the purge rather than the home-invasion itself. By the end of the film, audiences will be disappointed and annoyed. Well, at least Lena Headey breaks some ladies face, which is possibly the best thing in the film.

…

Expand

Except for cast & acting this movie is huge disappointment! Having such an interesting setting, "The Purge" than transformed to be incredibly

Except for cast & acting this movie is huge disappointment! Having such an interesting setting, "The Purge" than transformed to be incredibly ridiculous, story is just nonsensical, some characters behave in absurd way! Conclusion "The Purge" is preposterous piece of filth!!!

…

Expand

HORRIBLE HORRIBLE HORRIBLE HORRIBLE. The movie plot and story is not well thought and very bad. COMPLETELY predictable it leaves nothing to

HORRIBLE HORRIBLE HORRIBLE HORRIBLE. The movie plot and story is not well thought and very bad. COMPLETELY predictable it leaves nothing to surprise there is just no point. I feel like taking a lesson from southpark and going to the directors and getting paid for watching this movie.

…

Expand