Waiting for the Barbarians

2020

RELEASE DATE:

August 7, 2020

Please enter your birth date to watch this video:

You are not allowed to view this material at this time.

Waiting For The Barbarians

Now Playing: Waiting For The Barbarians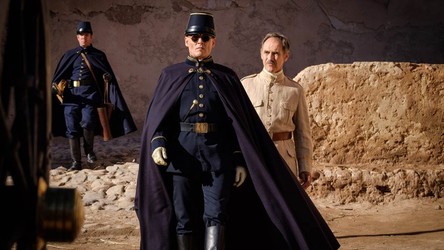 Summary:
A magistrate (Mark Rylance) of an isolated frontier settlement on the border of an unnamed empire, looks forward to an easy retirement until the arrival of colonel Joll (Johnny Depp), whose task it is to report on the activities of the barbarians and on the security situation on the border. Joll conducts a series of ruthless interrogations.
A magistrate (Mark Rylance) of an isolated frontier settlement on the border of an unnamed empire, looks forward to an easy retirement until the arrival of colonel Joll (Johnny Depp), whose task it is to report on the activities of the barbarians and on the security situation on the border. Joll conducts a series of ruthless interrogations. The treatment of the barbarians at his hands and the torture of a young barbarian woman combine to lead the magistrate to a crisis of conscience and a quixotic act of rebellion. [Berlin]
…
Expand