Wild West Comedy Show: 30 Days & 30 Nights - Hollywood to the Heartland

2008

Please enter your birth date to watch this video:

You are not allowed to view this material at this time.

VINCE VAUGHN'S WILD WEST COMEDY SHOWCASE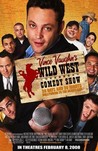 Summary:
Vince Vaughn's Wild West Comedy Show chronicles the journey of Vince Vaughn and four stand-up comedians as they traverse the country performing in a live variety show. In the spirit of the Old West variety shows, Vaughn plays host to the ensemble of comedians and performs improvisational sketches with surprise celebrity and musical guests.
Vince Vaughn's Wild West Comedy Show chronicles the journey of Vince Vaughn and four stand-up comedians as they traverse the country performing in a live variety show. In the spirit of the Old West variety shows, Vaughn plays host to the ensemble of comedians and performs improvisational sketches with surprise celebrity and musical guests. Vaughn handpicked four national comedians from Los Angeles' world famous Comedy Store—Ahmed Ahmed, John Caparulo, Bret Ernst and Sebastian Maniscalco—to perform on the tour. The film provides audiences a rare opportunity to experience Vaughn and his team as they travel over 6,000 miles across the heartland of America and perform 30 shows in 30 days. Traveling to cities that don't ordinarily attract this type of entertainment, Vaughn and his team
bring their unique styles and perspectives to regional audiences throughout Western, Southern and Midwestern states. Through rousing onstage performances and behind-the-scenes interviews, this engaging film breaks down the true essence of each comedian's life-altering experiences and the personal and professional challenges that will unite four comics, one movie star and legions of fans from Hollywood to the Heartland. (Picturehouse)

…
Expand
Genre(s):
Comedy

,

Documentary
More From Wild West Comedy Show: 30 Days & 30 Nights - Hollywood to the Heartland