| Space Heavy | O Monolith | Paranoïa, Angels, True Love |
| --- | --- | --- |
| | | |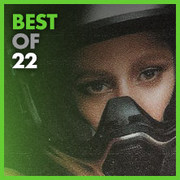 Here is Metacritic's final official list of the 40 best-reviewed albums released in 2022.
1.

Manzanita - Shana Cleveland

The third full-length solo release from La Luz's Shana Cleveland features contributions from Abbey Blackwell, Olie Eshleman, Johnny Goss, and Will Sprott.

2.

the record - boygenius

The debut full-length release for indie rock supergroup boygenius was co-produced with Catherine Marks and mixed by Mike Mogis.

3.

Maps - billy woods

The second full-length collaboration from Brooklyn rapper billy woods and producer Kenny Segal features guest appearances by Aesop Rock, Benjamin Booker, Danny Brown, ELUCID, Sam Herring, and ShrapKnel.

4.

That! Feels Good! - Jessie Ware

The fifth full-length studio release from British pop singer-songwriter Jessie Ware was produced by Stuart Price.

5.

Rat Saw God - Wednesday

The latest full-length release from North Carolina's Wednesday was produced by Alex Farrar and was recorded in a week.

6.

False Lankum - Lankum

The latest full-length release from Irish experimental folk band False Lankum was produced by John "Spud" Murphy.

7.

Blómi - Susanne Sundfør

The sixth full-length studio release from Norwegian singer-songwriter Susanne Sundfør was produced by Jørgen Træen.

8.

Wait Til I Get Over - Durand Jones

The debut full-length solo release from Durand Jones is about his hometown of Hillaryville, Louisiana and features a guest appearance by Skypp.

9.

Everything Harmony - The Lemon Twigs

The latest full-length release from New York rock duo The Lemon Twigs was self-produced and mixed.

10.

Honky Château [50th Anniversary Edition] - Elton John

The 50th anniversary edition of Elton John's 1972 album includes a remaster of the original album as well as session outtakes and eight live recordings from his 1972 Royal Festival Hall show.