| Isn't It Now? | Cousin | Autumn Variations |
| --- | --- | --- |
| | | |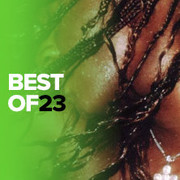 We rank the 20 highest-scoring albums released during the first half of 2023.
1.

Tim: Let it Bleed Edition [Box Set] - The Replacements

The deluxe reissue of The Replacements' 1985 album Tim includes a new mix by Ed Stasium, 50 previously unheard tracks and the entire January 1986 concert at Chicago's Cabaret Metro.

2.

Fly or Die Fly or Die Fly or Die (world war) - Jaimie Branch

The posthumous release from jazz trumpeter Jaimie Branch was recorded in April 2022 and completed by her family, her band and label after her death in August 2022.

3.

Evenings at the Village Gate: John Coltrane with Eric Dolphy - John Coltrane

The 1961 recording of John Coltrane with Eric Dolphy at the Greenwich Village nightclub, Village Gate, was rediscovered recently in the archive of The New York Public Library for the Performing Arts.

4.

The Greater Wings - Julie Byrne

The first full-length release from Julie Byrne since 2017's Not Even Happiness was recorded with the late Eric Littmann and completed with producer Alex Somers.

5.

Black Rainbows - Corinne Bailey Rae

The first full-length release since 2016's The Heart Speaks In Whispers from British singer-songwriter Corinne Bailey Rae was inspired by the exhibits she saw at the Stony Island Arts Bank.

6.

Guts - Olivia Rodrigo

The second full-length studio release from actress/pop artist Olivia Rodrigo was produced by Dan Nigro.

7.

The Land Is Inhospitable and So Are We - Mitski

The latest full-length release from Mitski recorded in Nashville and Los Angeles by producer Patrick Hyland includes an orchestra arranged and conducted by Drew Erickson and a 17-person choir.

8.

Valley of Heart's Delight - Margo Cilker

The second full-length release from Oregon-based singer-songwriter Margo Cilker was produced by Sera Cahoone.

9.

Chrome Dreams - Neil Young

The official release for Neil Young's "lost" album that was originally set to be released in 1977 features two previously unreleased tracks (the rest have been included in other albums/collections).

10.

I Am Not There Anymore - The Clientele

The latest full-length release from British indie-pop band The Clientele was recorded in London from 2019-2022, in part because of the COVID-19 pandemic.