Please enter your birth date to watch this video:

You are not allowed to view this material at this time.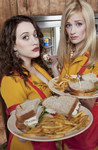 Episode Details & Credits
CBS |
Air Date:
October 24, 2011
Summary:
After putting it on her dream board, Caroline tries to build a Murphy bed all by herself. Meanwhile, Max finds herself confused by the signals she's getting from Johnny.
Seasons & Episodes
Season 6

Season 5

Season 4

Season 3

Season 2

Season 1

Season 1 Overview

Air Date: September 19, 2011

S1:E24. And Martha Stewart Have a Ball (Part 2)

Air Date: May 7, 2012

S1:E23. And Martha Stewart Have a Ball (Part 1)

Air Date: May 7, 2012

S1:E22. And the Buttercream Breakthrough

Air Date: April 30, 2012

S1:E21. And the Messy Purse Smackdown

Air Date: April 16, 2012

S1:E20. And the Drug Money

Air Date: April 9, 2012

S1:E19. And the Spring Break

Air Date: March 19, 2012

S1:E18. And the One-Night Stands

Air Date: February 27, 2012

S1:E17. And the Kosher Cupcakes

Air Date: February 20, 2012

S1:E16. And the Broken Hearts

Air Date: February 13, 2012

S1:E15. And the Blind Spot

Air Date: February 6, 2012

S1:E14. And the Upstairs Neighbor

Air Date: January 16, 2012

S1:E13. And the Secret Ingredient

Air Date: January 2, 2012

S1:E12. And the Pop-Up Sale

Air Date: December 12, 2011

S1:E11. And the Reality Check

Air Date: December 5, 2011

S1:E10. And the Very Christmas Thanksgiving

Air Date: November 21, 2011

S1:E9. And The Really Petty Cash

Air Date: November 14, 2011

S1:E8. And Hoarder Culture

Air Date: November 7, 2011

S1:E7. And the Pretty Problem

Air Date: October 31, 2011

S1:E6. And the Disappearing Bed

Air Date: October 24, 2011

S1:E5. And the 90s Horse Party

Air Date: October 17, 2011

S1:E4. And the Rich People Problems

Air Date: October 10, 2011

S1:E3. And Strokes of Goodwill

Air Date: October 3, 2011

S1:E2. And the Break-up Scene

Air Date: September 26, 2011

S1:E1. Pilot

Air Date: September 19, 2011