And the Rock Me on the Dais

Please enter your birth date to watch this video:

You are not allowed to view this material at this time.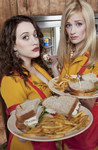 Episode Details & Credits
CBS |
Air Date:
April 10, 2017
Summary:
The girls are excited when they are invited to a press junket to promote the film about Caroline's life, but Caroline gets a surprise when her ex-boyfriend, Candy Andy, shows up. Meanwhile, Bobby gets jealous over Caroline and Candy Andy's reconnection and asks the diner gang for advice.
Seasons & Episodes
Season 6

Season 6 Overview

Air Date: October 10, 2016

S6:E22. And 2 Broke Girls: The Movie

Air Date: April 17, 2017

S6:E21. And the Rock Me on the Dais

Air Date: April 10, 2017

S6:E20. And the Alley-Oops

Air Date: March 20, 2017

S6:E19. And the Baby and Other Things

Air Date: March 13, 2017

S6:E18. And the Dad Day Afternoon

Air Date: February 27, 2017

S6:E17. And the Jessica Shmessica

Air Date: February 20, 2017

S6:E16. And the Tease Time

Air Date: February 13, 2017

S6:E15. And the Turtle Sense

Air Date: February 6, 2017

S6:E14. And the Emergency Contractor

Air Date: January 23, 2017

S6:E13. And the Stalking Dead

Air Date: January 16, 2017

S6:E12. And the Riverboat Runs Through It

Air Date: January 2, 2017

S6:E11. And the Planes, Fingers and Automobiles

Air Date: December 19, 2016

S6:E10. And the Himmicane

Air Date: December 12, 2016

S6:E9. And the About FaceTime

Air Date: December 5, 2016

S6:E8. And the Duck Stamp

Air Date: November 21, 2016

S6:E7. And the Sophie Doll

Air Date: November 14, 2016

S6:E6. And the Rom-Commie

Air Date: November 7, 2016

S6:E5. And the College Experience

Air Date: October 31, 2016

S6:E4. And the Godmama Drama

Air Date: October 24, 2016

S6:E3. And the 80's Movie

Air Date: October 17, 2016

S6:E2. And the Two Openings (Part Two)

Air Date: October 10, 2016

S6:E1. And the Two Openings (Part One)

Air Date: October 10, 2016

Season 5

Season 4

Season 3

Season 2

Season 1