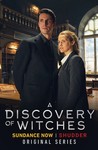 Summary:

Based on Deborah Harkness' novel of the same name, historian (and reluctant witch) Diana Bishop (Teresa Palmer) meets scientist (and vampire) Matthew Clairmont (Matthew Goode) after she discovers a manuscript thought lost hundreds of years ago in the Oxford library.

Genre(s):

Drama

,

Fantasy
Season 1 premiere date:

Jan 17, 2019

Episode Length:

60
While the longing looks and cravings for blood might make some roll their eyes, every second of A Discovery of Witches is pure catnip for fans of this genre, and it's nice to be able to dive into a decadent love affair for a few hours of escapism at the end of the day. ... There's also more than enough unique elements and impressive world-building going on alongside those tropes to sustain the series' weaker elements.

Palmer does have an easy chemistry with Goode. Their shared excitement over every discovery, scientific or otherwise, keeps us invested in the story even when it's just some carefully worded nonsense. Most important, their relationship is an equitable one, one that's built on trust, which is far more romantic than a certain sparkly vision that came before it.

The series lays out its world and characters briskly and intelligibly, and the early episodes invest the fantasy clichés with some elegance and picturesqueness. (Shooting in Oxford and Venice, where the creatures' HQ occupies a hidden island in the lagoon, helps.) As the action, physical and supernatural, picks up in midseason, the writing and direction start to lose some of that restraint, taking a turn into pulpy, B-movie territory.

Luxurious and intelligent escapism though hobbled by Palmer's less-than-bewitching blandness. Goode more than compensates with his usual grace while hinting at his inner beast. He's the ghoul to watch. [21 Jan - 3 Feb 2019, p.13]

Both better and worse than Harkness' book. ... If making Diana even more of a Mary Sue than she was on the page is a bad adaptive choice--don't get me started on Diana as a character only being activated by the sexual ritual known blushingly as "bundling"--Brooke smartly recognizes the dramatic structural flaws of Harkness' book. ... A Discovery of Witches picks up as it goes along through eight episodes.

It takes A Discovery Of Witches a long time to show any signs of a pulse, mostly because Palmer is cute as a kitten but also about as threatening. Her frequent exchange of mean looks with the vampires is significantly less scary than her producers seem to believe.
Think of "A Discovery Of Witches" as "Twilight" for adults. While the show doesnt add anything new to vampire, witch, or demon mythology, its

Think of "A Discovery Of Witches" as "Twilight" for adults. While the show doesnt add anything new to vampire, witch, or demon mythology, its still good soapy fun. The sets are beautifully stylized and alternate between London and Venice. There are plenty of shots of beautiful old buildings. The actors are excellent. Standouts include: Matthew Goode (Matthew Clairmont), Owen Teale (Peter Knox) and Malin Buska (Satu Jarvinen). With only eight episodes, "A Discovery Of Witches' is a fast watch. Can't wait next season.

…

Expand