Network:

Netflix

Series Premiere Date:

Mar 8, 2019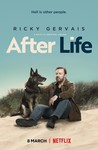 Summary:

After the death of his wife, Tony (Ricky Gervais) contemplated suicide before deciding to say and do anything he wants, no matter the consequences, to punish the world in this dark comedy created, directed and produced by Gervais.

Genre(s):

Comedy
Season 1 premiere date:

Mar 8, 2019

Episode Length:

30
Throughout the six-episode season, we see Tony slowly cope with his pain. The process is done so organically that it feels authentic. But what makes this series truly memorable is how brilliantly Ricky Gervais injects humor into such complex subject matter. Touching, poignant and humorous, this is some of the comedian's best work yet.

Gervais has sketched a predictable arc for his character, but Tony's transition over the course of After Life's six episodes is nonetheless heartfelt and moving.

Unexpectedly moving. [4-17 Mar 2019, p.11]

There's something to the idea here of accepting how all consuming grief can be, but that message gets lost when the show indulges Tony's aggressive unpleasantness as much as it does. The turning point comes when someone finally goes ahead and calls Tony out to his face. ... The show and Tony alike turn a welcome corner--but it's still impossible to tell how self-aware this evolution is on Gervais' part.

Kudos to Gervais for trying something contextually different from his past TV work, but all the pieces don't quite fit together in this puzzle.

As a meaningful meditation on grief, After Life is dead on arrival. As a comedy, it's good only for a few passing chuckles. It wants so badly to be both comedy and drama--to be both funny and touching--that it fails pretty spectacularly at both.
Loved it. It's a really nice show. i don't get why the critics here are bashing the show. I mean one "critic" gave it a 25 out of a 100

Loved it. It's a really nice show. i don't get why the critics here are bashing the show. I mean one "critic" gave it a 25 out of a 100 score... 25?! Means that it's one of the worst shows he has ever seen. That isn't the case at all. I think it's a really lovely show. You will binge watch it and enjoy it.

…

Expand

The reviewers who gave it a negative review must be on heroin. Literally, the best thing he has done in years perfectly nails grief. Had me

The reviewers who gave it a negative review must be on heroin. Literally, the best thing he has done in years perfectly nails grief. Had me in tears.

…

Expand

Simple, brutal, beautiful.

Poignant comedy that calls a spade a spade.

In the same vein as Derek, but more polished.

I love Ricky Gervais and when he's ripping on people there's no one better. But he's on this streak of trying to teach us deeper lessons of

I love Ricky Gervais and when he's ripping on people there's no one better. But he's on this streak of trying to teach us deeper lessons of life when he should just do comedy with a little bit of drama rather than drama and comedy mixed. With Derek and now After Life he gets too sentimental and while I liked the show overall, I found a lot of the dramatic parts did not land. And he's making his secondary characters too dumb and cartoon-y. It's funny when Orlando Bloom (Extras) is arrogant and clueless because the audience has certain expectations, but when Ricky makes his psychiatrist out to be arrogant and clueless it doesn't ring true.

…

Expand

I'll start by stating that I enjoyed After Life more than any TV show Ricky Gervais has created since Extra's but this is still a far cry from

I'll start by stating that I enjoyed After Life more than any TV show Ricky Gervais has created since Extra's but this is still a far cry from reaching the heights of that show let alone the brilliance of The Office.

Throughout the six episodes there are plenty of genuine laughs to be found but, as with much of what Gervais has created over the last decade or so, the writing and most of the characters lack any kind of subtlety with everything painstakingly explained to the viewer and a sudden character shift in the final episode that comes completely out of the blue. The usual topics of 'atheism' and 'causing offence' that Gervais likes to talk about on every chat show or podcast he's on are also shoehorned in in a way that just felt totally unnatural.

With some editing (maybe from former writing partner Stephen Merchant?) this could perhaps have been Gervais' comeback but as it is it's only a small step in the right direction.

…

Expand

Ricky Gervais struggles to perform his schtick in the 2019 social climate where blurting out the C word every 5 minutes and making fun of fat

Ricky Gervais struggles to perform his schtick in the 2019 social climate where blurting out the C word every 5 minutes and making fun of fat people would get him deplatformed and depersonned so he has to flip flop back and forth between the C-word and fat shaming then woe is me tiresome "muh dead wife" plot to try and enable him to do his offensive 2010 act in 2019, not to mention his act of a man in despair is completely unrealistic, just think he's been a celebrity so long that he can't even imagine how miserable a person can get like his idea is about 4 empty beer bottles around the house, like has he even seen an alcoholic before.

…

Expand