Network:

ABC

Series Premiere Date:

Mar 28, 2018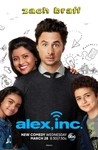 Summary:

In this sitcom based on Alex Blumberg's Gimlet Media podcast "StartUp," a journalist (Zach Braff) quits his job to start his own company.

Genre(s):

Comedy
Season 1 premiere date:

Mar 28, 2018

Episode Length:

30
Alex, Inc. is an enjoyably comfy fit among all of those fellow ABC family comedies. Braff and Imperioli are the name brands, but the wife and kids quickly make their own strong and appealing impressions.

Thwarted by same-old sitcom scripting, full of adults' childish bickering and laden with "irony" setups. ... The saving grace for the show, as for Alex, becomes his family. Through the first three episodes, they're a nicely knit group with real chemistry and real concerns vs. the podcasts-for-dummies approach to his workplace.

Sarcar and Braff have minimal chemistry, but the story elements about Rooni's attempt to make sense of Alex's decisions and help him on this journey work well enough. Both kids are scene-stealingly cute, in different ways.

The trouble with a show insisting that someone is a genius is that it has to go ahead and prove it, and nothing Alex does is particularly convincing in this arena.

This guy left a great job to get away from cloying sunniness and dig into serious, life-changing stories. That has resulted in a sitcom that is filled with almost nothing but cloying sunniness.

Alex, Inc. is painful. ... Braff is a big roadblock, but he's far from its only obstacle. The dialogue sounds nothing like normal human speech; it is far too on the nose and hammy. The way Alex builds a business and a podcast is farcical.
Love the show. It's funny, with great characters, especially the kids, which are amazing.

Nothing to see here. A pretty typical ABC comedy where white adult men are portrayed as dumber than dirt.

Bad scripts, bad acting, poorNothing to see here. A pretty typical ABC comedy where white adult men are portrayed as dumber than dirt.

Bad scripts, bad acting, poor casting = ABC comedy.

Tried several episodes just to make this review fair. The show has not improved. The lead character's arrogance that he is the better parent plays weak, while he shows absolutely no leadership skills at work (also weak). The kids out-act the adults by a mile and isn't that more than just a little sad.

So far nothing objectionable, but also nothing there to justify regular viewership.

Yea! Down the trash chute! At least this was a brief assault on our intelligence.

…

Expand