Network:

FX

Series Premiere Date:

Oct 5, 2011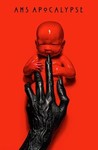 Starring:

Kathy Bates

,

Angela Bassett

,

Sarah Paulson

Summary:

Angela Bassett, Kathy Bates, Wes Bentley, Matt Bomer. Cheyenne Jackson, Lady Gaga, Denis O'Hare, Sarah Paulson, and Finn Wittrock are expected to return for the sixth season of the Ryan Murphy horror anthology series.

Genre(s):

Horror
Season 6 premiere date:

Sep 14, 2016

Episode Length:

60
Please enter your birth date to watch this video:
You are not allowed to view this material at this time.
If you tuned in for the start of "My Roanoke Nightmare," chances are good that you'll continue with it because it was a lot of ground-laying, but almost none of the excess that the show is known for. ... Beyond the atmospheric set-up, the "My Roanoke Nightmare" was worth watching just for the initial casting fun, always an AHS staple.

A lot of this was great fun. ... The grace notes the show allowed itself--the witty depiction of Shelby as a bougie yoga lover who likes her evening glass of wine maybe a little too much, the unapologetic plot holes that garishly remind you that yes, this is a horror story--were actually allowed to resonate, rather than being muffled by too much too-muchness.

None of it innovated on horror tradition--echoes of The Blair Witch Project, The Hills Have Eyes, and The Amityville Horror abounded--but the creep-outs were executed with careful timing and visual flair. The documentary aspect and the limited cast size thus far has also offered convincing, grounded characterization of the leads--and more importantly, characterization of their relationships.

Murphy and Falchuk didn't exactly sell a whole new "Horror Story" in the first hour, but what's here marks an effort to try something new in a franchise that both reinvents itself every season and remains frustratingly similar. ... "My Roanoke Nightmare" is a promising start with a central mystery as tantalizing as the ads teasing it.

Right now, the new series looks both promising (especially good this night: Angela Bassett and Adina Porter sharing the same role as Matt's sister, a police detective clinging to new sobriety) and limiting: How many times can Roanoke slam a door and make us jump?

All of that is clever, but after watching last night's episode, I'm still not sure whether this season can accomplish what earlier seasons of American Horror Story and this summer's Stranger Things did: spin all those embedded references into something engrossingly new. One of the problems of the documentary-style approach is that it automatically sucks some of the tension out of what we're watching.

The whole thing is staged in a strange and somewhat discombobulating manner--with act breaks that carry a logo and the name "My Roanoake Nightmare," the season feels like a reality show. ... This one, on the other hand, has the potential to excel as something American Horror Story has never been: a simple scary story, an old campfire tale delivered in a modern manner but still loyal to the more clear-eyed, heart-in-mouth horror of the unknown.
I was extremely relieved that the first episode of this season wasn't over the top and crazy like in Season 5 Hotel. Last year I was so turned

I was extremely relieved that the first episode of this season wasn't over the top and crazy like in Season 5 Hotel. Last year I was so turned off by the pornographic scene featuring the demon forcing himself sexually on one of the characters I almost didn't watch it. This year it appears the creators, writers, and even actors have gone back to what made this TV show so great and that is the character development and a sense of building a story with mystery with some good scares. As I was watching the first episode I was taken back to the first season a bit by the situation the couple found themselves in and by them moving into a new place. It seems similar to Murder house, but also felt comparable to movies like The Strangers, or Straw Dogs. I love the location and the theme so far and I can't wait to see where they are going to go this season!

…

Expand

Roanoke and is by far the most brutal, violent, disturbing and terrifying American Horror Story installment yet. It's filled with graphic

Roanoke and is by far the most brutal, violent, disturbing and terrifying American Horror Story installment yet. It's filled with graphic imagery, an intriguing story and an interesting structure which is the perfect recipe for a narrative that will haunt you long after the show is over.

…

Expand

American Horror Story: Roanoke had me on the edge of my seat, period. The finale felt a bit out of place but, still, offered all the thrills

American Horror Story: Roanoke had me on the edge of my seat, period. The finale felt a bit out of place but, still, offered all the thrills to make this incarnation one of the franchise's best.

…

Expand

This series began very well but by episodes 7 & 8 it had degenerated into torture porn. The scenes featuring the hillbilly cannibals were

This series began very well but by episodes 7 & 8 it had degenerated into torture porn. The scenes featuring the hillbilly cannibals were complete garbage of a kind not seen since the last "saw" movie.

…

Expand

AHS Roanoke had an original approach and plenty of grisly diversions, but its misguided new format produced a snafu stuffed with contrived

AHS Roanoke had an original approach and plenty of grisly diversions, but its misguided new format produced a snafu stuffed with contrived narratives, cluttered execution, and incompetent acting. (3/10)

…

Expand

American Horror Story Roanoke gets worse every time you think about it. This season was so dull and boring. The acting is still good the story

American Horror Story Roanoke gets worse every time you think about it. This season was so dull and boring. The acting is still good the story is **** these actors really need to stop wasting there talent on this because they could do so much better. I would rather watch Hotel even know it is worst then this at least it has it's moments and is entertaining. That ending was f ucking s hit. Horrible season

…

Expand

Sh*t! Sh*t! Sh*t! WHATTHEF*CK AHS?
I have no other words but sh*t!
HORROR? WHERE IS A HORROR? AMERICAN HORROR STORY - EVOLUTION ORSh*t! Sh*t! Sh*t! WHATTHEF*CK AHS?
I have no other words but sh*t!
HORROR? WHERE IS A HORROR? AMERICAN HORROR STORY - EVOLUTION OR DEGRADATION? DEGRADATION AND 6th SEASON IS SH*T

…

Expand