Please enter your birth date to watch this video:

You are not allowed to view this material at this time.

America's Got Talent: Amanda Lacount Delivers Confidence And Stunning Dance To Todrick Hall!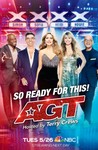 Episode Details & Credits
NBC |
Air Date:
July 18, 2012
Summary:
As another four acts to advance into the semi-finals are announced, Ashleigh and Pudsey and Havana Brown perform.
Genre(s):
Comedy

,

Variety Shows

,

Reality

,

Game Show

,

Music
Seasons & Episodes
Season 15

Season 14

Season 13

Season 12

Season 11

Season 10

Season 9

Season 8

Season 7

Season 7 Overview

Air Date: May 14, 2012

S7:E32. Finals Eliminations

Air Date: September 13, 2012

S7:E31. Season Finale

Air Date: September 13, 2012

S7:E30. Finals Performances

Air Date: September 12, 2012

S7:E30. Finals Performances

Air Date: September 12, 2012

S7:E29. Semi-Finals Week 2 Eliminations

Air Date: September 6, 2012

S7:E28. Semi-Finals Week 2: Performances

Air Date: September 4, 2012

S7:E27. Semifinals Week 1: Eliminations

Air Date: August 29, 2012

S7:E26. Semifinals Week 1: Performances

Air Date: August 28, 2012

S7:E25. Wild Card Eliminations

Air Date: August 22, 2012

S7:E24. Wild Card Performances

Air Date: August 21, 2012

S7:E23. Week 12, Part 2

Air Date: August 15, 2012

S7:E23. YouTube Eliminations

Air Date: August 15, 2012

S7:E22. Week 12, Part 1

Air Date: August 14, 2012

S7:E21. Week 11, Part 2

Air Date: July 25, 2012

S7:E20. Week 11, Part 1

Air Date: July 24, 2012

S7:E19. Week 10, Part 2

Air Date: July 18, 2012

S7:E18. Week 10, Part 1

Air Date: July 17, 2012

S7:E17. Week 9, Part 2

Air Date: July 11, 2012

S7:E16. Week 9, Part 1

Air Date: July 10, 2012

S7:E15. Week 8, Night 2

Air Date: July 3, 2012

S7:E14. Week 8, Night 1

Air Date: July 2, 2012

S7:E13. Week 7, Night 3

Air Date: June 27, 2012

S7:E12. Week 7, Night 2

Air Date: June 26, 2012

S7:E11. Week 7, Night 1

Air Date: June 25, 2012

S7:E10. Week 6

Air Date: unknown

S7:E9. Week 5, Night 1

Air Date: unknown

S7:E8. Week 4, Night 2

Air Date: June 5, 2012

S7:E7. Week 4, Night 1

Air Date: June 4, 2012

S7:E5. Week 3, Night 1

Air Date: May 28, 2012

S7:E5. Week 3, Night 2

Air Date: May 29, 2012

S7:E4. Week 2, Night 2

Air Date: May 22, 2012

S7:E3. Week 2, Night 1

Air Date: May 21, 2012

S7:E2. Week 1, Night 2

Air Date: May 15, 2012

S7:E1. Week 1, Night 1

Air Date: May 14, 2012

Season 6

Season 5

Season 4

Season 3

Season 2

Season 1