Network:

TBS

Series Premiere Date:

Jan 17, 2016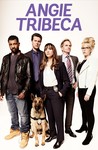 Starring:

Rashida Jones

,

Jere Burns

,

Hayes MacArthur

Summary:

The cop comedy from from Steve Carell and his wife Nancy focuses on the Los Angeles Police Department's Really Heinous Crimes Unit that includes Angie Tribeca (Rashida Jones), her new partner J. Geils (Hayes MacArthur), and their Captain (Jere Burns).

Genre(s):

Comedy
Season 1 premiere date:

Jan 17, 2016

Episode Length:

30
Please enter your birth date to watch this video:
You are not allowed to view this material at this time.
Angie Tribeca hits on every cylinder--sharp writing, consistent attention to detail (the visual jokes are just as funny as the spoken ones), terrific performances by Jones, MacArthur and Burns, as well as the secondary cast and guest stars, and great direction, including Steve Carell for the pilot episode.

There are a lot of well-worn cop commonalities in entertainment, but five hours of episodes, with wall-to-wall jokes targeting cliches big and small, makes one wonder if the series will have to change course soon, either in Season 2 or later down the line (assuming it gets picked up by TBS). It's certainly not an issue in Season 1, and the depth of knowledge on display actually leads to believing in the series' endurance.

The preposterous humor hits the right notes and offers something different then most traditional sitcom fare. If you're looking for something fresh and and laugh out loud funny, Angie Tribeca is for you.

It's not easy to make such inspired nonsense fly so effortlessly, and I give credit to the Carells for creating a buoyant atmosphere where the pace of clowning, word play, and visual punch lines never quits. Jones, so endearing on "Parks and Recreation," jumps into the gonzo material without a hitch, showing more comic versatility than ever. And she is surrounded by a strong cast of regulars.

This sitcom's battering ram of madcap inanity can run aground when a particular episode doesn't have an especially memorable storyline, and perhaps Angie Tribeca caters too much to an audience in thrall to the old "Airplane!" style of so-broad-it-hurts humor. From the 1980s' "Sledge Hammer!" to the more recent "Brooklyn Nine-Nine," smart-aleck cop comedies are nothing new. But in its minute-to-minute pleasures, Angie Tribeca is one big goofy grin of a sitcom. Season 2 can't come quickly enough.

Jones' heroic commitment helps Angie Tribeca maintain its balance. She's playing Mariska Hargitay on SVU, but in a world where the crimes are low stakes and easily tied to puns. It's a performance that never breaks.

Credit Jones and MacArthur with wringing about as much mileage as they can out of scenes where the two are thisclose to kissing before experiencing some spectacular interruption, but there's only so far one can go on jokes that feel so well worn.
Hilarious! Silly old-fashioned, slapstick comedy. Refreshing from what is considered comedy now a days. Its not preverted or loaded with sex &

Hilarious! Silly old-fashioned, slapstick comedy. Refreshing from what is considered comedy now a days. Its not preverted or loaded with sex & drugs. Turn your brain off, relax & escape the stress of the day. Im so happy i discovered it. Loaded with goofy humor. Watch a few episodes. I bet you will laugh throughout.

…

Expand

Oh my god, this show is great. I love all the stupid humor and all the guest stars. I also love that they make fun of all the cop shows

Oh my god, this show is great. I love all the stupid humor and all the guest stars. I also love that they make fun of all the cop shows already out there. The episodes are fun to follow and easy to watch.

…

Expand

"Airplane" humor. I simply adore it. This show cracked me up. I have not laughed like this in years. I was so excited and I am sincerely

"Airplane" humor. I simply adore it. This show cracked me up. I have not laughed like this in years. I was so excited and I am sincerely hoping for further episodes.

…

Expand

This was certainly not what I expected. It is blessed with a great and talented cast, and some talented writers and producers. But this kind

This was certainly not what I expected. It is blessed with a great and talented cast, and some talented writers and producers. But this kind of silly, over-the-top comedy doesn't work well in 2016. If you're looking to watch "Airplane" on TV each week, congratulations. Otherwise, this feels like a miss.

…

Expand

The show has potential. The cast is strong and I think that Rashida Jones and Jere Burns are both great casting decisions. However, right now

The show has potential. The cast is strong and I think that Rashida Jones and Jere Burns are both great casting decisions. However, right now the jokes are hit or miss and often over the top resulting in a childish and stupid show. However, I will keep watching and hope that the writing improves. As it stand I think Hoffman is my favorite character.

…

Expand

I am simply stunned something this bad was aired at all, let alone as a marathon. It was embarrassingly unfunny, unimaginative, predictable

I am simply stunned something this bad was aired at all, let alone as a marathon. It was embarrassingly unfunny, unimaginative, predictable and charmless.

…

Expand

I am baffled that anyone is giving this show a positive rating. I wanted to like this show but I hated this with a burning passion. It burned

I am baffled that anyone is giving this show a positive rating. I wanted to like this show but I hated this with a burning passion. It burned my eye-balls with bad.

…

Expand