Network:

NBC

Series Premiere Date:

Feb 1, 2018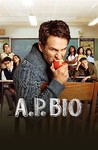 Summary:

After losing out on a dream job, Harvard philosophy academic Jack Griffin (Glenn Howerton) returns to his hometown of Toledo, Ohio to teach AP (Advanced Placement) Biology and clashes with Principal Durbin (Patton Oswalt) in this comedy from Mike O'Brien, Seth Meyers and Lorne Michaels.

Genre(s):

Comedy
Season 1 premiere date:

Feb 1, 2018

Episode Length:

30
At times, A.P. Bio struggles to build a bridge between what's happening in Jack's classroom and the rest of Whitlock, but the performances in the B-plots are so uniformly strong, they practically justify these digressions all on their own.

From the casting to the writing, the show has class, leaving you with the hope that Jack will be destined to a long stay in Toledo.

A.P. Bio is at times too straight-forward, lacking both School of Rock's freshness and the strangeness that made O'Brien's SNL shorts such standouts. [2/9 Feb 2018, p.95]

When the funniest things about a comedy are the cameos, it's time to go back to the drawing board. Or in the case of NBC's new sitcom A.P. Bio, back to the chalkboard.

No, it isn't living up to its potential yet, but I'm convinced that if it just applies itself to its work, it could be something really good. For now, I'd just settle for the show becoming as funny as the people in the show are capable of being.

In spite of impressive pedigree and cast, along with a few laughs, A.P. Bio ultimately earns a gentlemanly C.

An abrasive sitcom that isn't merely unfunny, it's also deeply unpleasant.
NBC knocked it out of the park with this one. The premise is a little played out but honestly, The cast saves this show and turns it into

NBC knocked it out of the park with this one. The premise is a little played out but honestly, The cast saves this show and turns it into something worth watching. Howerton carries that same fire he has playing Dennis on It's Always Sunny and Oswalt plays a quality number two who's short appearances keep his character fresh and his interaction with Howerton's character fun to watch.

…

Expand

Glenn Howerton basically just plays his character from It's Always Sunny in Philadelphia in a different setting without the rest of the Sunny cast.

I like it. That's all that matters. Ok, it says I need 75 characters here. Got it.

Has potential, was generally amusing, but the first episode didn't grab me in the way a comedy needs to grab me in a world with truly

Has potential, was generally amusing, but the first episode didn't grab me in the way a comedy needs to grab me in a world with truly brilliant comedies like Corporate and Kimmy Schmidt.

…

Expand

weird and insanely noxious, it's the kind show you watch when you're super bored or have nothing better to do!!

This has the potential to be a good show, but something about it doesn't work. There have been too many anti-heroes in recent comedies. I'm

This has the potential to be a good show, but something about it doesn't work. There have been too many anti-heroes in recent comedies. I'm tired of watching shows / movies about people with no redeemable qualities. The joke is the situation. He's an absurd character. It's one of those shows that relies on shocks instead of gags. You can write anything in a script. Just establish your protagonist as insane as soon as the story begins. Now, you can do crazy things with your character.

I don't find the main character believable. He feels written. And there isn't an ounce of reality in the setting. He would be fired. There's no way he could possibly get away with what he does in the show. There are no consequences in his world.

The premise is never explained. Why is someone with a degree in philosophy teaching a biology class? It doesn't make any sense. Also, why do none of the students ever say anything (to anyone) about their teacher's bizarre behaviour?

The writing is sloppy.

…

Expand

This show is not funny! It dd not catch my attention. I tried watching 2 episodes,