Network:

ABC

Series Premiere Date:

Sep 25, 2013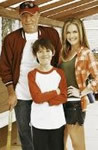 Starring:

Maggie Lawson

,

Lenora Crichlow

,

James Caan

Summary:

Maggie Lawson (Psych) stars as a former softball player who, after a divorce, moves back in with her estranged father (James Caan) and begins coaching her son's team of misfit Little Leaguers. The comedy comes from brothers Mark and Robb Cullen, who previously created the FX series Lucky.

Genre(s):

Comedy
Please enter your birth date to watch this video:
You are not allowed to view this material at this time.
The cast throws this curveball that catches the plate for a strike.

No matter who's on screen or what they're doing, Back in the Game is gut-bustingly hilarious.

Most every move creators Robb and Mark Cullen have made is a smart one, starting with casting an entirely fetching Maggie Lawson as the mother and the great James Caan as her gruff, constantly inappropriate father.

The family conflicts are facile and easily resolved on Back in the Game, but Terry is an appealing heroine, and she has an amusing new best friend.

Caan is perfectly cast here.... As it so often does, it comes down to the writing. I just don't care. And I just don't find it funny.

There's an itchy feeling of familiarity to Back In The Game.

Producers persist with this post-recessionary fixation on adult children who fall on hard times and move back in with a parent or two; it's both the worst and funniest premise that marginally employed sitcom writers can currently conceive. And so far, it's worked mainly as an indicator of quick cancellation.
Not quite as hilarious as the other shows such as Modern Family or The Middle, but it still manages to be clever and provide enough laughs to

Not quite as hilarious as the other shows such as Modern Family or The Middle, but it still manages to be clever and provide enough laughs to be watchable.

…

Expand

My DVR has recorded at least one episode of most of the new comedy shows. I watch that initial episode with the goal of either recording

My DVR has recorded at least one episode of most of the new comedy shows. I watch that initial episode with the goal of either recording more of the series or simply dropping the show. I was pretty sure that "Back in the Game" was a dropper. I am surprised to admit that I did enjoy the show. James Caan, dancing around the edge of overdoing it, has produced a somewhat interesting character. I don't know who plays the daughter but she provides an acceptable anonymous foil for Caan. Is the show great? No. Is the show worth a few more tries? Yes.

…

Expand

Pilot was a rocky start, but Back in the Game really shown during the 2nd episode. James Caan and Maggie Lawson make me want to keep watching

Pilot was a rocky start, but Back in the Game really shown during the 2nd episode. James Caan and Maggie Lawson make me want to keep watching this show, which I'm sure will continue to please.

…

Expand