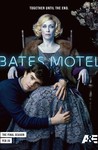 Starring:

Nestor Carbonell

,

Vera Farmiga

,

Kenneth Johnson (III)

Summary:

The relationship between 17-year-old Norman Bates (Freddie Highmore) and his mother Norma (Vera Farmiga) is explored in this contemporary prequel to the movie "Psycho."

Genre(s):

Drama

,

Suspense
Season 1 premiere date:

Mar 18, 2013

Episode Length:

60
Please enter your birth date to watch this video:
You are not allowed to view this material at this time.
Bates Motel turns out to be a worthy reimagining of the Norman Bates story.

Three episodes in, the story is certainly serpentine, at times self-consciously so. But there does appear to be writerly method in the madness. More important, there is Farmiga, and she, like Norma, appears up to any task.

A&E reboots the legend of Alfred Hitchcock's "Psycho," but Bates Motel plays like a slow-burning riff on David Lynch's "Twin Peaks" sparked by some fascinating, nuanced performances.

It ain't Hitchcock, but it ain't bad. Too bad it ain't new.

Whether other people's secrets will prove to be as interesting as the intimations of Norman's not-so-sweet future remains to be seen.

Having started with a bad premise, producers Carlton Cuse and Kerry Ehrin then made it infinitely worse by rejecting the loneliness and isolation that were the nucleus of Hitchcock's film.
I love the thrilling show. I watch it every single Monday on A&E network. I recommend this show to everyone who like's suspense. I also tweet

I love the thrilling show. I watch it every single Monday on A&E network. I recommend this show to everyone who like's suspense. I also tweet a lot during the show and look through what people saying about the show. Every time i see like 40 tweets per 50 seconds its insane.

…

Expand

Una delle serie TV più belle sul mercato. Vince a mani basse. Freddie e Vera sono una coppia esplosiva, oltre che vincente. Ha catturato fin

Una delle serie TV più belle sul mercato. Vince a mani basse. Freddie e Vera sono una coppia esplosiva, oltre che vincente. Ha catturato fin dal primo minuto. Una storia che si anima con il passare delle puntate. Uno studio psicologico di Norman ben fatto e curato, ti fa capire la sua trasformazione. Te la fa vivere.

…

Expand

so far its amazing from start to finish. the actors (vera farmiga and freddie highmore) give it their all in their outstanding performances.

so far its amazing from start to finish. the actors (vera farmiga and freddie highmore) give it their all in their outstanding performances. its too good to miss out and you wont stop watching it.

…

Expand

Solid opening episode and it has stuck there since, good writing, exceptional cast and just the right amount of thrills. keep it coming! From

Solid opening episode and it has stuck there since, good writing, exceptional cast and just the right amount of thrills. keep it coming! From the begiining you are invested in the characters and it makes you hungry for more.

…

Expand

The show is creppy is in a good way. I like the way Norman Bates is . We all try to think he is a nice guy with just some "problems" but we

The show is creppy is in a good way. I like the way Norman Bates is . We all try to think he is a nice guy with just some "problems" but we all know he is pshyco in training. The acting is outstanding and Freddie Highmore sometimes gives you the chills. Oh my god,this show is excellent because the way it's presented in.

…

Expand

Excellent performances from everyone signed on to this series. Norma Bates is one of the best written characters on TV right now, brought to

Excellent performances from everyone signed on to this series. Norma Bates is one of the best written characters on TV right now, brought to life by Vera Farmiga in a way that is disturbing and sympathetic at the same time. This kind of fallibility and nuance is generally reserved for leading white male characters, and to see a woman finally written as both condemned and redeemable is refreshingly courageous. It is beautifully shot; props to everyone involved with the look and feel of the show, which creates a subtly off-kilter blending of eras from 1960s through present day.

Most criticism I've seen here stems from a comparison to its source material, Psycho, which frankly I feel is missing the point. Bates Motel is a separate entity that draws from the classic film, but is in no way a companion piece. It explores the motives and psychology behind a dysfunctional, codependant relationship between mother and son, which is interesting on its own. It's not Psycho, and it's not trying to be.

My own criticism is with regards to the plot, which can feel contrived at times, particularly in the second season. Certain events occur for the sole purpose of moving the characters from A to B, rather than their attitude and decisions moving the plot, so I sometimes felt like I was being led by the nose. The strength of the show is in the characters, their twisted relationships with each other, and the depth with which the actors all seem to grasp their characters. Overall, a compelling, unique show that's not afraid to creep you out with incestuous undertones in a relationship that has you feeling compassion and disgust a the same time.

…

Expand

I want to start by saying I knew this was a bad idea it is completely destroying a classic film. Now as bad as it is I still watch just to

I want to start by saying I knew this was a bad idea it is completely destroying a classic film. Now as bad as it is I still watch just to poke fun at the little things like the deep fried father burnt to a crisp in episode 2 how is he still living? Either they went overboard on the make up or the guy looked like a cannibal's supper. The power of suggestion is a big thing to influence Norman I guess. What happened to the whole incest storyline much easier to believe that could drive one psycho instead of a stupid book with nudity in it. Why even use that book just give him some old playboys lol. By the end of season 1 I will not be able to watch any psycho again they have completely killed it.

…

Expand