Network:

Lifetime

Series Premiere Date:

Jan 31, 2015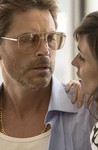 Summary:

The Lifetime TV movie based on the real-life murder of Fontainebleau hotel heir Ben Novack Jr. (Rob Lowe), chronicles his marriage to a former Miami strip club dancer named Narcy (Paz Vega), who was eventually convicted of hiring hitmen to kill him and his mother (Candice Bergen).

Genre(s):

Drama

,

Movie/Mini-Series
Show Type:

TV Movie

Season 1 premiere date:

Jan 31, 2015

Episode Length:

120
The story is cheekily told here, and pretty well, if you don't mind "cheeky" as the tone for a tale in which real people died.

Everything in the Novacks' life is portrayed as being over the top, and Beautiful & Twisted's setup certainly matches that tone. What doesn't quite match up is the acting. Lowe's narration fits as apologetically irreverent, but Vega's performance is somewhere between Showgirls and a Dateline special.

Beautiful & Twisted is hardly a stretch, falling squarely within the narrow niche that Lifetime movies occupy; still, it's an example that wedding the right talent to such material will likely yield dividends.

The whole thing feels awkward, including the way Ben provides running commentary on all the action in hindsight, after he's already dead.
Dysfunctional fantasy of the rich, crude and unappealing despite the glamor. What starts like a noir thriller, complete with narration from

Dysfunctional fantasy of the rich, crude and unappealing despite the glamor. What starts like a noir thriller, complete with narration from the male lead, turns out to be a series of physical and mental abuses. It resembles a sensational tabloid, spamming view of attractive women, cash and drug, but ultimately offers no intelligent insight. Though it has a couple of good performances, the entire logic hinges on the seductress' ability to dodge peril simply because she's attractive, which admittedly she is, even though without clever plan whatsoever.

Ben (Rob Lowe) is born with silver spoon and grows up at showgirls' dressing room. He is not the best judge of character nor does he have decent moral compass, which is why he falls for Narcy (Paz Vega), a stunning exotic dancer. Along the years of their relationships, it's apparent that Narcy has appetite for hurting people. This is no Gone Girl, don't expect smart planning or foresight, it's a thriller where the girl does whatever she wants as she spirals into madness.

Granted, Paz Vega is an appropriate cast for the seductress, she's attractive and has a deceptively ominous air about her. However, the role is shallow, she's continuously mistreating those around her just for the sake of being cruel and Ben does nothing but narrates. Candice Bergen as Ben's mother is compelling, partially because she seems to be the most rational character.

Aside for a few titillating glamorous scenes, lavish atmosphere and semi dark comedy, the film barely keeps the plot together. It resorts in abrupt twists for shock value or sudden exaggerated change. Beautiful and Twisted will only suffice for those wanting a casual drama, as a crime thriller it simply relies on the good looks and not on the twisted intricacy.

…

Expand