Network:

The CW

Series Premiere Date:

Oct 11, 2012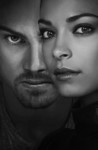 Starring:

Kristin Kreuk

,

Jay Ryan

,

Max Brown

Summary:

A remake of the 1987 series, in this version homicide detective Catherine Chandler (Kristin Kreuk) crosses the path of Dr. Vincent Keller (Jay Ryan), who supposedly died in in Afghanistan in 2002 and has been hiding the past 10 years.

Genre(s):

Drama

,

Action & Adventure

,

Science Fiction
Creator:

Ron Koslow

Season 1 premiere date:

Oct 11, 2012

Episode Length:

60
Please enter your birth date to watch this video:
You are not allowed to view this material at this time.
All this setup, and more, happens at the speed of light. But it's all easily understandable and gets us right to the real attraction.

Beauty and the Beast's pilot is rarely more than competent, sometimes stubbed-toe clumsy. But if it can hang around for a while, devise a style that matches its story, and tap its stars' sincerity, it could become a cult hit: perpetually underrated but loved.

[Kreuk and Ryan are] terrible, but the material may have left them with no other option. Luckily, in this world of 1,000 channels, you have plenty of other options.

Loosely based on the 1987-89 series, it's a silly, flat piece of work that is all about posing longingly in the face of impossible love.

There's no erotic pull between him (Jay Ryan) and the detective (Kristin Kreuk). [15 Oct 2012, p.49]

[An] overheated, badly written, wretchedly acted and unconvincing drama, which makes mincemeat out of the traditional beauty and the beast fairy tale.
The show is just perfect as all fans have proved! It depicts true romance which many people haven't experienced and that is why they make fun

The show is just perfect as all fans have proved! It depicts true romance which many people haven't experienced and that is why they make fun of it. Let's just pity those losers who think they know everything and blame shows/movies of this kind.

…

Expand

It is very easy to become dependent on this serial. Critics didn't like it at all, but I'm fond of it. Especially cool is the string of

It is very easy to become dependent on this serial. Critics didn't like it at all, but I'm fond of it. Especially cool is the string of feelings between main characters - chemistry between sexually sad doctor-halk and cop-girl.

…

Expand

I was not a fan of the original series, but something in the previews to the show captured my attention. Each episode is better than the

I was not a fan of the original series, but something in the previews to the show captured my attention. Each episode is better than the previous one. The twists and turn that have been created make it interesting. Hoping that the series will continue for years to come!!!

…

Expand

When I heard about the new show, I was worried that like many others shows that have come out recently it would be a fail and be cancelled. As

When I heard about the new show, I was worried that like many others shows that have come out recently it would be a fail and be cancelled. As a fan of the original film I wasn't sure I would enjoy it but I was willing to try. This was by far one of the best shows I have seen in a long time, the plot was great, the script was perfect, every line meant something. The cast and acting were brilliant, the characters, interesting and the whole concept just fabulous. I cannot wait to see where they go with this and I hope to see many more series. Even though there are mixed reviews, there are always going to be people who don't like it but I hope that this will continue. Give this show a chance to show it's potential. I can see it going far! The perfect match of romance and drama!

…

Expand

I'm really loving Beauty and the Beast! It is the only show I watch live, in fact. Each episode seems to improve over the last. I'm enjoying

I'm really loving Beauty and the Beast! It is the only show I watch live, in fact. Each episode seems to improve over the last. I'm enjoying watching the romance between Vincent and Catherine, slowly unfold. Kristin and Jay have great chemistry. I hope this show gets more seasons. It is just now starting to hit its stride.

…

Expand

Yes is very different to the 87 version and yes its cliche but its watchable and as the season goes on the story lines are not bad. I have

Yes is very different to the 87 version and yes its cliche but its watchable and as the season goes on the story lines are not bad. I have seen worse on t.v these days.

…

Expand

Unbelievable! I can't believe I stuck around till episode 3! Not a hater here but it just reminds me of all three things, Law&order wannabe,

Unbelievable! I can't believe I stuck around till episode 3! Not a hater here but it just reminds me of all three things, Law&order wannabe, Batman wannabe, Bourne legacy thing going on. Beast is not beastly enough and the tantrums aren't working. Beauty named Det. Chandler great fighting skills but bad detective work always asking someone outside of work for help. Yea, it's a failure show. Chemistry of cast just isn't there.

…

Expand