Network:

NBC

Series Premiere Date:

Mar 10, 2014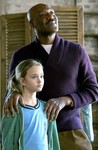 Starring:

Kyle MacLachlan

,

Jamie Chung

,

Delroy Lindo

Summary:

"True Believer" Milton Winter (Delroy Lindo) must keep extraordinary 10-year-old Bo (Johnny Sequoyah) safe from dangerous forces and recruits Tate (Jake McLaughlin), a wrongly convicted inmate, to help keep them one step ahead in this drama created by Alfonso Cuarón and Mark Friedman.

Genre(s):

Drama

,

Science Fiction
Season 1 premiere date:

Mar 10, 2014

Episode Length:

60
Please enter your birth date to watch this video:
You are not allowed to view this material at this time.
What's extremely effective is the relationship (and chemistry) between Sequoyah and McLaughlin. You will find yourself rooting for them and hoping nothing comes between them.

Grand special effects, impressive acting by the young Sequoyah and an enduring interest in all things supernatural may help Believe to catch on.

As you'd hope from an hour directed by Cuarón, Monday's premiere moves swiftly and surely, with well-shot action sequences and bursts of visual flare, led by a nightmarish image of birds coming to Bo's rescue. Small touches of humor mix with large doses of pseudo-spiritual sentiment.... Yet for all those flourishes, nothing really shakes that feeling that it's all been done before and it won't end well.

Despite some beautiful images--starting with bright blue butterflies--Believe has the makings of a very old-fashioned procedural, with Tate and Bo destined to journey from place to place changing the lives of those she meets with her cryptic insights while staying one step ahead from those who would capture her.

The pilot is at its best when Cuaron's visual choreography takes center stage; at its worst, when any of the characters open their mouths.

An OK (but visually unexceptional) pilot that does little to set viewers up for what the show will be on a week-to-week basis.

Darkly shot and dimly plotted, the premiere episode never comes close to firming its grip. It instead plods and meanders, inviting viewers to invest elsewhere rather than buy into this poorly put-together jumble of something or other.
I really like this show. It is engaging and the character development is really getting good. Cannot wait to see what is going to happen next.

I really like this show. It is engaging and the character development is really getting good. Cannot wait to see what is going to happen next. I really hope this does not get canceled because now I am hooked on the show. Love the casting it is perfect.

…

Expand

I think Believe is an amazing family show, we really love Believe! we think it is an amazing story. the show made us laugh and made us cry

I think Believe is an amazing family show, we really love Believe! we think it is an amazing story. the show made us laugh and made us cry only ! Please don't cancel. This is the only series I watch on TV. I really look forward to watching it on Sunday Nights!!

…

Expand

This review contains spoilers

, click expand to view

. This is a beautiful series, with so much potential for growth. It's wonderful to see that quality, wholesome TV can still be made that you can watch with your kids.
It's absolutely disappointing that NBC would cancel a show with so much potential for success. Then again, they did cancel Star Trek in 1966. Bet they wish they could have that one back.
If NBC goes through with the stupid idea to cancel this beautiful show, I certainly hope another network will see its potential and pick it up.
The character development was slow in the first few episodes, but the last few it has really come into its own. I love the "father/daughter" part of the series---the two characters are really growing close, and it really makes the series more exciting.
Thank you, Mr. Cuaron---for getting me back to a network show, if only for a brief time. Please don't let this show die---fight for it---it deserves to live!

…

Expand

Just like many others saying this show is similar to a fox show named "touch". this show is way better than the other one. both story are

Just like many others saying this show is similar to a fox show named "touch". this show is way better than the other one. both story are great but touch was executed poorly . i have no idea how fox managed to made it so boring. this is what nbc saying this is how it should be done. you just got served fox.

…

Expand

alfsonso cuaron after gravity was nominated and a hit . he made a show that hs a girl who has a power and a gift . i think that the girl

alfsonso cuaron after gravity was nominated and a hit . he made a show that hs a girl who has a power and a gift . i think that the girl who has a gift is similar to carrie . i am sad that alfsonso who isnt directing episodes but its okay . i am glad that alfsonso created the show . the dumb part is there was not epic violence . i expect more epic violence

…

Expand

Darn. I started out really liking this show. The little girl is great; the relationships worked. By the 3rd episode, though, I realized I

Darn. I started out really liking this show. The little girl is great; the relationships worked. By the 3rd episode, though, I realized I wasn't looking forward to it, and I was tired of it before the episode ended. The entire plot seems to consist of we-nearly-got-'em-this-time chases, combined with, oh, suprise, the girl risked everything yet again to run off an help a stranger. Plus, I've lost count of how many shows (Crisis, Intelligence, 24, Person of Interest, etc.) rely on the worn-out all-knowing surveillance net as the key driver of the plot -- come on, people, Enemy of the State already did that better back in 1998, it's boring.

…

Expand

This is what I thought from the first minute of the show. GREAT idea, terrible writing. The escaped Con, on the run, that goes into a vegas

This is what I thought from the first minute of the show. GREAT idea, terrible writing. The escaped Con, on the run, that goes into a vegas casino with 3 billion cameras pointed at him, swaggers up to a craps table, amber alert child 2 feet from him. Do they even have a conscious person in hollywood these days?

Let's look at the over the top acting. The lead character is over the top with his disdain of the little girl. He is over the top with his disdain for the asian agent. The only character that is even believable in the whole show is the Black gentleman's (sorry I can't remember anyone's name, even after watching 2 episodes back to back.).

…

Expand