Network:

Showtime

Series Premiere Date:

Jan 17, 2016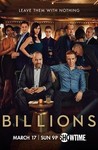 Summary:

The second season picks up from the end of the first season finale with Rhoades and Axelrod trying to destroy the other by increasingly intense gambits.

Genre(s):

Drama
Season 2 premiere date:

Feb 19, 2017

Episode Length:

60
Please enter your birth date to watch this video:
You are not allowed to view this material at this time.
Billions still boasts the same wonderfully meaty dialogue which helped it stand out during its debut year, while the anecdotes told by the characters prove to be every bit as captivating (this time, it's a fascinating tale of a chess game in the park). It's ultimately the characters who remain the main draw here, though. Their complexity is a treat to behold.

Billions hasn't abandoned any of the various subtexts that make it so absorbing; in fact, the decreased furor means it brings more attention to those themes.

The prospect of watching a (maybe) corrupt, hard-to-nail New York billionaire grow his empire is suddenly more interesting. [17 Feb 2017, p.55]

What Billions offers is vicarious revelry in stylish power, exuding a trashy, toxic purity.

With a few new characters of mixed importance and a lower ratio of fresh-to-good storylines, Billions hasn't advanced in its second season. It's just provided more toys for Chuck and Axe to fight over.

It's all nutty, and much of it defies logic as it flies by with the help of sleek production values and fast editing. But the bigger problem is the acting, or should I say over-acting.
The first season was brilliant and so far season 2 has surpassed my expectations. Great characters, humour, and a fascinating story line.

The first season was brilliant and so far season 2 has surpassed my expectations. Great characters, humour, and a fascinating story line.

One of the best shows out there at the moment.

…

Expand

It was a slow burn all season. Wondering just how Chuck was gonna get to Bobby kept me interested all season long and the finale was the

It was a slow burn all season. Wondering just how Chuck was gonna get to Bobby kept me interested all season long and the finale was the payoff. It was a great end to a brilliant season that just clicked.

…

Expand

This show gets better all the time, as the main protagonists plot and scheme. Wonderful storyline, totally believable acting, with tension

This show gets better all the time, as the main protagonists plot and scheme. Wonderful storyline, totally believable acting, with tension being created in every episode. Axelrod has to win, the government can't use the law in this way (See, I'm a believer, it's working).

…

Expand

Season two raises the stakes for literally every character, tensions get higher, and overall, it's just more fun. The season had a slow

Season two raises the stakes for literally every character, tensions get higher, and overall, it's just more fun. The season had a slow beginning, but it got more intense as the episodes went by. This show captivated me, and I'm surprised to hear myself say that I finally found a show that's unique, enticing, and so amusing to watch.

…

Expand

'Billions' season 2 starts in a smarter way than the previous one, using its wit to plunge some humor among the seriousness of its plot. It

'Billions' season 2 starts in a smarter way than the previous one, using its wit to plunge some humor among the seriousness of its plot. It still needs to grow a little bit, but for now, it's a very good start.

…

Expand

Billions fails to maintain its early momentum and move on from being a dramatised pissing contest. Storytelling gimmicks from Season 1

Billions fails to maintain its early momentum and move on from being a dramatised pissing contest. Storytelling gimmicks from Season 1 continue. Sloppy scriptwriting and confusing lurches in tone reveal that the showrunners have divergent ideas about what Billions is supposed to be. The result is a tedious shambles that sells the excellent cast short and is unreasonably impressed by itself.

…

Expand

Tried to give it a shot again with season two, but it continued to be unwatchable. Had to quit mid-way through. The cast is great, but the

Tried to give it a shot again with season two, but it continued to be unwatchable. Had to quit mid-way through. The cast is great, but the writing is sub-par. Don't waste your time.

…

Expand