Network:

Syfy

Series Premiere Date:

Jun 14, 2017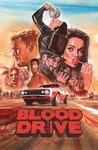 Starring:

Colin Cunningham

,

Alan Ritchson

,

Christina Ochoa

Summary:

Set in a near-apocalyptic future, Los Angeles cop Arthur Bailey (Alan Ritchson) must join a cross-country death race with a car that runs on human blood with Grace (Christina Ochoa), a woman with her own agenda in this grindhouse-styled series created by James Roland.

Genre(s):

Drama

,

Action & Adventure

,

Science Fiction
Season 1 premiere date:

Jun 14, 2017

Episode Length:

60
It is not boring. It's a show for a very specific sort of audience, but for that audience, it could become a legit cult hit.

The pilot hour delivers with blood-soaked gusto. The second hour gets more amusing. And wit can be the saving grace for casual viewers of the grindhouse genre.

Calling Blood Drive a rom-com would be stretching things, but it is refreshing to see that love can still bloom in a world where, if you softly whispered, "I would die for you," most of the population would take you up on the offer.

While it is no heir to what Rodriguez and Tarantino did, Blood Drive is an indulgent "Grindhouse" for all the modern direct-to-video goofiness and weirdness you can only watch at home now anyway.

The result features a large amount of dismemberment and has the good grace not to take itself seriously. [16 Jun 2017, p.53]

The cast walks an excellent line between tuned-in and too-cheeky, flaunting their toned abs and cut cheekbones as shamelessly as the show that hired them, while the series itself shamelessly veers through all manner of lewd and ludicrous territory. A lot of people will hate this show. I'm happy to be one of the people who loves it.

The whole party-scene setting, complete with sneering guys with chains and women in brightly-colored wigs, is apparently intended to make you gawp at its carnal adventurousness. Instead, like the rest of Blood Drive, it's as painfully boring as watching someone hit his fingers repeatedly with a hammer in an attempt to shock you.
Really, really loved this show. It had a lot of plot holes, generally pretty average acting, and was clearly made on a low budget. But this

Really, really loved this show. It had a lot of plot holes, generally pretty average acting, and was clearly made on a low budget. But this show was so outrageous I couldn't help but love it. I don't think I've been this bummed out by a series cancellation ever. Seriously hope it gets renewed by someone else, because this show dared to be different, and despite all its flaws, it was one crazy, blood-filled adventure after another.

…

Expand

It's a god dam blood bath with cars, just awesome! If you want to watch something bloody that has cars and just random murders - this is the

It's a god dam blood bath with cars, just awesome! If you want to watch something bloody that has cars and just random murders - this is the thing you should view.

…

Expand

After viewing 8 episodes I liked it.: in his genere it's a good work, give it a try.
Just pass the first impression...the first two episodesAfter viewing 8 episodes I liked it.: in his genere it's a good work, give it a try.
Just pass the first impression...the first two episodes seems silly and predictable but you'll find an entertaing show with more than just humor and vulgarity.
You'll get interested in how the story goes, how the background world of blood drive begin to show more of itself, you'll find loads of supporting characthers that are presented in a smart way (and a different one) that eliciting curiosity.
it's dark, sexy, alternative, satirize the exploitation genere and some classic movies in a way.
Some plot ideas remind me of "Deadlands: Hell on Earth" roleplaying game, and that is a bonus!
I liked a lot the performance of Colin Cunningham and Marama Corlett.

…

Expand

Great if your not easily offended or disturbed by crazy scenes. It is an off-the-wall show which is what makes it appealing that is if you

Great if your not easily offended or disturbed by crazy scenes. It is an off-the-wall show which is what makes it appealing that is if you can handle it! Not for the squeamish. It is really different. Almost a train wreck but that is also one of the appealing qualities. Not sure why it is based in year 1999, perhaps we will find out. Nearly all shows first episodes aren't great because typically the groundwork has to be laid, after that is when things can ramp up. I just cannot stop watching it. Love/hate but mostly love because it is a riot. Julian Slink is fantastic. Commercials within are humorous. Robot is just manacle! It is a show of contradictions for my feelings!!

…

Expand