Network:

Netflix

Series Premiere Date:

Mar 20, 2015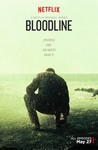 Starring:

Linda Cardellini

,

Kyle Chandler

,

Jamie McShane

Summary:

The return of eldest son Danny Rayburn (Ben Mendelsohn) to his Florida keys hometown for the anniversary of his parents' (Sissy Spacek and Sam Shephard) hotel causes tension and secrets to spill out amongst his family including his three siblings: John (Kyle Chandler), Kevin (Norbert Leo

The return of eldest son Danny Rayburn (Ben Mendelsohn) to his Florida keys hometown for the anniversary of his parents' (Sissy Spacek and Sam Shephard) hotel causes tension and secrets to spill out amongst his family including his three siblings: John (Kyle Chandler), Kevin (Norbert Leo Butz), and Meg (Linda Cardellini).

…

Expand

Genre(s):

Drama
Please enter your birth date to watch this video:
You are not allowed to view this material at this time.
Buoyed by a bravura performance from Australian Ben Mendelsohn (The Dark Knight Rises) as prodigal son Danny Rayburn, Bloodline is an absorbing, fractious family drama that captivates despite giving away Season 1's major development in the very first hour.

Through it all, Bloodline sucks you in and keeps your nerves in a vise.

There are times when Bloodline feels closer to a soap like How To Get Away With Murder than the sunshine state noir it wants to be. But three episodes in, owing to quick plotting and strong performances, I'm hooked. [20/27 Mar 2015, p.86]

Nothing here is especially groundbreaking. But Bloodline smartly dives into its soapy doings with multiple plots, as well as an impressive acting roster.

Too much of those first nine episodes is taken up with vague hints of something dramatic happening just over the horizon.... Chandler, Mendelsohn, and Spacek all give searing performances. In particular, the final confrontation between Chandler and Mendelsohn is filled with meaty moments that both actors sink their teeth into.

It's binge-worthy, make no mistake. But still, a few well-placed casual moments among family members would help, so that the story can breathe a bit, and so can we.

Individually, the performances are terrific.... Bloodline presents itself so generically. You can get away with lousy dialogue, or underdeveloped acting, or common character types, or an unspecial visual style. Just not all of it at once.
I wasn't planning on watching this show, but when it was featured on the Netflix site I decided to take the plunge. After two episodes I was

I wasn't planning on watching this show, but when it was featured on the Netflix site I decided to take the plunge. After two episodes I was all in. While the acting from Sam Shepard, Sissy Spacek and Kyle Chandler is solid this is Ben Mendelsohn's show. We quickly identify his Danny as the central antagonist, but as the series progresses it is clear that no one in the Rayburn clan is truly innocent. Unrighted wrongs and the ripple effects of decisions from the distant past drive the drama. Every episode ratchets up the intrigue and intensity and by the fifth hour the hooks are in. I've read some of the critics' reviews complaining about the characters being generically drawn types. I think this is by design. At the onset we see the Rayburns as the caricatures the authors intended. Slowly their true motivations and nuanced flaws emerge and the talent of the cast is allowed to emerge. Nevertheless after the first episode one wonders how the show runners can get out of the box they've constructed for themselves. Surely this show can only last a single season. In this sense the show is a grand magic trick. I've completed all 13 episodes and let me just say the writers have pulled off an escape act that would make even Houdini proud.

…

Expand

for me bloodline is one of the best shows the last few years, it's up there with shows like fargo or other all time classics.. you will hate

for me bloodline is one of the best shows the last few years, it's up there with shows like fargo or other all time classics.. you will hate most of the characters but in a good way, they acting is outstanding and it's very satisfying to see how each of those individuals **** up.. just a good watch, try it out

…

Expand

Bloodline is an interesting series. With intense scenes and breathtaking moments. The relaxing and creative plot is what makes it better.

Bloodline is an interesting series. With intense scenes and breathtaking moments. The relaxing and creative plot is what makes it better. Bloodline could be my #1 on my top list and it's probably the best series i have seen this year. But one problem is that the show is addictive and hopefully 2016 will come soon.

…

Expand

excellent acting
excellent screenplay
amazing writing. This is such a deep story and its told very well. The acting is so convincing itexcellent acting
excellent screenplay
amazing writing.
This is such a deep story and its told very well. The acting is so convincing it reminded me of what family life was on a tropical vacation spot. ...but its so much deeper than that.

…

Expand

I binged this show all weekend! I have a home in the Keys. The locations, many of the characterizations, even the weather conditions,

I binged this show all weekend! I have a home in the Keys. The locations, many of the characterizations, even the weather conditions, accurately capture this world. If the series seems to progress at a slower pace, this only serves to build suspense, much like a good novel. Since life in the Keys is very laid back, any credible story in that location would probably not suit fast-paced urbanites! Visitors know that there is only one road in and one road out -- much like the journey of the main tortured character played by actor, Ben Mendelsohn. His character, Danny, almost leaves several times, only to return -- a familiar compulsion for those of us who inhabit the Keys. The events leading to the climax were often agonizing but most of the loose ends were tied up in the end and it all made sense. I fervently hope the show returns next season. I can hardly wait to see what happens next !

…

Expand

I just finished season one and I loved it. The reason I gave a score rating 8 is because Ben Mendelsohn was the show and he was amazing and

I just finished season one and I loved it. The reason I gave a score rating 8 is because Ben Mendelsohn was the show and he was amazing and the writers decided to kill him of the show. Bad choice. Yes all the other actors are good but this was Ben Mendelsohn's show. Bring him back.

…

Expand

Putain, ce grand vide intersidéral est sidérant, cette vacuité est d'un immense vide dans lequel errent des acteurs mauvais, si mauvais qu'on

Putain, ce grand vide intersidéral est sidérant, cette vacuité est d'un immense vide dans lequel errent des acteurs mauvais, si mauvais qu'on arrive pas à y croire... C'est si lent qu'on dirait que le temps s'est arrêté... cette série mérite son zéro, le symbole et la note de l'infinie nullité vers laquelle elle veut nous entraîner et nous noyer. Or, dans ces méandres de l'ennui lourd, abyssal et aussi profond que le sommeil du même nom, nous avons vraiment, mais vraiment autre chose à foutre que de perdre notre temps sur une merde pareille !

…

Expand