Network:

CBS

Series Premiere Date:

Sep 24, 2010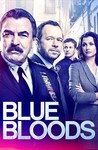 Starring:

Tom Selleck

,

Len Cariou

,

Marisa Ramirez

Summary:

Frank Reagan (Tom Selleck) is a New York police commissioner from a family of cops, including his own father and his eldest son Danny (Donnie Wahlberg), while his daughter Erin (Bridget Moynahan) is an assistant DA, and Jamie (Will Estes), the youngest, recently graduated from Harvard Law.

Genre(s):

Drama
Please enter your birth date to watch this video:
You are not allowed to view this material at this time.
This is a solid hour that feels perfectly attuned to the CBS lineup, although it's less formulaic than what you usually find on Fridays.

The best new cop drama of a TV season that has more police than a presidential motorcade. Blue Bloods doesn't have the best time slot on TV, but it's got some of the strongest characters and performances.

The solid acting performances and the family dynamics contained in Blue Bloods make for an absorbing hour of television.

Blue Bloods showcases a surprising amount of character-driven storytelling. The potential police department conspiracy pushes Blue Bloods into more sudsy territory than necessary, but at least this show marks another attempt by CBS, following "The Good Wife" last year, to expand its offerings beyond paint-by-number crime dramas.

What is there in the premiere of Blue Bloods is the aforementioned cast, which also includes Will Estes ("Reunion," "American Dreams") and Len Cariou ("Damages"), and some sharply written and acted scenes between the family members. Those more than make up for a pretty standard-issue case in the premiere.

Forgive the pun, but this brass needs polishing. The Green/Burgess team is one of TV's best and we hope they'll make this show as sharp and compelling as it should be.

It's a rote cop show, but in the last five minutes or so, it hints at something deeper.
I found this show on Netflix and was hooked after the first episode. The very un-liberal, high moral ground, stance of the Reagan family is

I found this show on Netflix and was hooked after the first episode. The very un-liberal, high moral ground, stance of the Reagan family is very refreshing compared to the rash of Hollywood bleeding-heart garbage they have been spewing out lately that idiotically favors criminals over innocent citizens. Some people think the actor that plays Danny tends to over-act but I don't see it. I see a very cynical and sarcastic detective that really enjoys his role in removing bad guys from the streets and getting to the bottom of his cases. If any actor tried to play this character without the incredulous expressions and over-the-top deliveries then their acting would appear forced and disingenuous. It's not the actor, it's the character and he does a very good job of portraying it. It doesn't take a rocket scientist to figure that one out.

…

Expand

randishaw needs to go back to the grouch couch and get a clue. Blue Bloods is the very first Friday night show to capture and hold my

randishaw needs to go back to the grouch couch and get a clue. Blue Bloods is the very first Friday night show to capture and hold my attention in more years than I can count. The acting is phenomenal compared to the majority of shows available today. The old style feel of the show is deliberate, honestly done, and worthy of high praise. I haven't followed a police drama in years due to the continuous need for more and more over-the-top shock value story lines that never connect from week to week, and with characters who never fully materialize into well-rounded, open, and complete human beings. What makes Blue Bloods a standout is that it offers both. You have family drama embedded in cop drama, and the characters' story lines flow from week to week while the story lines of the cop drama side are interesting, timely, and don't have to connect. This is one show I will continue to watch regardless of how many times and ways the day or time of the show is changed.

…

Expand

I have to agree with mrbinky on all accounts. CASTING: EXCELLENT!! Bluebloods is a well-written show that not only shows police drama on the

I have to agree with mrbinky on all accounts. CASTING: EXCELLENT!! Bluebloods is a well-written show that not only shows police drama on the streets of NYC, but is developing storyline and characterization. So the family prays before dinner, there are some in the world that still do that, Irish or not. The real meat (no pun intended) is the conversation that takes place regarding the generational issues and differences....again....real life. I've been paying attention, too, to the development of the story regarding the other son's death. There was mention of investigation into the Knights of the Templar by this son. The grandfather, son, and older grandson (Donnie) are pin-wearers. This could make for some interesting family turmoil if something comes out regarding the negative aspects of the deceased son's investigation. I love the show, the acting is stellar, and it's been a long time since I looked forward to actually watching a show. As far as Sinatra and Connick go.....? Seriously? Most people can tell the difference, especially since Frank did the song "New York, New York" in his later years. It's TV growup time for some. The crime lab shows, although they have good acting, and were worth watching in the beginning, are getting monotonous. What's the last movie anyone went to? There isn't anything that hasn't been done.

…

Expand

I really like this show and think it will become a solid hit. Even in the first few shows the cast is clicking and I expect it will improve

I really like this show and think it will become a solid hit. Even in the first few shows the cast is clicking and I expect it will improve as they hit their stride. Sure, the Irish cops of New York theme is a little corny - but it also rings true. The ensemble cast has some terrific actors who are already shining - Tom Selleck as the father/chief of police, his father, his son Danny and Danny's wife - I have hopes that the daughter and the youngest son/rookie cop will develop in interesting ways. I'm a little worried that the youngest son's wife will develop into something annoyingly stereotypical, either a preachy liberal Meathead-type character or a whiny rich Housewives type, but so far she's been restrained. With luck the writers will make her character more interesting and nuanced. We intelligent, educated middle-class women deserve to be depicted realistically too.

…

Expand

Good, solid cop show. Selleck fits the part of a believable patriarch. Good stuff. Typical action, decent story. Love seeing Donnie

Good, solid cop show. Selleck fits the part of a believable patriarch. Good stuff. Typical action, decent story. Love seeing Donnie Wahlberg, strong actor. Hard to really separate this from the average in the genre, but it's very watchable and "comforting." I get the impression this is a show that could take off after a few episodes.

…

Expand

This series is beautifully filmed insofar as New York City scenes are concerned. The plots are engaging, while the acting of a couple of the

This series is beautifully filmed insofar as New York City scenes are concerned. The plots are engaging, while the acting of a couple of the major supporting players is off the charts in two directions. The son played by Donnie Wahlberg is a throwback to pre-PC days. He is completely unreconstructed, so Wahlberg's performance is so without nuance as to be unintentionally comedic. The other son, a rookie policeman, left all his personality at the door, phones in his performance, and makes no impression at all. Tom Selleck is consistently excellent, dominating any scene in which he appears. All in all, I have certainly seen worse police series survive, but this one badly needs some crises and themes that move from episode to episode.

…

Expand

I've always admired Tom Selleck for the kind of characters he's represented throughout his career. Whether it was Sgt. Jack R. Ramsay in

I've always admired Tom Selleck for the kind of characters he's represented throughout his career. Whether it was Sgt. Jack R. Ramsay in 'Runaway' ,Thomas Magnum in 'Magnum P.I.' or Matthew Quigley in 'Quigley Down Under', Mr. Selleck has always portrayed upstanding individuals with high moral standards and had continued that portrayal in the 'Blue Bloods' series. That is, until the end of the episode that aired last night, January 17, 2014. Danny Reagan (Donnie Wahlberg) watches as an Army veteran, John Russell (Chad Michael Collinswith) commits suicide by throwing himself off a building. Apparently Mr. Russell is suffering from PTSD due to his two stints in Afghanistan. When asked by his father, Police Commissioner Frank Reagan (Tom Selleck) why he called the suicide an 'accident' in his report, Danny tells the Commissioner that he didn't want Russell's son to know the truth about his father's suicide and Commissioner Reagan concurs. Apparently, the writer of the episode, co-executive producer Siobhan Byrne O'Connor, has decided that it was about time to show the world that even police detectives and commissioners can't be trusted to tell the truth. Very disappointing.

…

Expand