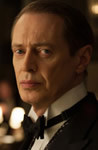 Starring:

Steve Buscemi

,

Michael Kenneth Williams

,

Kelly Macdonald

Summary:

The third season opens with Nucky Thompson celebrating the countdown to 1923. However, trouble brews as Gyp Rosetti (Bobby Cannavale), a mobster from Brooklyn, who disagrees with some of Nucky's decisions.

Genre(s):

Drama
Creator:

Terence Winter

Season 3 premiere date:

Sep 16, 2012

Episode Length:

60
Please enter your birth date to watch this video:
You are not allowed to view this material at this time.
A re-energized and immensely entertaining start to the third season.

Put his [Bobby Cannavale's] floridness up against Buscemi's poker-faced acidity and you get fireworks. [24 Sep 2012, p.57]

Simply put, the third season further confirms the show is as handsome, well cast and impeccably crafted as anything on TV.

Life is annoying Nucky Thompson as Boardwalk Empire starts its third season, and that gives this first-rate show just the push-off it needs.

Flush with vivid characters, immaculate set design, and increasingly fluid storytelling, Boardwalk Empire keeps getting better, but still feels a few distinct steps short of greatness.

Based on the first five new episodes, I'd say Boardwalk Empire does recover, mostly if not completely, but only after a period of creeping aimlessness.

Strangely enough, the only scenes that aren't so dark that you need night-vision goggles to watch, are the ones with the naked ladies. Then, suddenly the lights are finally working properly. Still, there's something compelling about it all--maybe it's the era, or the clothes, or the hint that this could be something terrific.
Good lord! Bobby Cannavale is so AWESOME. He is the greatest bad guy since the man who shot Bambi's mom...This season was so great, full of

Good lord! Bobby Cannavale is so AWESOME. He is the greatest bad guy since the man who shot Bambi's mom...This season was so great, full of nail-biting suspense, a better use of the supporting characters and heart-pumping action! HBO rocks!!!

…

Expand

Bobby Cannavale is AWESOME from start to the last episode! Great season, great scenario, great acting, breathtaking quality. HBO at it's best.

Bobby Cannavale is AWESOME from start to the last episode! Great season, great scenario, great acting, breathtaking quality. HBO at it's best. Hope it's not even close to the end!

…

Expand

An excellent,beautifully written season of TV and arguably Boardwalk Empire's finest season thus far.The new antagonist Gyp Rosetti played by

An excellent,beautifully written season of TV and arguably Boardwalk Empire's finest season thus far.The new antagonist Gyp Rosetti played by Bobby Connavale is astounding and is one of the finest villians to come around in a very long time.Alot of people thought that after Jimmy Darmody's death the show would cease being good but that is not the case.Every actor brings their A game and provides a dark,personal story for season 3.The cinematography is absolutely stunning as always and the atmosphere is darker and more visceral than it's ever been.Nucky Thompson is being haunted by Jimmy's murder and is now a full gangster.Al Capone has a bigger role this scene and though his scenes are limited,he steals the show.Richard Harrow is as awesome as ever and he ends the season with an unforgettable display of his weaponry skills.The show is very well-written,and acting is very strong.While there are some minor hiccups along the way and some boring scenes(Margaret is a drag) they're not enough to weighh the season down. 9/10.

…

Expand

Excellent series development, Much more crime orientated this time around than before when we had political machinations. A number of threads

Excellent series development, Much more crime orientated this time around than before when we had political machinations. A number of threads weave in and out and all collect very smoothly or smoothish. Its a show that requires patience and time not to be mention concentration but that is its strong point. The unexpected still happens and adds spice and anxiety for the viewer. Death just happens so unexpectedly. Some will wish death for some characters, Margaret? and life for others such as Gillian, even though she's a total Machiavellian baddie. What was the weakest Buscemi's Nucky is starting to feel more realistic. I didn't think him nasty enough previously to be believable but he makes it plain he is just controlled violence unlike Rossetti whose menace is frightening and unpredictable, but still the same if you scratch under the surface

…

Expand

incredibly rich milieu of gangsters, politicians and players, from a bygone age, animated by genius and imbued with vitality and immediacy

incredibly rich milieu of gangsters, politicians and players, from a bygone age, animated by genius and imbued with vitality and immediacy once more. simply a time portal to another world.

frankly, only the incredible and slightly unbelievable ending rescues this from the 7 iy condemned itself to, with the events of the lasts seasons ending. a bunch of old men talking politics, rescued by a sensational departure into narrative entertainment.

…

Expand

I really like the first two seasons, but I find that season 3 is starting to come apart narratively. In season 1,2 Nucky corrupt but clever --

I really like the first two seasons, but I find that season 3 is starting to come apart narratively. In season 1,2 Nucky corrupt but clever -- and charming in his own way. Now he's just a violent gangster and almost too disgusting to watch. Whose left to root for after they killed Jimmy? I don't know.

…

Expand

I always enjoyed Boardwalk Empire because of the style and writing. Season 3 has proved this HBO series has lost both. Focused too much on

I always enjoyed Boardwalk Empire because of the style and writing. Season 3 has proved this HBO series has lost both. Focused too much on Nookie's personal problems it moves at a pace which has me looking at my watch anticipating the end so I can watch "Homeland". Shows don't usually crash and burn in the third season but if the lack of quality and writing, of the beginning episodes is any indication, this show is doomed.

…

Expand