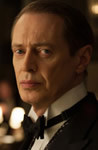 Starring:

Steve Buscemi

,

Steve Buscemi

,

Michael Pitt

Summary:

Atlantic City in the 1920s is the setting for the series based on the book by Nelson Johnson about how the city turned into the infamous gambling locale.

Genre(s):

Drama
Please enter your birth date to watch this video:
You are not allowed to view this material at this time.
As with the best of these broad canvas series, the players and their allegiances become clear within an episode or two. And from that point on, Boardwalk Empire becomes everything that HBO (and I) had hoped for it.

The characters are unforgettable, and the history, of course, is more entertaining than fiction. The filming of Boardwalk Empire just may be more decadent than the decadence it's celebrating. It's not TV, and it's not really HBO. It's an event, not to be missed.

Boardwalk Empire has everything you'd expect in an HBO drama--sharply drawn characters, large-scale stories intercut with intimate moments and a sense that you couldn't find something like it anywhere else on the guide. It's maybe the best new show HBO has launched in several years.

Like a good whiskey, it's rough and smooth in all the right ways. By a few episodes in, you'll want to order it by the case.

The show isn't easy to warm up to, to be honest; it's draped in--and at times stifled by--meticulous period detail and too-perfect lighting, especially in Scorsese's premiere. But in episode two, the characters and the script begin to prevail, and the drama becomes more emotionally distinct and fascinating.

For some viewers, even fans of smart, high-quality TV, there may come a point when too many dark, layered television series become just as tiresome as too many look-alike procedurals. We haven't yet reached that point with Boardwalk Empire, but some episodes are more admirable than enjoyable.

It's a big production-the first episode alone cost nearly twenty million dollars-and it looks authentic in a way that, paradoxically, seems lifeless. You're constantly aware that you're watching a period piece, albeit one with some vivid scenes and interesting details.
This is just television at its best. Steve Buscemi gives the performance of a lifetime. Terrefic performances by the colorful cast, smooth

This is just television at its best. Steve Buscemi gives the performance of a lifetime. Terrefic performances by the colorful cast, smooth directing, gorgeous writing. A must-see for fans of the mafia genre!

…

Expand

Where the pacing slowed, I found myself immersed in the style. Jimmy Darmody grabbed my attention from the outset and kept me engaged through

Where the pacing slowed, I found myself immersed in the style. Jimmy Darmody grabbed my attention from the outset and kept me engaged through to the end, even though he wasn't supposed to be the main character. I learnt a few things about the Mob. The plot was highly fictionalized and turned some real life gangsters into mere supporting characters, unable to hold their own against some upcoming politician. I guess that was to be expected if the show had to avoid becoming predictable. I think they should have cast someone more original and engaging for Al Capone, given that he was not a second rate hit-man but arguably the most successful crime boss in history. I liked the portrayals of Luciano, Rothstein and Nucky Thompson. Jimmy's sidekick is also someone to look out for.

…

Expand

As a fan of the mafia film genre I would say that Boardwalk Empire does not disapoint. The sets, cast and costume design give the series such

As a fan of the mafia film genre I would say that Boardwalk Empire does not disapoint. The sets, cast and costume design give the series such an authentic look and feel. I would say that we are only seeing the beginning of what will be a historic series.

…

Expand

Great show with great characters easily comparable to the greats of television. Steve Buscemi kills it as Nucky Thompson and so do the other

Great show with great characters easily comparable to the greats of television. Steve Buscemi kills it as Nucky Thompson and so do the other actors in this series like Charlie Cox before his role as Daredevil, Michael K. Williams as Chalky, other great performances:Michael Shannon,Stephen Graham and Vincent Piazza. Overall this is a great show with a big budget that u can get immersed in.

…

Expand

First and foremost, the writing on this television program is some of the best I've ever personally seen on the small screen. It's simply

First and foremost, the writing on this television program is some of the best I've ever personally seen on the small screen. It's simply prodigious in both quantity and quality. The acting is fantastic. There really isn't a single performance throughout the entire season that I disliked. Perhaps my only criticism of the first twelve episodes is the overall slow, almost snail-like pace in which the story-lines are uncovered. Everything else about the show is great though, the costume & wardrobe departments should hopefully win A LOT of awards!

…

Expand

Not bad but not to good either. It has the atmosphere of that time but the characters are poorly made and the plot is rather slow-paced. I

Not bad but not to good either. It has the atmosphere of that time but the characters are poorly made and the plot is rather slow-paced. I expected more out of this but who's to say it won't get better.

…

Expand

So far I am not impressed with the show. It's very boring. The female characters have no personality or backbone. It's supposed to be a

So far I am not impressed with the show. It's very boring. The female characters have no personality or backbone. It's supposed to be a time period where women were trying to improve themselves and in this show they appear to be nothing more than sex objects. The gratuitous nudity takes away from the show. It's way too forced. I loved the Sopranos, which had a lot of nudity, but it was never forced like this show does. You don't need to show naked women just to show them. I'm going to give it a little more time to see if it gets better.

…

Expand