Please enter your birth date to watch this video:

You are not allowed to view this material at this time.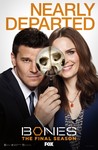 Episode Details & Credits
FOX |
Air Date:
November 19, 2012
Summary:
Booth and Brennan investigate how a crime-scene cleaner's body washed to shore inside a sealed pod. Back at the lab, Angela and Hodgins discover Cam's been keeping a secret.
Genre(s):
Comedy

,

Drama

,

Suspense

,

Science
Seasons & Episodes
Season 12

Season 11

Season 10

Season 9

Season 8

Season 8 Overview

Air Date: September 17, 2012

S8:E24. The Secret in the Siege

Air Date: April 29, 2013

S8:E23. The Pathos in the Pathogens

Air Date: April 22, 2013

S8:E22. The Party in the Pants

Air Date: April 15, 2013

S8:E21. The Maiden in the Mushrooms

Air Date: April 1, 2013

S8:E20. The Blood from the Stones

Air Date: March 25, 2013

S8:E19. The Doom in the Gloom

Air Date: March 18, 2013

S8:E18. The Survivor in the Soap

Air Date: March 4, 2013

S8:E17. The Fact in the Fiction

Air Date: February 25, 2013

S8:E16. The Friend in Need

Air Date: February 18, 2013

S8:E15. The Shot in the Dark

Air Date: February 11, 2013

S8:E14. The Doll in the Derby

Air Date: February 4, 2013

S8:E13. The Twist in the Plot

Air Date: January 28, 2013

S8:E12. The Corpse on the Canopy

Air Date: January 21, 2013

S8:E11. The Archaeologist in the Cocoon

Air Date: January 14, 2013

S8:E10. The Diamond in the Rough

Air Date: January 14, 2013

S8:E9. The Ghost in the Machine

Air Date: December 3, 2012

S8:E8. The But in the Joke

Air Date: November 26, 2012

S8:E7. The Bod in the Pod

Air Date: November 19, 2012

S8:E6. The Patriot in Purgatory

Air Date: November 12, 2012

S8:E5. Method to the Madness

Air Date: November 5, 2012

S8:E4. The Tiger in the Tale

Air Date: October 8, 2012

S8:E3. The Gunk in the Garage

Air Date: October 1, 2012

S8:E2. The Partners in the Divorce

Air Date: September 24, 2012

S8:E1. The Future in the Past

Air Date: September 17, 2012

Season 7

Season 6

Season 5

Season 4

Season 3

Season 2

Season 1